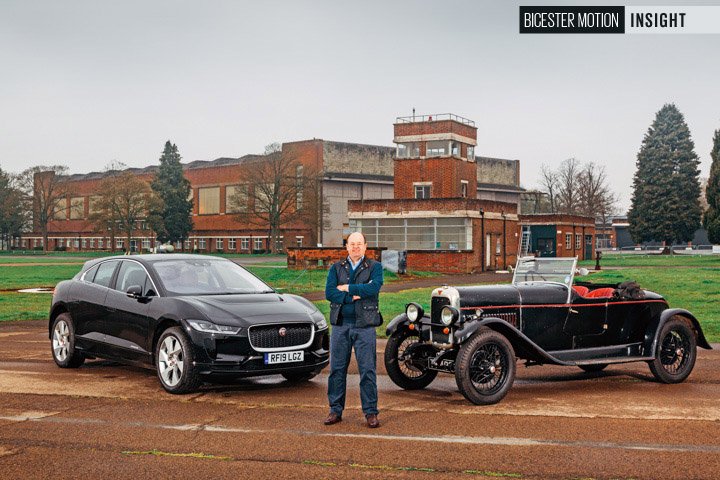 But the other is very much in the future at Bicester Heritage.

Steve Cropley pays a visit and meets the man who has cutting-edge plans for this old RAF airfield
W
hen Bicester Heritage elbowed its way onto the UK car lover's list of Most Desirable Destinations four or five years ago, its mission seemed clear: to become an important new Oxfordshire haven for vintage and classic cars, and for those who loved, owned, mended or transacted them. The miraculously well-preserved (and sympathetically restored) red-brick buildings of this former RAF base, dating from 1926 and used as a location for Churchillian movie Darkest Hour, set an instant 'between-the-wars' scene for anyone who drove through the old-style black-and-white boom gate, especially after a chat with gatekeeper Neil, whose genial manner also seemed to come from another time.
But as it turns out, Bicester Heritage is only the first stage of a much bigger project called Bicester Motion, designed to establish the UK's first automotive resort and technology centre across the entire 444-acre airbase site. Heritage is but a small corner of a much larger whole. According to chief executive Dan Geoghegan, Bicester Motion aims to connect car-based businesses and their customers – around a million of them annually, when things are running as planned – together in an entirely new way. Drawing on Bicester Motion's proximity to the existing race engineering and technology belt, a key part of Geoghegan's big plan is to equip the site with an all-new R&D hub they're calling the FAST (for Future Automotive Speed and Technology) Zone, dedicating 20,000 square metres of new build space to automotive innovators of every kind, and supporting them with special test tracks suitable for autonomous and connected cars.
A car-loving property developer with deep connections in Wales, where his father was a garage owner, Geoghegan has a special interest in helping innovators progress technology with which Britain aims to lead the world. He drove into then-disused RAF Bicester six years ago when the site had already been on Historic England's 'at risk' register for five years, discovering it almost by accident while hunting for a location for his plan.
Bicester Heritage is only the first stage of a bigger project
"We never imagined we'd find a place as large or as perfectly sited," he says, "especially given that it's within minutes of Bicester's other famous attraction, the Shopping Village. After three years our site was off the at-risk list, and quite soon Historic England was citing us a national exemplar of constructive conservation. That's something we're very proud of."     
Most of Bicester's original buildings were erected in eye-catching red brick at a time when the revered architect Sir Edwin Lutyens – who loved such buildings – was a member of the council that oversaw such public work. When they studied them, Geoghegan and his team discovered the buildings were fundamentally sound, though there were early problems with graffiti, broken windows and fire damage. The new owners have worked systematically to restore buildings and convert some to modern purposes. Drop in at Bicester now, as we recently did, and your impression is of well-ordered, slightly old-school serenity.
It takes a tour of the whole site, preferably as a passenger to Geoghegan in his trusty long-wheelbase Land Rover or lissom 1920s Alvis two-seater, to appreciate the awesome scale of it and the size of its potential effect on motoring's future. It is suddenly easy to understand Bicester Motion's plan to bring 2000 new jobs to the area and to help populate the thousands of new-build homes already planned for the area.
Bicester's most prominent buildings, visible from both entrance gate and airfield apron, are four large 1920s hangars built on the edge of the grass Flying Field. These will be preserved more or less as they are, fronted by a wide 'fast driving' perimeter track called The Radial. The hangars will be converted internally to events and exhibition spaces capable of housing up to 2000 people. Back in the 1920s, six hangars were planned but only four were built, so Geoghegan plans two more in the same architectural style, using one as a 344-room hotel.
Follow the perimeter drive in an anticlockwise direction from the hangar apron and you soon reach a clutch of buildings planned as a Centre of Excellence for Historic Motoring, the all-new FAST technology hub, then several rows of blast-proof bomb stores due to be converted into mews garages with accommodation, some of them beside a lake in the site's bottom corner.
Keep turning left – the perimeter is a four-mile drive – and you'll come to 100 acres of country park shown on the map as Bicester Reserve, beyond which there is space for 4×4 driving tracks and a new-build brand experience centre, intended for product launches and fronted by its own network of demonstration tracks. Much of this has yet to be built, though planning work is well advanced. Work will necessarily proceed in stages, but a new collection of outline approvals is expected later this year. The site's relative protection from new residential areas, and its already-proven ability to handle big events, is helping with planning decisions, Geoghegan believes.
Of all Bicester's facets, he seems fondest of FAST, which, as he points out, is completely in character with RAF Bicester's original purpose. "When this place opened in 1926, the idea was for it to serve as an important technical centre for the nation," he explains. "We'd done steam, we were developing petrol and we were also moving on to flying.
"Given that Bicester started as a major R&D hub, why shouldn't we return it to its roots?" A
PHOTOGRAPHY MAX EDLESTON