Ingolstadt's electric SUV arrives to take on the Jaguar I-Pace and Tesla Model X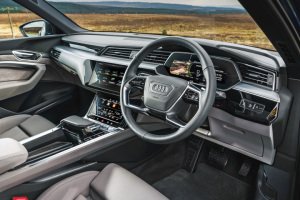 The arrival of the Audi E-tron on British roads suggests one thing: the Cold War is well and truly heating up. Not the one from the history books though, more the growing skirmish at the premium end of the electric SUV market.
It's a tussle you'll be familiar with. Tesla struck first with its trailblazing Model X, and last year Jaguar retaliated with the I-Pace. Mercedes-Benz is set to join the fray with the launch of its new EQC later this year, as is BMW with its forthcoming iX3.
Anyway, the E-tron. It's Audi's shot across the bows of the world's established high-end car makers, a signal that it's not going to sit back while they capitalise on a growing appetite for plush, eco-friendly EVs. And so far, the E-tron's formula looks to be a convincing one: it lands with an image that's indisputably Audi, it has a spacious, materially-rich interior  and a technology roster befitting of the type of car that might well represent the future of motoring.
Audi's impeccably sharp 12.3in digital cockpit comes as standard, as does the latest MMI Touch dual-screen infotainment system. Virtual door mirrors can also optionally replace conventional ones to reduce the drag coefficient. Meanwhile, one of the 150kW chargers that are beginning to be rolled out across the UK will top up the Audi's 95kWh battery to 80% capacity in as little as 30 minutes. Fully juiced, Audi says the E-tron can travel up to 241miles (according to the WLTP test cycle).
Admittedly, that's not as high as the I-Pace's claimed 292-mile range, and perhaps still a wee bit optimistic in the real world. Our test route led us to cover 118 miles on a mixture of Yorkshire A and B-roads, with a dash of town driving thrown in. At its conclusion, the range readout informed us that the E-tron was still good for another 65 miles or so. So you're probably looking at a range of about 200 miles, which is roughly what we achieved when we road tested the I-Pace last year.
The e-tron really impressed with its ride comfort and rolling refinement. Unlike its Jaguar rival, the E-tron rides on adaptive air suspension as standard, and because it's not gunning to be quite as sharp-handling or dynamically exciting, it doesn't suffer from the same sense of agitation that sometimes troubles the I-Pace on challenging Tarmac surfaces. Optional acoustic glazing for the side windows makes for an impressively hushed cabin, in which road roar is present but distant. Its slippery shape (our test car had a drag coefficient of just 0.28) helps minimise wind noise, too. It's an impressively relaxing car to drive.
With nearly 2.5 tonnes of mass to lug around the E-tron isn't a particularly balletic performer, but it grips strongly and steers with a reassuring sense of purpose but little feedback. It's very Audi in this regard: planted, stable and surefooted, if lacking in outright engagement. It's rapid, too, with maximum combined outputs of 402bhp and 490lb ft from its two electric motors in Boost mode, and 355bhp and 414lb ft under normal driving conditions. Even with the lower output on tap, it's still heroically quick off the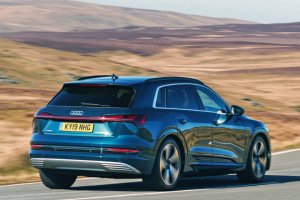 mark.
That the E-tron is an important model for Audi goes without saying. It's the car that's setting the tone for all of the marque's future electric models, three of which will arrive by next year. And based on our experience on British roads, the benchmark has been set high.
Keen drivers may miss the I-Pace's more pronounced athleticism, but as a classy, refined, practical, comfortable, and sophisticated premium EV,  the Audi could prove to be the more popular of the two.
SIMON DAVIS
Audi has cleverly fitted the E-tron with two charging ports – one on either side of the car. This should go a long way towards solving the problem posed by public charge cables that aren't quite long enough. SD
AUDI E-TRON 55 QUATTRO
Quick, comfortable and refined EV sets a high bar for Audi's first foray into mass-market electrification


Price £71,490
Engine Two asynchronous electric motors
Battery 95kWh lithium ion
Power 402bhp (Boost mode)
Torque 490lb ft (Boost mode)
Gearbox Single speed, direct drive
Kerb weight 2490kg
0-62mph 5.7sec (Boost mode)
Top speed 124mph (governed)
Range 241 miles (WLTP)
CO2,tax band 0g/km, 16%
Rivals Jaguar I-Pace, Tesla Model X