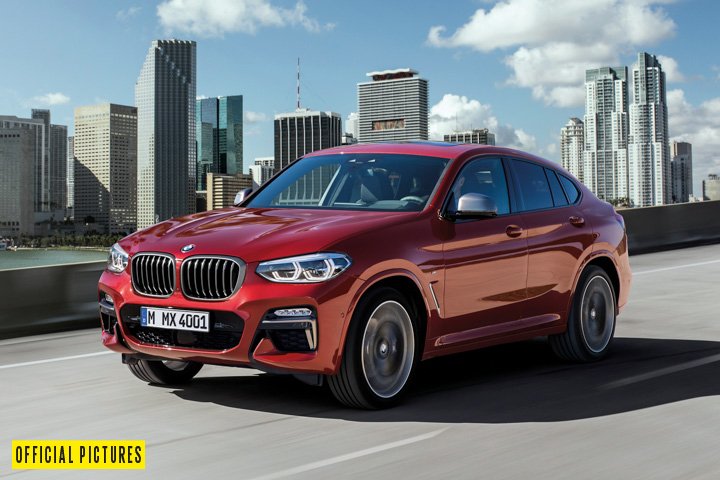 BMW has wasted no time or effort in its bid to right the old X4's wrongs and take the fight to Porsche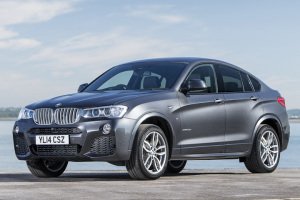 BMW is taking renewed aim at the Range Rover Evoque and a growing number of style-led premium-brand SUVs with its new second-generation X4 – which arrives just four years after the old model.
The original X4 SUV was introduced in 2014 but struggled to match the success of rivals such as the Evoque and Porsche Macan. BMW is launching a new version now because of the arrival of a third generation of the X4's sister car, the X3. The two models are produced on the same production line at BMW's US factory in Spartanburg.
BMW plans to give the X4 its public debut at the Geneva motor show next month. UK sales books open tomorrow (Thursday) and the first UK deliveries are scheduled for 15 July. Prices start at £42,900, compared with £38,540 for the outgoing X4 range, which is indicative of the new model's gentle shift upmarket.
BMW also claims the new X4 will take a big step forward in terms of handling and driving dynamics compared with its predecessor.
The new X4 will be launched with a choice of four longitudinally mounted engines: two four-cylinder petrol units and two four-cylinder diesel options. Two six-cylinder M Performance models will be introduced in the coming months.
The new X4 M40i can achieve 0-62mph in 4.8sec on its way to a governed top speed of 155mph
The base 2.0-litre petrol unit will be offered with 184bhp (in the xDrive20i) and 252bhp (xDrive30i). That gives the xDrive30i a 0-62mph time of 6.3sec and 150mph top speed.
The 2.0-litre diesel options offer 190bhp (xDrive20d), which has a claimed combined average of 52.3mpg and a 142g/km CO2 rating, and 231bhp (xDrive25d).
The M Performance models will start with the M40i, which runs the latest evolution of BMW's turbocharged 3.0-litre inline six-cylinder engine. It matches its predecessor by producing 360bhp but has an extra 25lb ft of torque (at 369lb ft) and can achieve 0-62mph in 4.8sec on its way to a governed top speed of 155mph. BMW claims 31.4mpg fuel economy and CO2 emissions of 209g/km.
The other performance model, the M40d, uses a turbocharged 3.0-litre inline six-cylinder diesel, which produces 326bhp and 370lb ft of torque. It does 0-62mph in 4.9sec and also has a governed top speed of 155mph. It has fuel economy of 44.1mpg, with CO2 emissions of 173g/km. The X4, along with its X3 sibling, is based on BMW's CLAR platform (first introduced on the latest 7 Series). BMW says the platform's extensive use of aluminium and high-strength steel makes the X4 more rigid than its predecessor and up to 50kg lighter. Despite that, the new model is bigger: it's 81mm longer (at 4752mm) and 37mm wider (at 1918mm). A lower ride height contributes to a 3mm reduction in height (at 1621mm) and the wheelbase is 54mm longer (at 2864mm) than previously. BMW claims a perfect 50/50 front-to-rear weight distribution.
The interior of the X4 is shared with the X3. BMW says it has used higher-grade materials and the latest generation of switchgear with the aim of providing the new model with a more premium feel than the first X4. BMW also promises extra comfort through redesigned sport seats with added support.
The revamped interior also includes infotainment functions delivered via the latest evolution of BMW's iDrive system, which operates through a standard 6.5in or optional 10.3in free-standing touchscreen display. It is linked to a traditional rotary controller between the seats but voice control (which, BMW says, recognises conversational commands) and gesture control systems are available as options.
The new X4's longer wheelbase adds 27mm of rear leg room over the old car and boot capacity has increased by 25 litres to 525 litres. An optional cargo function allows the back rests of the standard 40/20/40 folding rear seats to be adjusted individually. When they are all folded, the car has a cargo capacity of 1430 litres.
As with the X3, the X4 comes as standard with an eight-speed torque-converter automatic gearbox. It has Steptronic control, with steering-wheel-mounted shift paddles on all but the xDrive20i and xDrive20d.
The automatic gearbox is allied to the latest version of BMW's electronically controlled xDrive four-wheel-drive system, which is programmed to apportion drive with a rear-wheel bias. It operates in combination with a standard Performance Control function, which provides a torque-vectoring effect by varying the amount of drive sent to each individual rear wheel. Also included as standard is BMW's Driving Experience Control system. This lets the driver choose between Sport, Comfort and Eco-Pro modes. Higher-spec models also have an extra mode called Sport Plus.
The X4 adopts new double-wishbone front suspension, also seen on the X3, that is claimed to offer a considerable reduction in unsprung masses compared with its predecessor. As standard, all models have M Sport suspension and speed-sensitive electro-mechanical Servotronic steering. Wheel sizes range from 18in to 20in. The tyres on 20in wheels are 245/45 front and 275/40 rear.
Although the X4 has been developed primarily for on-road driving, BMW says it has also been engineered to handle mild off-road excursions, with a ground clearance of 204mm and a fording depth of 500mm together with break-over, approach and departure angles of 19.4deg, 25.7deg and  22.6deg respectively.
By comparison, the most basic Pure version of the smaller Evoque has 213mm of ground clearance, a fording depth of 500mm and break-over, approach and departure figures of 22.0deg, 23.2deg and 33.0deg. Like the Evoque, the new BMW also receives Hill Descent Control and Hill Start Assist systems as standard.
GREG KABLE

X4 NEEDS TO CLAW BACK GLC SALES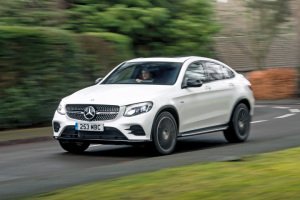 Although all SUV segments are booming, the X4's category is a tricky one to define, with rivals ranging from the Volvo XC60 to the Range Rover Evoque. But its only direct rival, thanks to their coupé-styling and similar dimensions, is the Mercedes-Benz GLC Coupé, launched last year.
Strictly speaking, the X4 falls into the broader premium medium-sized SUV segment, which grew by 15.4% last year – a solid result although not as good as the 26% growth of 2016 – according to JATO.
Despite the segment growth, sales of the X4 slowed last year, no doubt affected heavily by the GLC Coupé. Global volume for the X4 dropped by 9.2% to 48,595 units. Those results are "quite negative, considering its age", said JATO's Felipe Munoz.
By comparison, the combined sales of the GLC and GLC Coupé were a huge 325,061 units last year, leading the segment. The Audi Q5 came second, with 275,790 cars sold in 2017.
Although the X4 won't ever hit those heights, given that it is more niche than its X3 sibling (which sold 139,457 units last year), BMW will hope this new X4 model reinvigorates sales, helping to combat the GLC Coupé's success.

SECOND TIME LUCKY FOR THE X4?
Greg Kable
Four years is a particularly short life cycle for any new car, and in the BMW X4's case it's indicative of a will to quickly put right what was wrong about the original version. It was consistently outsold by the Porsche Macan in both Europe and North America, which BMW wouldn't have expected given the X4's significantly more attractive pricing proposition.
That the new car is longer, wider and lower to the ground can have only helped the X4's designers address what matters most about these SUV-coupés: how they look. The fussy, awkward styling of the previous version did it few favours and this new one is certainly cleaner in its surfacing and better proportioned. It's not a knockout styling success, at least to my eyes – and I can't imagine very many people choosing one over a Macan or an Alfa Romeo Stelvio for design appeal alone. There, of course, subjectivity rules.
But styling wasn't the only area in which the original X4 could have been better.
My hope is that BMW has dealt with the car's chassis tuning with a bit more commitment than it did last time out.
Four years ago, when the X4 and the Macan were both new, I wrote a twin test involving them in six-cylinder diesel forms and I remember the difference in kerbside allure, driver appeal and quality of dynamic finish being stark.
This time, of course, alongside BMW's stiffer chassis and lighter suspension, there will be a broader range of engines and proper, driver-focused M Performance models – so things could be much more even between the two cars.
Now there's the Stelvio and the Jaguar F-Pace to contend with too.
Still, it's telling to me that BMW hasn't waited to replace the car but has clearly brought it into showrooms as early as it could, straight after the launch of the G01-generation X3 with which it's plainly closely related. It seems a bit like saying: "Hands up. We didn't do a great job last time around. This time, we've done better. So how about a second chance?"