Suzuki is promising the character of the Swift Sport has not been altered, despite a switch to turbocharging.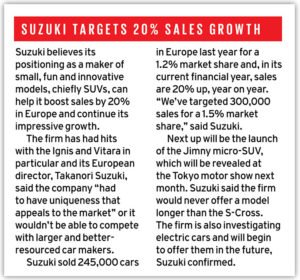 The previous car was highly regarded for its high-revving normally aspirated 1.6-litre engine, coupled with engaging handling. Indeed, it was the last hot hatch available with a normally aspirated engine.
The new model uses a turbocharged 1.4-litre with just 4bhp more than the old car, at 138bhp at 5500rpm. However, torque is up by 52lb ft, to 170lb ft, and available much lower down the rev range, at 2500-3500rpm. As a result, the car is "more fun to drive" across more of the rev range, according to chief engineer Masao Kobori.
The 0-62mph time has improved by 25% to an estimated 6.2sec and the top speed now stands at 127mph, up by 6mph. The six-speed manual gearbox is carried over from its predecessor.
The 1.4 is the biggest petrol engine that Suzuki now makes. Kobori said the firm doesn't need to give the engine a greater amount of power for the car to hold its own against more powerful rivals like the Ford Fiesta ST and Renault Sport Clio, typically with around 200bhp.
"Other manufacturers have higher-performance engines," said Kobori. "Our car is fun to drive and does not need a powerful engine. When you combine the lightweight technology with the 1.4 engine, you have a fun feeling to drive. The handling of the car and the acceleration are better."
Of just as much significance to the Swift Sport is a kerb weight of 970kg, which is 80kg lighter than its predecessor's. Weight has been taken out of the body of the new Swift Sport while increasing its rigidity. The wheelbase is 20mm longer and the car is 40mm wider, all to aid stability. Wider tyres are fitted to the 17in alloy wheels too.
The car's development has in part taken place on UK roads, which was important in finalising the damper tuning, according to Kobori.
The UK is one of the Swift Sport's key markets, with around 1500 examples finding homes each year. Suzuki expects the new car to perform as well again when it reaches the UK next spring, priced from around £14,000.