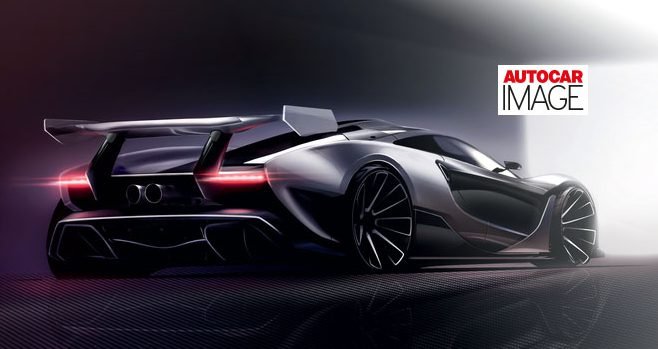 New hypercar will prioritise track prowess with serious aero, power and weight loss
McLaren will launch the most extreme road car in its history later this year — and it is poised to eclipse all but the McLaren P1 GTR for on-track performance.
Officials at McLaren refuse to confirm the existence of the car, which will be the second model in the firm's Ultimate Series after the P1 , which spawned the extreme P1 GTR track derivative. However, Autocar understands the new car is being developed under the project name 'P15', and the engineering team has been given a brief to create "the most extreme, track-focused road car".
In line with McLaren's publicly stated goal of giving all of its Ultimate Series cars a distinct focus, engineers are said to have been given the freedom to prioritise performance over anything else. One source has described the P15 as a "track weapon" with the goal of delivering "the most exciting and thrilling driving experience on track".
Power will come from a modified version of the 3.8-litre twin-turbo V8 that is at the heart of every McLaren road car on sale today. It's likely to be linked to a tweaked version of the seven-speed gearbox in the 720S. However, the engine in the P15 is said to have been extensively worked on to produce close to 800PS (789bhp). This exceeds the 727bhp produced by the road-going P1's engine, but below the 903bhp peak achieved when the P1's electric motor is also in operation.
However, with its two-seat configuration said to be one of the few concessions to practicality, the P15 is also expected to weigh less than 1300kg — a substantial saving over the 1547kg P1. This would give the new car a power-to-weight ratio that eclipses the P1's 647bhp per tonne — a crucial factor in achieving the goal of outstanding performance on the track.
Although McLaren's focus has so far been on lap times over straight-line pace, the P15 will eclipse the 720S's quarter-mile time of 10.4sec and challenge the P1's 10.2sec. Likewise, it could potentially match the P1's 0-60mph time of 2.7sec and get close to the P1 GTR's 2.5sec. The 720S has a 0-60mph time of 2.8sec. It is over the 0-120mph sprint, though, that the P15 is likely to display its extra pace.
In part, the low weight has been made possible by the use of McLaren's latest Monocage II one-piece carbonfibre tub, which was first used on the 720S launched earlier this year and now includes the roof structure. The surrounding bodywork is said to be all carbonfibre — although, intriguingly, our source has suggested that bodywork has been used only where it delivers a performance, rather than aesthetic, benefit. As such, the car is said to have a look described as "brutal".
The source said: "This is the ultimate distillation of form following function. Whichever part of the car you look at, you will visually understand the function of the components."
However, despite the project's engineering-led bias, the look of the car is said to have been led and signed off by Rob Melville, who was promoted to McLaren's design director in May. As a result, our artist has speculated that the car will retain many familiar McLaren design features, partnered with extreme wing and diffuser elements and even more aggressively aerodynamically shaped bodywork.
That look will include a substantial front spoiler and a rear wing described as "huge". To achieve its track goals, the P15 will set new standards for active aerodynamics across the surface of the car. Details remain secret, but this will likely mean incorporating self-adjusting front and rear spoilers that will be fed air by a variety of ducts and scoops that can also open and close as required. The ride height of the car could also be adjustable to maintain maximum efficiency.
McLaren has already this year filed two patents relating to active aero, which is set to become a hallmark of the next generation of supercars and hypercars. The company's Formula 1 know-how should help it establish early supremacy in the area with the P15.
There is also speculation around the shape of the front end of the car. The source said the front boot space of other more mainstream McLarens has been sacrificed in pursuit of performance, giving rise to the possibility of a significantly different look for the car.
Inside, the P15 is said to be stripped back in every way possible without breaching legal requirements for a road car, with even the seats adapted from lightweight racing car versions to save weight. Luggage space is said to be restricted to the point that there is room in the rear to carry only two crash helmets and sets of racing overalls.
P15 launch details remain scarce, although customers are said to already be vying for the limited production run of 500 cars. An official reveal event is expected to be held before the end of the year, but this is likely to be restricted to existing McLaren customers or those who have registered an interest in the car.
Starting prices will be about £700,000 plus tax (£840,000 in the UK) — almost the same as the P1, which was priced from £866,000, including tax, when it was launched in 2012. A public debut for P15 is anticipated for the Geneva motor show in March 2018, with deliveries beginning in the summer.
Due to the expected level of demand, McLaren's marketing bosses are said to have ruled out producing official special editions of the P15 via the McLaren Special Operations (MSO) bespoke offshoot, but customers will be offered the opportunity to customise their cars. The service's popularity among customers was reflected last year when MSO grew its revenue by 143%.
Although the P15's raison d'être is track performance, there is no indication whether or not McLaren will pursue headlines with an assault on the Nürburgring lap record, or records at other circuits. McLaren ran the P1 at the Nürburgring ahead of the car's launch but revealed only that its lap time was below seven minutes. Most recently, Lamborghini garnered attention when it claimed the Huracán Performante set a lap time of 6min 52.01sec, eclipsing that of the Porsche 918 Spyder hypercar, which clocked 6min 57sec.
Although the track focus of the P15 means that Longtail (LT) and Spider open-top versions have been ruled out, the fact that it will be launched in a road-legal form does leave space for an even more extreme, track-only GTR variant to be made later.
The GTR would likely be sold in even smaller numbers than the standard car and at a significant price premium. Customers are expected to be selected on the basis of buying a P15 first. The P1 GTR cost more than double the standard P1 and only 58 cars were produced.
Performance details of a GTR P15 variant remain shrouded in mystery, although the possibility of removing everything required to make the car road-legal could result in a significant weight saving. A P1 GTR is 50kg lighter and has 83bhp more than the standard car. The possibility of using hybrid power to boost performance on the P15 GTR is said to have been ruled out for packaging and weight reasons and because such a car would consequently veer too close to the P1 in concept.
'P15' will not be the car's name when it goes on sale. When McLaren launched its Ultimate Series line of vehicles with the P1, it pledged to give each one a name rather than applying a horsepower figure and derivative denomination, as it does for its Sports and Super Series cars. The previous use of P1 suggests that the firm will lean on its racing heritage in some form. It is expected to do the same with the other Ultimate Series car known to be under development, the three-seat, F1-inspired hyper-GT. Codenamed BP23, the car will be revealed next year and arrive in 2019.
JIM HOLDER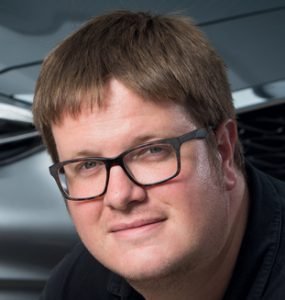 SHOULD SPEED BE KING FOR THIS MCLAREN?
MATT SAUNDERS
It's no surprise to see McLaren focusing even more closely on performance for the P15. The Aston Martin Valkyrie and Mercedes-AMG Project One are in the process of redefining the hypercar market and, to compete, McLaren simply has to use a similar rulebook.
But here, I think the firm can afford to let its long-standing obsession with speed and lap times govern its approach. When creating cars with a broader dynamic brief, McLaren has learned that the concept of 'how fast you go' must be balanced against 'how you go fast'. It's important that the P15 is drivable and usable on the road, but most customers will expect it to be supremely singular of purpose.
Lightness will go a long way. The 250kg saving compared with a P1 should clearly be felt not just under acceleration but also under braking and during cornering — particularly if the car has a lower centre of gravity and even more downforce.
Knowing what the P1 was like to drive on the road, just the idea of a road car with even more grip and pace absolutely boggles the mind.
McLaren's Mike Flewitt on…
Speculators inflating the prices of collectable cars
"We watch it, but it's inevitable. All we can do is encourage buyers to go through our dealers so that we can follow the cars. A lot of owners like the fact that the value of their cars can double or more. It's an appealing part of ownership, but the fear is that we create a boom and bust culture, which isn't good for anyone."
How big McLaren Automotive can get
"We're pretty much there in terms of our product portfolio, but we can do more in terms of distribution. Last year, we sold 3286 cars, so the goal is 5000 units a year. We're not rushing [to that goal] because we are profitable, we have full order books and because it takes time to ramp up productivity to the quality levels we demand, both for us and our suppliers."
Stock exchange flotation
"In three to five years, I can see us growing to a point that we might attract investors. A £1 bn-a-year company is often right to take on a public structure. We're not there yet, but if it happens, it doesn't worry me. I've led such companies before and it won't introduce compromises. The more diverse your shareholding base, the more accountable you have to be, but that doesn't hold any fears for us. At the moment, we can fund all of our plans ourselves, but if we wanted to go beyond 5000 cars a year, it might be interesting."
Making a 2+2 model to rival the Porsche 911
"There is an opportunity to grow other product offerings if they don't dilute what we offer now. If you look at the Porsche sports car range and how the 911 and its derivatives fit in to that, then ultimately it is very exciting. You can see how the 570GT has evolved our range to a new place and we are doing a lot of work to see what the market wants. The interesting part is how useful the two extra seats are. Do they get used, or are they a psychological benefit? Is there another way of increasing usability through packaging?"
An all-wheel-drive model
"We're not there yet, but I'd say we're getting close to the limit [of rear-wheel drive]. While I'd say we're not planning all-wheel drive right now, we're conscious it's a direction we may well want to go in. But if it does happen, it won't be using a conventional mechanical system, rather an electrically powered front axle. Our hybrid architecture will be flexible and, from an engineering point of view, there's no point putting a shaft down the centre of the car."
Even more lightness
"I'm always asking the engineers how to lose weight and, of course, racing cars don't use a
rear subframe. I don't know if you could do it with a road car — there would certainly be some challenges with refinement — but wouldn't it be great to go tub-engine-gearbox?"
MCLAREN EYES OPTION TO SUPPLY OTHER CAR MAKERS 
McLaren could produce carbonfibre tubs for other car manufacturers when
its new factory near Sheffield is operational.
The new facility will have the capacity to make up to 10,000 carbonfibre tubs each year when it comes on stream, but McLaren has stated a desire to build only around 5000 cars a year. That means there is scope for the firm to ramp up production in the future, but it is possible that McLaren will make carbonfibre structures for others.
Chief executive Mike Flewitt said: "We won't do it until we're up and running ourselves, but it is something we're considering as an obvious expansion."
McLaren's next-generation architecture will be far more adaptable than today's, allowing for differently sized models and the possibility of alternative powertrains, all of which would help with the production of limited-run tubs for other projects.
THE ULTIMATE MCLAREN ROAD CARS 
F1 (1993)
Considered by many to be the car of a generation. It was the world's fastest production car (240.1mph) and the first road car with a carbonfibre tub.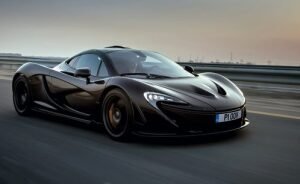 P1 (2014)
The first model in McLaren's Ultimate Series was a rival to the Ferrari LaFerrari and Porsche 918. It spawned the P1 GTR track version in 2015.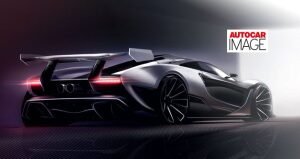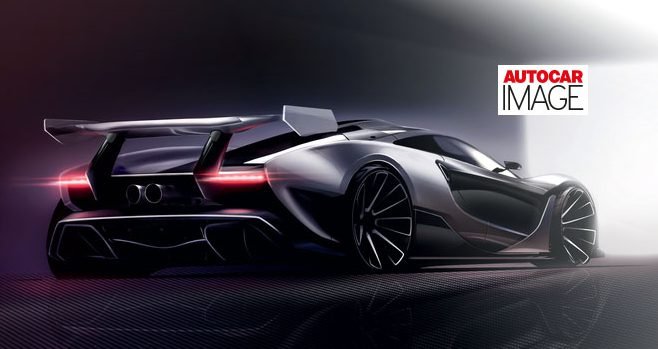 P15 (2017)
Promises to beat every McLaren bar the P1 GTR for on-track pace. Its power-to-weight ratio is likely to eclipse the P1's 647bhp per tonne.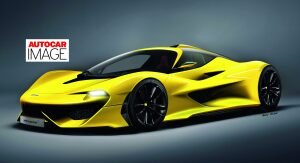 BP23 (2019)
The BP23, due in 2019, is a £2m, three-seat, hybrid hyper-GT. Production is limited to 106 examples and all have already been sold.