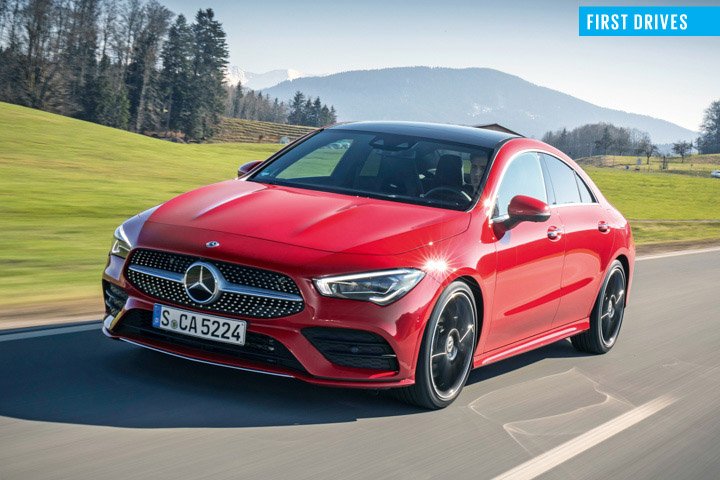 Much more than a prettier A-Class, this bigger, sportier saloon brings out the dynamic best in Stuttgart's new compact platform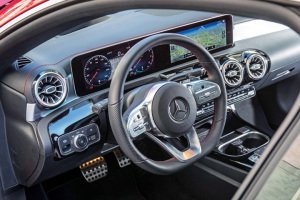 The temptation to look upon this new Mercedes-Benz CLA as a common-or-garden A-Class in evening attire is so strong, it becomes an almost natural assumption to make. We know that the secret to successful car manufacturing is to produce a single car, then dress according to need. So there's the smart-casual A-Class, the business-suited B-Class, the shortly to be announced cagoule-clad GLA and, of course, the party-frock CLA. Same car, different clothes. Stands to reason, doesn't it?
Well, no, as it happens. At least not in this case. I found this out on a road leading south from Munich to the Alps. I was thinking about the first time I drove the new A-Class and how, for all its brain-boggling technology, it just wasn't that great to drive. Yet here I was in the CLA, hoping the road wouldn't end any time soon. This was not a pulse-thumping ride leaving you with a thin film of sweat on your forehead and a few more stories for the grandkids in your memory, but it was, well, fun. Which also made it unexpected.
Before we get onto why this might be, we should briefly consider what we actually have here. I try not to dwell too much on appearances because you're as qualified to judge that as I am, but I'll say now that it looks far better than the old, slightly awkward CLA. Son of CLS would not be stating it too strongly.
The powertrain's an entirely supporting role to the chassis, which is just delightful
Interestingly, the car is bigger than its predecessor in all directions save its height. I thought this was because of the almost inevitable process that sees most generations of most cars grow in size and weight. Not so: over dinner, its chief engineer, one Axel Heix, told me the car had grown to make it more sporting. My considered reply, as I recall it, was something like: "Huh?"
So he explained it was decided quite early on that the car would have a far wider track than the A-Class to help both its stance on the road and its handling, but that it would be no higher than the old CLA to preserve that sporting image. That would have meant a car that was low, wide and short, which in styling terms would have been all wrong. So they made it longer too until it looked properly in proportion. Impressively, then, model for model, its weight has grown by just 15kg.
But that's not all he did to ensure no one would mistake the CLA for an A-Class. Having pushed the wheels 63mm further apart at the front and 55mm at the back, the team went to work on the springs, shock absorbers, roll bars and settings for the optional adaptive damping, creating a bespoke, more sporting tune for the CLA alone. But probably the most important engineering decision of all regardless of spec or engine output was to equip every CLA will multi-link rear suspension as standard. By contrast, most A-Classes sold in the UK have cheap and simple beam axles. This is no technicality: it makes a huge difference to the way the car rides, handles and, yes, steers.
The car comes to the UK with petrol engines first, a CLA 180 and CLA 200 with a 1.3-litre engine modified by Mercedes but sourced from the Renault-Nissan-Mitsubishi Alliance, and a CLA 220 and CLA 250 with a 2.0-litre Mercedes engine, with either 187bhp or 221bhp. Oddly enough, it is the lower-powered of these two models that comes with the option of four-wheel drive – a 4WD CLA 250 is available in Europe but, in the UK, it's considered its cost would be too close to the forthcoming AMG CLA 35 to make sense. A 400bhp-plus AMG CLA 45 will be available next year.
For now we're in the CLA 220, with drive sent to all four wheels. These being launch cars, they're all in top specification with two 10.25in TFT screens and adaptive damping, and it's a pretty classy place to sit and a huge step forward in perceived quality over the old CLA. The driving position is perfect, the cabin notably airy and rear room sufficient for four average-sized adults for short distances.
But I'm still not sure about the technology. Its voice-recognition software is meant only to respond to a command starting 'Hey Mercedes' but, in two days, three different CLAs would all try to join conversations to which they were not invited. And the CLA comes bristling with lane departure warning and collision mitigation systems that should be fine, but they are far too intrusive. They can hit the brakes when it's simply not needed and start tutting at you through the steering wheel if you're even near the edge of the road, as you might be when trying to take the line of least resistance through a corner. Of course, you can turn them all off, but the moment you stop, even just for fuel, they all reactivate. Heix didn't exactly seem a fan of the strategy either, but conceded it was required to maximise the car's NCAP safety score.
But back to the road. The 2.0-litre petrol engine is good enough: it's not as smooth as BMW's, nor as characterful as VW's, but it gives decent, even power right through the range, albeit a touch strained at high revs, and even sounds quite grunty when you select Sport mode. The Getrag seven-speed dual-clutch gearbox is reasonable, but no more than that. Heix says only the diesels – which go on sale in May – have Mercedes-Benz transmissions.
The powertrain, however, is not the story here, for it is an entirely supporting role to the chassis, which, with front- or four-wheel drive and at least with adaptive damping, is just delightful. Firmer it may be, but there's no hint of harshness here: you'd only know because, even on quite broken, undulating roads taken at speed, its body control is far beyond what you'd expect of such a mildly sporting car. And the steering? That remoteness I felt on the A-Class has all gone, replaced by decent weighting and unflappable accuracy.
Its point-to-point pace is such that you soon feel the limitations of the engine, so I tried a CLA 250, albeit with the four-wheel-drive hardware that will be missing from UK cars, and found the better balance of power to grip turned it into an extremely appealing car. It bodes well for the AMGs too: I wasn't convinced by the A35, but if the improvements seen here can be translated to the CLA 35, I think Mercedes could have a cracking car on its hands.
Even as it stands, the CLA makes a strong case for itself. It's a car with few rivals that, because of the efforts made to make it more rewarding, deserves to carve a popular niche for itself. I just wish the powertrains were as convincing as is the widened, multi-link chassis with its own suspension tune. I wonder, too, if Mercedes will conclude its technology is now interfering a touch too much and wind it back a bit. I hope so. But this is a still a sound car, and the most convincing product yet seen sitting on the new A-Class platform. And by some distance.
ANDREW FRANKEL
Scrolling through the driving modes so alters the character of the car. Ride comfort is good whatever you choose, but the handling is noticeably sharpened in Sport. AF
MERCEDES-BENZ CLA 220 4MATIC AMG LINE PREMIUM PLUS
Extensively retuned chassis ensures it has a dynamic character to match its more purposeful appearance


Price  £36,500 (est)
Engine  4 cyls, 1991cc, turbo, petrol
Power  187bhp at 5500rpm
Torque 221lb ft at 1800rpm
Gearbox 7-spd dual-clutch automatic
Kerb weight 1545kg
0-62mph 7.0sec
Top speed 147mph
Economy WLTP figures tbc
CO2, tax band WLTP figures tbc
Rivals BMW 220i M Sport, Jaguar XE HSE P250