TESTED 4.7.18, Surrey ON SALE Now PRICE £129,260
Sports grand tourer gains added poise to go with the drama of its 550bhp V8
Have you been holding on for just the right kind of Mercedes-AMG GT? If so, this might be your moment. The GT C slots into the range between the GT S and the track-day-ready GT R, adopting the active rear steering and electronically controlled locking differential of the GT R but without the unyielding racing buckets, mad diffuser and rear wing. (You get the dinky retractable spoiler instead.)
Not that there isn't drama here. You can most easily identify a C by the extraordinary breadth of its aluminium rear bodywork, which is 57mm wider than that of the standard car and vented aft of a pair of 305-section Michelin Pilot Supersport tyres. Meanwhile, the maw up front gets chrome braces in the form of Mercedes' Panamericana grille, now found across the range. All in, AMG's more affordable follow-up to the SLS still looks sensationally purposeful.
So purposeful, in fact, that you might ponder what exactly is required to loosen the car's vast rear contact patch. The answer is the same dry-sumped twin-turbocharged 4.0-litre V8 used elsewhere in the range, although for the C it develops 550bhp, bridging the gap between GT S and R and outgunning Porsche's 911 Turbo. It remains a spectacular device, low on lag and heroically brash, and sets a garrulous tone for the entire driving experience. With the pillbox view ahead, the sheer girth of the cabin, a high scuttle and tyres that function as huge echo chambers on anything other than a perfectly surfaced road, this car represents a sensory assault matched by few, if any, of its rivals. It'll devour big mileages but you'll feel every one of them in a way you would not in an Aston Martin DB11, which has the same engine in its V8 guise.
Once you're over the superficial appeal – admittedly, this can take some time – you'll notice how much poise the GT C possesses. The steering remains awkwardly quick off-centre but AMG's efforts to address rear roll stiffness mean the car feels less nervous than before through each stage of a corner. More than 500lb ft of torque from less than 2000rpm means you can break traction on a whim, but the rear axle remains positive and stable all the way up until and beyond that threshold. Slow in, flamboyant out seems to be the way of the GT C, and it's an unexpectedly predictable, balanced thing should you be in the mood to get the tail wagging. Take a more mature approach and there's prodigious grip to be found.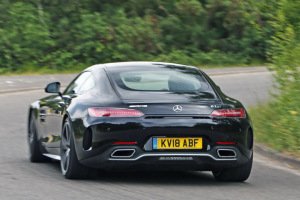 Autocar does not, alas, get to choose the precise specification of the cars it tests and in this case we would certainly not have optioned AMG's Dynamic Plus package. If the adaptive engine and transmission mounts included improve steering response and refinement, you'd need a back-to-back comparison to appreciate it. Moreover, the firmer suspension tune only exacerbates an inherent weakness of the GT: its unsettled ride. On UK roads, our GT C exhibited brittleness at odds with the brief of a long-legged sports car, even with the dampers in their softest setting. There are more rewarding ways to spend £1795, and given this car's incompatibility with circuit work, the same can be said for the £5995 carbon-ceramic brakes.
Overall, though, the GT C feels delightfully anachronistic. The instruments are analogue, the bonnet is endless and that brute of an engine still dominates the show. Additionally, the chassis is now better equipped not only to harness all that torque but also to deliver greater agility, traction (when you want it) and no small amount of satisfaction with the right approach. Both the 911 GTS and new Vantage more easily occupy the middle ground between grand tourer and sports car, but one could hardly be blamed for falling for this AMG's distinctive charm.   
RICHARD LANE

TESTER'S NOTE
You might spend a frustrating moment or three searching for the hazard lights switch, should the need arise. It's roof-mounted, so you know. RL
MERCEDES-AMG GT C Coupe
Gloriously old-school but now with the poise to match the noise, even if it still wants for refinement



Price  £129,945
Engine  V8, 3982cc, twin-turbo, petrol
Power  550bhp at 5750-6750rpm
Torque 502lb ft at 1900-5750rpm
Gearbox 7-spd dual-clutch automatic
Kerb weight 1700kg
0-62mph 3.7sec
Top speed 197mph
Economy 25.0mpg
CO2, tax band 259g/km, 37%
Rivals Aston Martin Vantage, Porsche 911 GTS