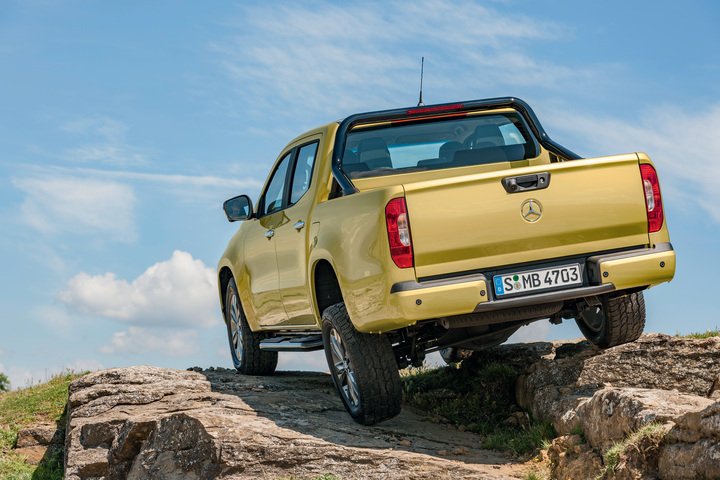 The new Mercedes-Benz X-Class pick-up is designed to be more dynamic and comfortable than the Nissan Navarra and Renault Alaskan with which it shares a platform, according to its maker.
In contrast to Mercedes' van range, the X-Class will be sold to large numbers of private buyers looking for a versatile workhorse that can also double as a comfortable family car. Mercedes wants to  differentiate the model as a premium, lifestyle offering.
The challenge for the engineers, said product manager Dominik Amann, was to make alterations that didn't undermine the advantages of the economies of scale that arise from extensive component sharing. The most significant change is to the X-Class's track, which is 70mm wider than its siblings', improving stability and grip and providing a roomier interior.
It's a clever modification because it allows the basic suspension components to be used unaltered, as is the live rear axle, which is extended by using wider wheel hubs. The extra width adds weight, said Amann, and this and the desire to improve the pick-up's dynamics led to the development of bespoke springs, dampers and bushes.
A more direct steering system has also sharpened its responses, although it remains lower geared than for a car because the X-Class is a proper off-roader. Particular attention has also been paid to noise, vibration and harshness, said Amann, the aim being to approach that of the car range.
Despite this, the X-Class will be sold only via the Mercedes Commercial dealer network in the UK. In other markets, it will be sold by both sets of dealers. Mercedes UK believes the van network's familiarity with working vehicles and business customers will prove effective.
Merc pick-up impresses off road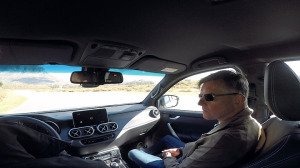 Within 12 minutes, we enthusiastically attacked a race track, performed standing starts on super-steep hills, effortlessly descended them, traversed a set of moguls that got wheels dangling, and clambered over boulders and through a water splash, before riding a bank of earth that tilted this Mercedes 42deg from the horizontal. At that angle, an occupant sitting on the low side of the car is almost close enough to the ground to drop a window and pick flowers. At the 50deg tilt that is this pick-up's tip limit, it would certainly be possible. So that's impressive.
So is the X-Class's aura of robustness, and the basic pliancy of its suspension over rough stuff, which is supple enough to cushion sharp jolts effectively. Suspension articulation seems promising, too, the succession of earth hillocks that compressed the front-left, rear-right, front-right, rear-left springs alternately being taller obstacles than most drivers would tackle.
RICHARD BREMNER