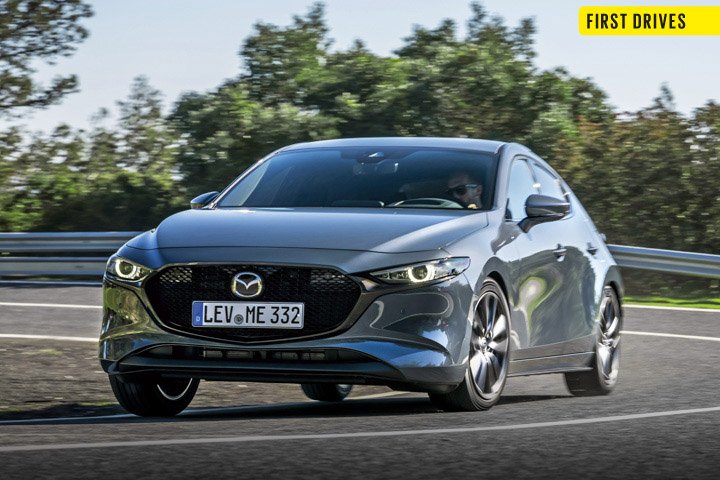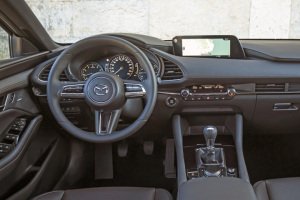 It must be a tough gig, launching a car such as the Mazda 3. After all, the class of vehicles it slots into is one so competitive and
cut-throat, it would make a gang of the most unprincipled 1980s Wall Street stockbrokers seem tame by comparison.
Survival in such an environment demands competence; success requires a well-defined, confident identity. Just look at what Volkswagen has achieved with its polished, versatile and multifaceted Golf; and Ford with its athletically talented, spry-handling Focus.
With the previous 3, Mazda followed a similar tack to the Blue Oval in placing driver pleasure at the forefront of its motive experience. It did it rather successfully, too.
This new fourth-generation model – tested here in 1.8-litre, 114bhp diesel guise – sets out to do the same, only with even greater focus on what has always been a weak spot for the Ford, and Volkswagen's forte: interior quality.
Opening the door and sliding down into the new 3's figure-hugging, supportive seats immediately reveals the extent to which Mazda has stepped up its game in terms of fit, finish and material appeal.
It's a great cabin, one which is pleasingly minimal, but not stripped back to the extent that it becomes difficult to operate the 3's key features. The only physical buttons on the central dash fascia are those for the climate systems; while the sharp, responsive new 8.8in infotainment system (which comes with sat-nav as standard across the range) is operated via a simple rotary dial just behind the gearlever. There's a rich sense of tactility about the internal controls, too.
Combine this with a more generous use of leather upholstery than is usual for cars at this price point, as well as a selection of tastefully styled moulded plastics, and the 3's cabin is one that aesthetically makes a bit of a mockery of the Ford's, and should give Volkswagen some serious pause for thought. Room in the back is a little tight, mind.
Also good news is that the 3 remains one of the sweeter-driving hatches out there. Not perfect, admittedly, but there's still plenty
of evidence here that driver pleasure has been placed at the forefront of its development.
Control weights are all spot on; the slick six-speed manual 'box is a particularly pleasing point of interaction. It turns in with an energetic sense of eagerness, too, gripping with gusto and deftly containing roll as you guide it through faster bends. A lift of the throttle mid-corner will cause it to rotate, but its inherent balance quickly sees it right itself. The steering rack isn't quite as sweetly calibrated as that of the Focus in terms of feedback or weight, but it's a far more engaging helm than the Golf's. Nice one, Mazda.
But the ride quality is a bit of a sticking point. There's an air of firmness about the way in which it goes down the road that you never quite experience in the other two hatches. It's far from uncomfortable, but its secondary ride does lack a degree of finesse and polish present in its chief rivals. Mazda's decision to opt for a torsion beam rear suspension set-up, as opposed to the multi-link arrangements of the Golf and Focus, is most likely the culprit.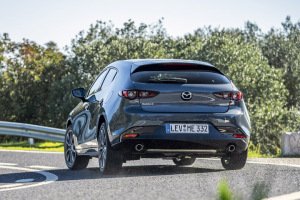 The 1.8-litre diesel powerplant sticks out as the least sporting aspect of the Mazda. There's a noticeable amount of initial lag on full throttle, but once everything
has woken up, it pulls well enough. It's quiet, too, so long as you don't insist on revving it out, and a test economy figure of 47.9mpg means it should make for a fairly frugal motorway companion.
All up, the new 3 doesn't quite have what it takes to clinch class honours. But there's more than enough substance here to give those two kingpins a bloody nose.
SIMON DAVIS
GT Sport models gain a Bose sound system as standard. It's excellent. Audio quality is rich, while it's particularly capable at delivering those deeper, bassy tones. SD
MAZDA 3 1.8 SKYACTIV-D GT SPORT
Fourth-generation 3 strikes at Focus and Golf with an upmarket interior, classy handling and a frugal motor



Price  £26,395
Engine  4 cyls, 1759cc, turbocharged, diesel
Power  114bhp at 4000rpm
Torque 199lb ft at 1600-2600rpm
Gearbox 6-spd manual
Kerb weight 1299kg
0-62mph 10.3sec
Top speed 121mph
Economy 55.4mpg (WLTP combined)
CO2, tax band 133g/km (WLTP), 27%
Rivals Ford Focus 1.5 TDCi ST-Line X, Volkswagen Golf 1.6 TDI GT