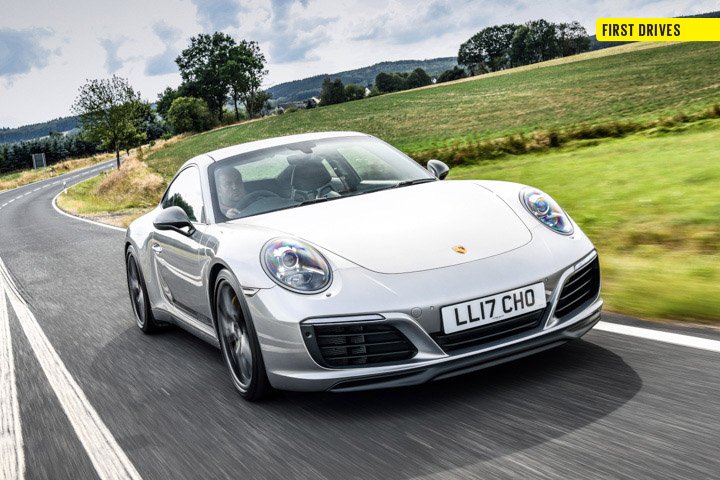 TESTED 3.10.18, GLOUCESTERSHIRE ON SALE NOW PRICE £95,895
Tuning specialist's upgraded Porsche coupé is a masterstroke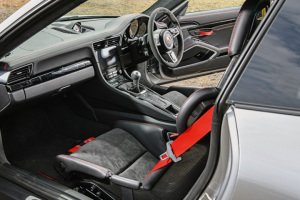 Faster, sharper and more exciting than the base-model Porsche Carrera it is derived from, the 911 Carrera T is an exceptional sports car. But like most cars, it has been engineered to slot into the middle of a model hierarchy, which means there's untapped potential within it. At least, that's the way Iain Litchfield, founder of performance car tuning specialist Litchfield Motors, views it.
His upgrades for the Carrera T include slightly stiffer KW springs, revised geometry for the front axle and subtle wheel spacers all round. The engine upgrades aren't quite so subtle. Actually, the upgrades amount only to new engine management software and a
much freer-flowing exhaust system, but the results are emphatic: power is up from 365bhp to 480bhp, while torque climbs from 332lb ft to 450lb ft.
Although the KW springs are stiffer than Porsche's standard items by about 20% at the front and 10% at the rear, the car's ride quality is hardly affected, and the brilliantly judged damping that makes the standard Carrera T work well on bumpy roads is carried over intact.
The steering is more impressive still. It is so pure, crisp and responsive, and the wheel fidgets so subtly but tellingly in your fingertips, that it feels as though the car's electrically assisted steering rack has been swapped out for a hydraulic one. For now, electric steering gets no better than this.
With 115bhp more than the standard Carrera T, Litchfield's car is astonishingly quick in a straight line. It pulls with a real muscularity from a little under 2000rpm and builds to an unrelenting slingshot towards the horizon over the final 3000rpm. Throttle response throughout the rev range is simply superb.
On top of the Carrera T's £85,556 list price, the Litchfield upgrade package costs £10,339 (including fitting but not VAT). Specifying a Remus rear silencer rather than the Akrapovic item brings that down to £7832. Alone, the chassis upgrades cost £1703, while the powertrain upgrades cost £5604 with the Remus exhaust and £8111 with the Akrapovic.
This is as good a package of upgrades as you'll find for any car, anywhere.
DAN PROSSER
LITCHFIELD PORSCHE 911 CARRERA T
Sharper, more communicative steering, ramped-up agility and enormous straight-line performance


Price  £95,895
Engine  6 cyls, 2981cc, twin-turbo, petrol
Power  480bhp at 6550rpm
Torque 450lb ft at 3695rpm
Gearbox 7-spd manual
Kerb weight 1500kg
0-62mph 4.0sec (est)
Top speed 190mph (est)
Economy na
CO2, tax band na
Rivals Porsche 911 GTS, Audi R8 V10