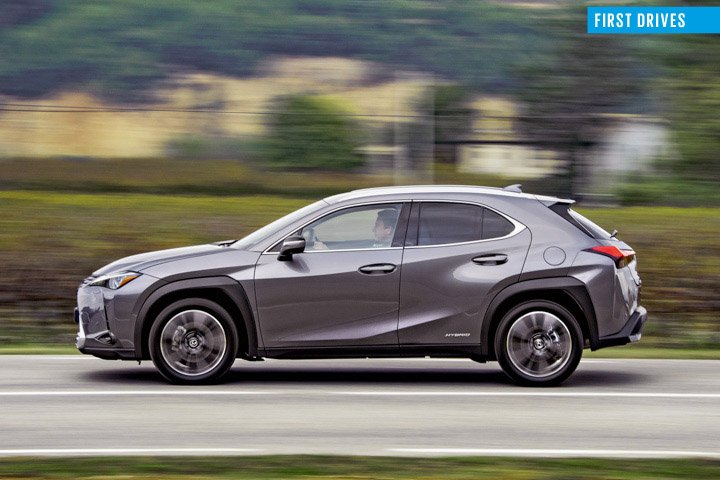 Petrol-hybrid crossover tastes British Tarmac for the first time
Some six months after we got our first taste of the Lexus UX in pre-production form in Sweden, the baby brother to the NX and RX SUVs has finally landed in the UK.
It's an interesting-looking motor, isn't it? I dare say its myriad creases, folds and angles will prove rather polarising; but to these eyes, the compact SUV cuts a fine form.
Our previous experience of the model Lexus hopes will push its European sales in 2020 through the 100,000 mark has been limited to the F Sport variant, but this time around we're driving it in standard guise. The fitment of the £4200 Premium Plus Pack – which adds sumptuously upholstered cream leather seats, seat heaters, 18in alloys and a handful of other tasteful features – pushes its £29,900 asking price up to £34,100.
It's undoubtedly a fine, richly finished cabin. But the crucial point of difference is that this UX forgoes the F-Sport's adaptive dampers and sportier suspension set-up. The result is a distinctly soft-edged primary ride that, while perfectly agreeable around town, does feel almost constantly unsettled on Britain's more questionably surfaced A- and B-roads.
Body roll through bends is also noticeably pronounced, while the car's front tyres don't require much in the way of provocation to lose purchase and nudge into understeer. Combine all this with a muted steering rack, and the UX isn't a car you would call particularly athletic. Certainly not as athletic as its dashing exterior suggests it might be, in any case.
Those 18in alloys, while smartly styled, also have an amplifying effect on secondary intrusions. Even on the motorway, the gentle vibrations created by rolling over miniature lumps and bumps were transmitted to the backs of my thighs. Road and wind noise was audible, too, but easily drowned out by turning up the sound system's volume a few notches.
Ultimately, these dynamic shortcomings shouldn't serve as a deal-breaker for potential UX buyers. Around town it's comfortable and quiet, and impressively economical. The manner in which the CVT and hybrid powertrain work to guarantee a smooth step-off and reasonable low-down punch will appeal to many, too.
That said, we'd still be inclined to opt for the F-Sport.
SIMON DAVIS
Lexus UX Premium Plus Pack
Basic UX loses some of the F-Sport's dynamism, but remains a largely refined, comfortable urban runabout


Price  £34,100
Engine  4 cyls, 1987cc, petrol, plus electric motor
Power  179bhp (total system output)
Torque 140lb ft at 4400-5200rpm (petrol motor only)
Gearbox CVT
Kerb weight 1620kg
0-62mph 8.5sec
Top speed 110mph
Economy 49.6-53.3mpg (WLTP)
CO2, tax band WLTP figures tbcRivals
Volvo XC40, Audi Q3