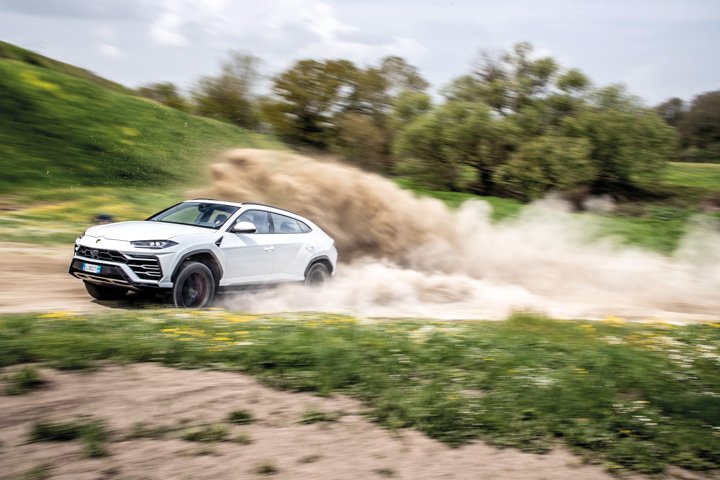 Tested 19.4.18, Italy On sale JULY Price £164,950
Is Sant'Agata's most divisive car really a supercar-paced luxury five-seater you can enjoy equally on track, street and off road?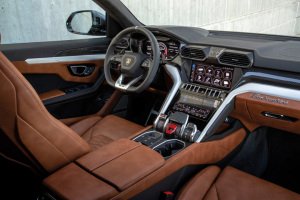 I suppose, when the matter in hand is as delicate as this, every kilogram matters, so Lamborghini isn't going to round the 2197kg that its new Urus SUV weighs to the nearest 10 kilos.
So 2197kg it is. Yay, it's sub-2.2 tonnes! And that's the first in an array of frighteningly large numbers that relate to the new Lamborghini 4×4: others of note are 641bhp, 626lb ft, and £164,950 (or thereabouts; dealer charges vary, and you'll pay £180k or more once you've got some options on it anyway).
All of which gets you what, exactly? A super-sports luxury SUV. Lamborghini says it basically invented this kind of car, and if you squint a bit, I suppose, in the rather brutalist V12-engined form of the LM002, it might almost perhaps have a bit of a point; although I'm not sure it thought so at the time, and it made only 328 of them before packing the idea in.
A tremendous wallop of torque comes in from 2250rpm so it does not matter which gear you're in
But that was then and this is now and now means it doesn't get a V12 and won't be built by hand by the couple of hundred. The new Urus sits on the Volkswagen Group's MLB Evo architecture, which underpins the Audi Q7, Porsche Cayenne and Bentley Bentayga, and it's intended to perhaps double Lamborghini's output to 7000 cars a year.
To that extent, it is a marketing-driven car, not an engineering-driven one. It's a car that they acknowledge they can only sell because they make actual genuine sports cars. Without the badge, the history, the reputation, the 12.4 million Instagram followers, the Urus wouldn't sell.
Which is an admission, of sorts, isn't it? That this isn't quite a Lamborghini after all? Not so, they say. Lamborghini DNA is written through it, they reckon. After all, it has, er, an architecture from a Volkswagen; yes, but it's lighter through better mixed-metal use and with funky C-pillars and frameless doors. It has Lamborghini's first turbocharged engine and it's one you'll find in an Audi; but, ah, here it has 641bhp. It has four-wheel drive, a tall ride height; perhaps, but no other group product marries that to a Torsen centre differential with 60% (and up to 85%) rear bias and a torque-vectoring rear differential, you see. Right.
In short, the things that separate a Lamborghini from another brand's car within the VW Group today are rather more subtle than the fact that only one of them has a V12 engine in the middle of it. Would a V12 engine fit here? Don't be silly: an SUV requires turbochargers because only they can make the requisite torque. Could you put turbos on the V12? Look, please stop asking questions and go away and drive it. So I do.
The doors swing open. They feel lighter than a big SUV's usually do; the frameless windows, see. The interior is more swooping and extravagant than in most 4x4s, too. The centre console is high. You can have five seats but this one has four, all individual chairs wrapped in expensive-feeling materials. So, too, is the dashboard, where Lamborghini design meets occasional VW Group familiarity, and some new things: a two-step touchscreen rather like the Range Rover Velar's, and a thick bunch of switches to scroll through the drive modes, start the car and select a drive function on the eight-speed automatic.
There are six drive modes: Street, Sport and Track (in which the car lowers by 15mm), and three off-road modes in which the body rises by 40mm. Or you can choose your own adventure, by selecting what kind of angry you want to make your suspension and engine and steering weight. But let's deal with Track first because, somewhat uncomfortably, my very first steer and throttle press in the Urus is one that makes it depart from a pit lane.
It is so competent on a circuit and so amenable on the road yet still shrugs off-road lumps aside
Crikey, it's fast. And, by gum, it's quite loud. The twin-turbo V8 is not overtly laggy and by 6800rpm finds a hard limiter. The official figures say this is a 3.6sec-to-62mph car and that it'll cover 0-124mph in 12.4sec. It feels not a bit slower than that. The tremendous wallop of torque comes in from 2250rpm, so it doesn't really matter which gear you're in. In fact, so willing is the car to run towards the limiter that, where upshifts are a touch hesitant, you're quite often better off leaving it in a higher ratio.
There's noise, too, and quite a lot of it. You will hear how loud it is, they said; and they were right. But there's augmentation going on here, too. Through a natural symposer using the intake system's natural frequencies, yes, but augmentation nonetheless. It's good, but I think an AMG V8 sounds better.
What else does it do? Stop, tremendously well, given the weight – carbon-ceramics with 10-piston calipers are standard. And it rolls, too, despite lowering the ride height in Sport mode, stiffening the dampers, and the adoption of 48V active anti-roll bars like you'll find on its cousins. But that's fine: a little body angle gives you something to lean on, the quick-ish steering weights up rapidly but doesn't give genuine natural feel, and then you feel the differential doing its thing, straightening a cornering line and, well, in short, this car is daft-quick around a track. Which would be amusing for a few minutes if you owned one and knew what you were doing with it: because it would go more quickly than most sports cars.
Sports cars are not typically as comfortable as this on the road, either. In its Street mode, the Urus is pretty amenable on good surfaces, albeit fidgety on bad ones: you can thank the optional 23in wheels with 30-profile tyres for that one, plus the fact that, even when the dampers are in an easier-going mode and the anti-roll bars are allowing the wheels to move independently, at heart this is still an SUV that tries to prioritise handling while weighing 2.2 tonnes. Honestly, it's fine: it's not uncomfortable, and it would be as easy as any big car from this batch to mooch around in. The seats are good. The boot is decent. Ergonomically, it's sound. The steering remains light and responsive. Pedal feel and response are strong. The digital instruments and array of infotainment are of a fine standard.
What's bad? The engine's too quiet unless you turn up the suspension to hard, and visibility – because of the high window line – is restricted. But then, while parking, the cameras are tremendous.
And then there's off road, too. Lamborghini says it wants the Urus to have "best in class" handling, with off-road ability "in the best class". I don't doubt it has nailed the former but as yet I'm not sure about the latter: the ride height in the off-road modes is 215mm, and put the right tyres on it and I guess it'll go most places people want it to. Sand dunes, most likely. I tried it on a gravel track carved into some hills and it was great fun: it was easy to ride on its torque, it felt agile, and you could feel the rear differential straightening its line on corner exit. It is – and I really do mean this – remarkable in that it is so competent on a circuit, so amenable on the road, and yet still capable of shrugging off-road lumps aside. I'm genuinely impressed. I don't think there are many cars, if any, that can do all of those things better.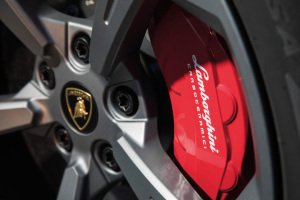 The only sticking point, then, is whether you thought that was a question worth asking, and worth putting a Lamborghini badge onto its nose when you answered it. Questions, questions: would you be more or less well disposed to this car if it wore a badge you'd never heard of? Is it fine to know a car is technically excellent but not actually to like it very much? You decide.
This one I know: does it feel like a Lamborghini? Not overtly, but you can see where they've tried very hard. But did a Porsche Cayenne feel like a Porsche when that was launched? Not that I can recall, and look how much a part of the furniture it has become. I guess that will be the way it is here, too. Man cannot live on naturally aspirated mid-engined cars alone.
MATT PRIOR

DRIVE MODES: URUS FLEXES A SIX-PACK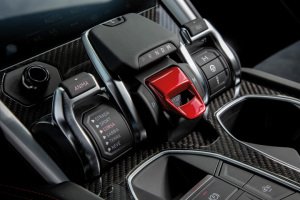 The Urus gets six drive modes. Strada is the standard street mode, where the ride height is 173mm, although the air springs can raise it to 213mm, which they do in Terra (off road general), Sabbia (sand) and Neve (snow).
It's also possible to increase it by another 5mm, but not beyond a crawl, because it's running too close to the top of the travel to allow much rebound. The four-wheel drive system and engine response don't get adjusted too much between modes. In Sand, you get greater throttle response, but the bigger difference is in the stability control modes, which, for example, relaxes the ABS in Snow.
In Sport (self-explanatory) and Corsa (track) modes, the suspension drops to 158mm and things stiffen accordingly, including steering weight.
Both of those settings are too firm for the road, so in Ego (which doesn't quite mean 'ego') you can select from three powertrain responses, three steering weights and three suspension settings.
Seriously, would the V12 fit? Lambo won't say, but if you look at how little space there is under the bonnet, you wouldn't have thought so. MP
Lamborghini Urus
Leaves a mark wherever it goes, whether in its exceptional ability or price or conspicuousness


Price £164,950
Engine V8, 3996cc, twin-turbo, petrol
Power 641bhp at 6000rpm
Torque 626lb ft at 2250-4500rpm
Gearbox 8-spd automatic
Kerb weight 2197kg
Top speed 190mph
0-62mph 3.6sec
Fuel economy 23.0mpg
CO2, tax band 279g/km, 37%
Rivals Bentley Bentayga, Porsche Cayenne Turbo