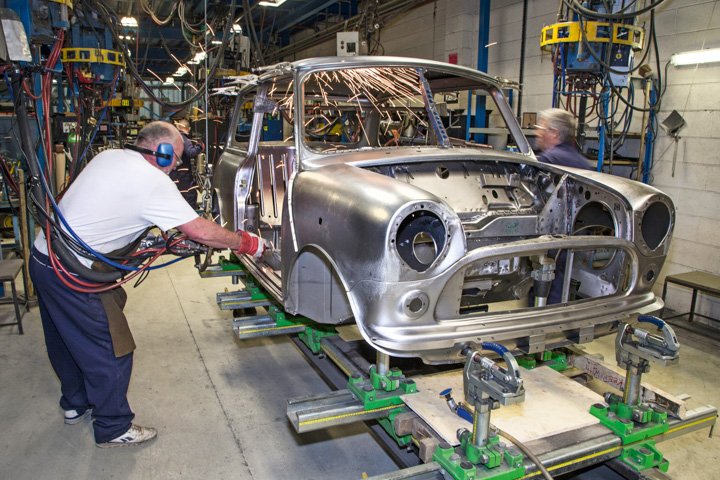 Such is the following for old Minis, happily among both young and old, that there are any number of companies specialising in selling both parts and cars. Not the least of these is British Motor Heritage, a business that grew out of British Leyland, which can sell you a brand-new bodyshell. Impressively, these are mostly made on the original BL/Rover tools and jigs. You can buy shells for the Mini saloon in Mk1 to Mk5 guise, and the bigger-nosed Clubman, too, with prices starting at £8525.
Companies such as Mini Sport can supply pretty much every spare component needed for a Mini, which triggers the appealing thought that it must be possible to build an entirely new one from scratch, as it is with MG Bs and 1960s Ford Mustangs.
Which Mini Sport's Mick Holt confirms, with a big proviso: "The only brand new parts we are unable to supply are the engine and gearbox units. Fully re-manufactured engines, gearboxes and complete power units are available on an exchange basis where a surcharge is applied – refundable on receipt of a serviceable old unit; alternatively, you can pay the surcharge, of course."
Better, then, to buy a dead Mini with an engine and gearbox to exchange. You'll need a carcass with a V5 and a chassis number anyway to provide your new build with a period identity. That said, embarking on this assembly adventure "makes no sense because it would cost you upwards of £65,000," says Holt, before painting and assembly. He also points out that David Brown Automotive is effectively doing this with its Mini Remastered cars, although these are substantially enhanced, with prices to match. Still, the idea of building an almost entirely new Mini in your garage is not without appeal.