A McLaren 570S drives better than a 570GT, yet the GT is prettier and more practical. But what if you combined them? Andrew Frankel suggested that to McLaren and hey presto: an S-pack GT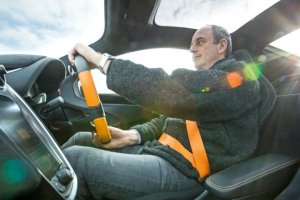 Over far too many years of giving free car advice, I have learned that there is a gap – something approaching a yawning chasm, in fact – between what people say they want from a car and what they actually want from a car. At least when they say it to me. And it seems McLaren Automotive, after rather less time in the field, is learning it too.
All of McLaren's first cars, from the 12C and 650S to the P1 and 675LT, were thoroughbred supercars. Not desperately practical, but exactly what was imagined would be required from a car wearing the McLaren badge. After a faltering start, they did well, so no surprises that when McLaren launched its more affordable Sports Series, the 570S took the same path. And it did well too – exceptionally so, in fact, for it was and remains a superb device.
But then McLaren did something I thought rather brave and launched a different kind of 570 – quieter, more practical, softer, slower and less aggressive. It was called the 570GT, those two letters telling you all you needed about the intended direction of the new car. It was a car not for tearing up the tarmac but for touring around the country, as likely to be seen in the car park of a vineyard in the south of France as the paddock of a race track in the north of Germany. And which 570 did it turn out that people really wanted? Well, if I tell you that McLaren expects 80% of the 570 coupés it will sell this year will be GTs, you'll know the answer. When it comes to it, it seems even McLaren customers are prepared to sacrifice a certain level of dynamism to secure their beloved creature comforts.
It is the most gorgeous, accessible, enjoyable car this kind of money can buy
And why not? When I drove it, I thought the GT even better-looking than the S and could see both the sense and beauty provided by that gorgeous fastback shape. And yet so, too, had something been lost. In the steering, in the softened suspension, simply in the way the car addressed the road, that intimacy, that sense of belonging I'd found so quickly in the 570S took just a little longer to locate. And when I did connect with it, the link felt just a little more distant and tenuous. It felt less like a McLaren. And I wondered how it might fare in the marketplace.
I wondered, too, why it was not possible to enjoy the best of both worlds: a car with the space and grace of the 570GT but the suspension and steering of the 570S. The weight difference between the two cars was a mere 37kg so surely that would not be asking for the impossible.
Indeed, it was not, as the car you see before you now proves. It looks like a 570GT but is probably best thought of as a 570S that has broken into its sister's bedroom, raided the wardrobe and nicked its clothes. McLaren calls it the '570GT with an S Handling Pack' and it adds £4900 to the GT's £157,000 list price. That's less than McLaren charges to fit the car with carbonfibre seats.
Specifically, compared with a standard 570GT, this means the spring rates have risen by 15% at the front and 10% at the rear. The steering is 2% quicker and it comes with the same damper actuators and uprights as the 570S, complete with S-specific settings for those dampers, the steering and the electronic stability control. Additionally, the standard Pirelli P Zero tyres fitted to normal GTs are replaced by softer, grippier Pirelli Corsa rubber. In mechanical terms, all that now distinguishes the 570S from a 570GT with the S pack is that the GT retains its quieter exhaust as standard, although a sports exhaust remains an option. Finally and for the 2018 model year, the 570GT receives carbon-ceramic brakes as standard.
It is fair to say the conditions in which I experienced the S-pack 570GT could hardly have done it fewer favours. It was cold, way below the optimal ambient temperature for those Corsa boots, and frequently wet. Worst of all, from the 570's point of view, it came off the same delivery truck that collected the 720S that had just spent a week blowing my mind, not least because McLaren had been smart enough to supply it on winter-tolerant P Zero tyres.
And yet the S-pack GT didn't feel like a poor relation at all. The fact is that the additional 150bhp provided by the 720S can barely be used on the public road even in the height of summer, so what I was losing was little more than the near-constant presence of the traction control light in whose company I had just spent much of the previous week. The 570GT still felt faster than any sane person could conceivably want a road car to be at this time of year, even in the wide open spaces provided by the Welsh mountains near where I live.
So that was one thing. As for the S pack, well, it must have worked because despite driving it harder, further, faster and in trickier conditions than I did the standard 570GT at its launch, none of the reservations I felt about that car manifested themselves again. On the contrary, this was McLaren's entry-level offering back at its most lucid, brilliant best. For reasons I don't understand but I'm sure related to the use of coil-sprung suspension rather than the active system of the 720S and its predecessors, I'd always preferred the steering of the 570S and now I can at last say the same of this GT. If you want to drive a car with a more unsynthesised, honest-to-goodness steering feel than this, you need to go and buy a Lotus. The increased speed of the steering rack is now perfect: it's still quite slow compared with most and positively lethargic compared with a Ferrari, but because it's so linear and accurate, it makes the car easier to drive.
But best of all is the rethought suspension. The unchecked heave brought by those softer springs in a counter-productive attempt to improve ride quality has gone, replaced by that old steely determination to maintain its ride height, whatever the terrain over which you choose to punt it.
And here's the rather odd thing: I came to be almost grateful that the car was clearly not wearing the right tyres for the conditions. Partly this is because the Corsa is such a brilliant bit of rubber and far more gracious in its reaction to being removed from its comfort zone than certain other hybrid road and track tyres. Mainly, though, I just loved that you could drive the car with such confidence that on the right deserted mountain road, you could turn everything off and enjoy the fact that it was going to get a little loose on you every so often. Such is the level of communication, you can drive along detecting and correcting little slides so easily that it becomes a natural part of driving the car – a 562bhp, mid-engined supercar, that is. It'll do big slides, too, if you really want, but with an open diff, it prefers a little momentum to help it on its way. Even then, it's never going to be a drift monster.
Instead, it is the most gorgeous, accessible, enjoyable car this kind of money can buy, an extraordinarily special driving experience wrapped up in a still surprisingly practical and civilised shell. Put it this way: after one drive, I stopped thinking of it as a 570GT with S suspension and steering. To me, it is a 570S, but with a new dimension of practicality and beauty thrown in. The distinction may seem slight, semantic even, but it's not. Because for all its drop-dead looks and a luggage capacity to rival a Ford Focus, once more this is a McLaren that puts the driving experience first. So while McLaren's predictions do indeed confirm that it will sell more 570GTs than 570Ss, so too do they reveal that most 570GTs it sells in future will have the S pack fitted. Having driven it, I'm not in the very least bit surprised.
PHOTOGRAPHY LUC LACEY
OUR PART IN THIS CAR'S CREATION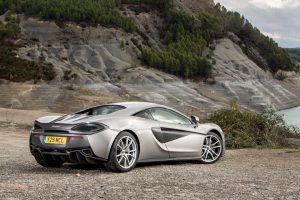 Autocar contributors have been responsible at least in part for some amazing creations. For example, former technical editor Harry Mundy was instrumental in the designs of the BRM V16 race engine and the Jaguar V12 road car engine. More recently, Iain Robertson styled the TVR Griffith before becoming an Autocar news editor. Me? I think I might have had a hand in getting the seat runners of the original Jaguar XK8 extended.
But I did have a little to do with the creation of the car on these pages. At the launch of the 570GT, McLaren boss Mike Flewitt made the mistake of asking me what I thought of the car. I'm usually quite reticent about sharing views with car makers before publication but, on this occasion, I told him about my reservations. Then I suggested that a 570GT with the running gear of a 570S might be a tempting addition to the range and that with a small power tweak it could be rather neatly named the 570GTS, creating a new model that might offer a reasonable return on investment.
Well, I got it half right. They didn't call it the GTS or up the power, and while I am sure I was by no means the only one to figure out that the best attributes of the two 570 coupés could be combined, this has at least been done. Was I even really a factor in its creation? McLaren says so, but then again, perhaps it would. But I'm prepared to take its word, not least because it's a far better claim to fame than adding an extra half inch of front leg room to a Jaguar XK8.
McLAREN 570GT WITH S HANDLING PACK


Price £161,900
Engine  V8, 3799cc, twin-turbo, petrol
Power  562bhp at 7400rpm
Torque  442lb ft at 5000-6500rpm
Gearbox 7-spd dual-clutch automatic
Kerb weight 1495kg
Top speed  204mph
0-62mph  3.4sec
Economy  26.4mpg (combined)
CO2, tax band 249g/km, 37%
Rivals Aston Martin Vantage, Honda NSX