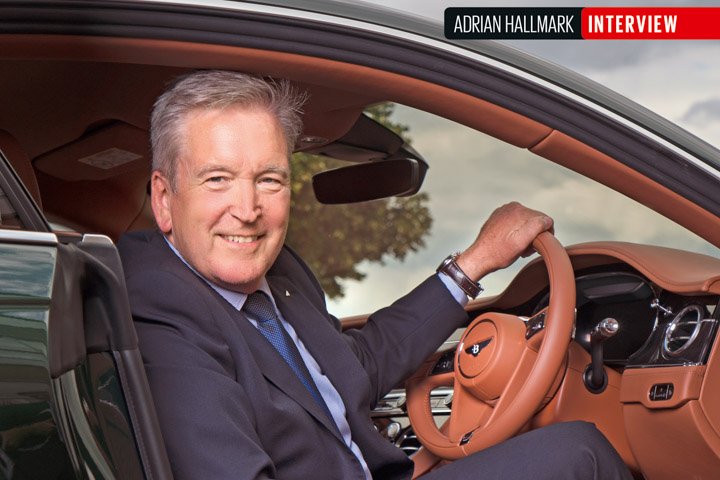 New Bentley CEO Adrian Hallmark is a luxury car specialist with a clear vision. Steve Cropley meets him
A few minutes' future talk with Adrian Hallmark, Bentley's dynamic new boss, is all it takes to demonstrate beyond reasonable doubt that the word 'traditional' – at least, as applied to venerable luxury car manufacturers from Crewe – is heading for a radical overhaul.
By the time Bentley reaches its centenary in a year's time, it will have launched its first electrified car, a V6 Bentayga hybrid, and that's just the beginning of a revolution that by 2025, and possibly before, will put an electrified version of every Bentley model on the road, along with a plethora of extra-luxury, extra-performance versions designed to expand the range's appeal, much as sibling company Porsche has done.
Beyond all that, battery-powered Bentleys are definitely on the distant horizon, an unthinkable idea until recent research showed that current Bentley owners are open to the idea, although not in the short term.
I won't talk about our future new models but I'll tell you what we won't be building: sports cars
I meet Hallmark, 55, in his comfortable but not especially opulent office in Crewe's headquarters building, much changed by the company's many bosses over the years. He is a gregarious and fast-talking character who has spent more than 20 years studying global premium and luxury car markets in detail and can spout dazzling statistics to back any argument. Hallmark used to run Porsche in the UK before moving on through several jobs on a rising trajectory to become Jaguar Land Rover's director of global strategy.
However, his secret weapon in this latest job is a previous stint as Bentley's director of sales and marketing, just as the modern era of Volkswagen Group ownership was beginning and the old-school Bentley models were giving way to the seminal 2003 Continental GT, which he helped to position and configure.
The Continental GT, an unqualified success now reaching the market in its third iteration, has demonstrated over 15 years how Audi and VW components can make a much better but still authentic Bentley and has led to the creation of a range of modern models, topped impressively by the highly successful Bentayga SUV.
He doesn't say it out loud, but it's fairly evident that Hallmark suspects Bentley hasn't participated particularly well in the Chinese-led expansion of luxury car sales since the end of the 2008-2009 recession. He is clearly impatient to do something about it, which means kicking on beyond the 11,000-cars-a-year volume the company currently achieves, which is near enough to its pre-recession record. It's pretty clear he reckons a volume beyond 15,000 would be more like it.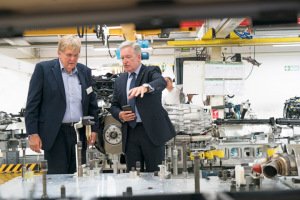 In Bentley's special arena of the car market, Hallmark explains, a luxury car is something very specific. It's overwhelmingly likely to come from one of what he terms 'The Big Five': "Ferrari, Lamborghini, Rolls-Royce, Aston Martin and us". The whole sector's combined global volume currently runs at fewer than 70,000 cars and covers models mostly starting around £150,000. By comparison, marques like Mercedes-Benz, BMW, Jaguar and Porsche (which Hallmark labels "premium") are currently pushing  into the £100,000 barrier, where the Continental GT made its debut at £110,000 back in 2003.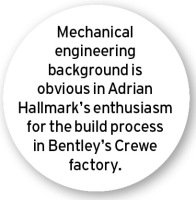 Bentley's future depends squarely on a much fêted buyer breed known as 'high net worth individuals'. According to Credit Suisse research, which Hallmark effortlessly recites, the global number of these people has "nearly quadrupled" since 2000 to around 18 million and there are now 2500 billionaires against a paltry 574 back in 2000. Hallmark summarises his own challenge thus: "If there are now 18 million people out there with floating investments of more than a million dollars – not counting the value of their homes or private property – why are only 60,000 to 70,000 of them in luxury cars?"
Yet better times are coming, Hallmark believes. The Big Five's consensus is that the car luxury market will expand by around 50% between now and 2025, driven by an expanding buyer body, and Bentley will take its share. In the meantime, the company will get busy manipulating the three main levers that affect its business: making sure the global distribution is as good as it can be; fully activating the model segments it is already in and finding new segments for the future. On the third category, there are plenty of rumours (but no specifics) about a sub-Bentayga SUV for which the Volkswagen Group could provide handy underpinnings.
Hallmark believes Bentley already has a "beautiful" global distribution of sales, selling slightly less than 20% of its cars in each of the US, continental European, Chinese and UK markets, and doing a bit over 20% in the rest of the world. On activating existing model segments, the strategy "for the next five or six years" will be to launch hybrids and V8s in every sector, and dream up Porsche-style versions of models (as it did with the previous Continental GT Speed) along the way
There will indeed be Bentley models with new nameplates in the future, Hallmark confirms, but he declines to lay out for now where the opportunities lie. "I won't talk about our decisions on future models," he says, "but I'll tell you what we won't be building, and that's sports cars.
"The sports car sector – like our own – is highly volatile in a recession. It can drop 50% or 60%. Only this time, the sports car sector forgot to recover. And if you look at their history, and the average age of their buyers, you'll see the age goes up by one every year. It means the cars are being bought by the same old enthusiasts. When owners are in arts or sports, either their contract says they're not allowed to drive because of the risk, or publications like The Sun publish pictures of them driving, which they don't enjoy. That doesn't help sales, either.
"In China, it's the opposite. There are plenty of 30 to 40-year-old millionaires, but they tend not to play tennis, football or sing. And they drive SUVs or limousines, so the sports car sector has not benefited from the Chinese expansion.
"Some manufacturers have tried to change this, but so far the market hasn't responded."
We're already running out of interview time. A quick tour of the new Continental GT assembly line beckons (Hallmark, very knowledgeable about the build process, is in his element on the tour, pointing out manufacturing complexities barely visible to the naked eye). But before we go, I want to hear about Bentley owners and their view of electrification: is it a case of pull or a push?
"If you'd asked five years ago, I'd have said people don't want hybrids. They're margin killers for manufacturers and a partial solution most people don't appreciate, apart from some tax benefits. Today, it's different. Some brands – I don't want to keep mentioning Porsche, but the Panamera is an example – have been able to position their hybrids as the best version of a model to own. Fun and efficient at the same time. They've cracked the code. We need to do it, too." A
PHOTOGRAPHY Stan Papior
HALLMARK ON…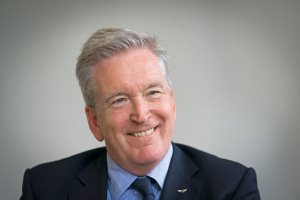 FUNDING NEW TECHNOLOGY
"We don't need to be pioneers in the Apple or Google sense. We've funded our own growth so far, but sometimes you need money before you earn it. We've got to compete with other parts of the group. Our case can't just be about the emotion of Bentley, though we do play on that. But you need a great business case."
POWERTRAIN PROGRESS 
"We're slightly hindered by WLTP testing requirements and the time it takes to get things done. When the requirements of RDE and WLTP were moved together, it made things slower than they might have been."
THE LATEST GT's 'DERIVATIVE' STYLING
"The last-generation car wasn't enough of an evolution and I wondered if this one should have gone further, too. So I sought the clinic results: phenomenal. Then I drove one in London: great reaction. People know it's familiar but see it's different. Above all, they think it's beautiful."
A BATTERY BENTLEY
"Thirty-seven per cent of our owners have considered a BEV [battery electric vehicle]. They're open to them and understand cities will want them. But they want more, not just an ecological car but great suspension, performance, connectivity, craftsmanship. They want to gain, not lose anything."
SCARCITY OF ELECTRIC CHARGING POINTS
"It's one of my least concerns. Porsche, VW, BMW and Mercedes are partners in a network for transient travel across Europe called Ionity, which in 18 months will have six chargers each on sites no more than 120km [75 miles] apart, able to charge a Porsche Mission E in 20-30min."
THE ROBOTS THAT DO THE DONKEY WORK

"The controversial robots," Adrian Hallmark points out on our tour of the factory. Bentley is rightly proud of the hand-built craftsmanship in all of its cars, so bringing in robots to do work previously done by human hand was indeed a controversial one last year. The three robots take care of the initial 70% or so of the sanding of parts of the interior that the dexterity of the human hand makes it tricky to sand, before they return to human hand for finishing. Rather than replace the work of a Bentley employee, they've enhanced it. Hallmark says they've helped reduce fatigue and allowed production to be ramped up and the craftspeople to save their skills for the parts of the interior the customer really notices.