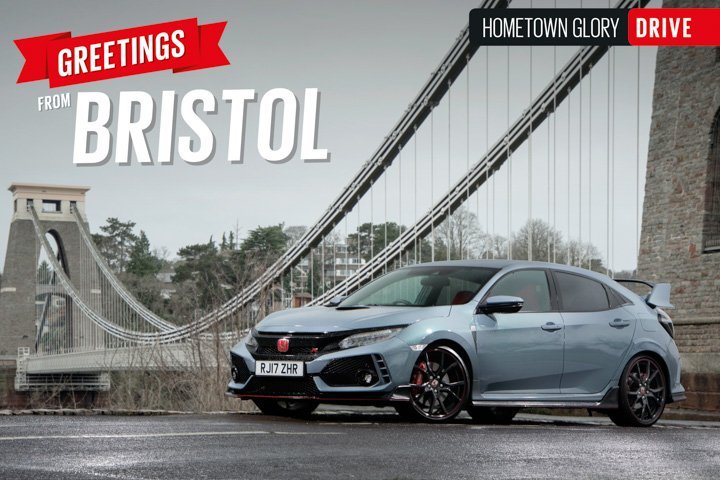 A historic 1945 race, £200k Alfas, a car maker that beat a Cooper driven by Stirling Moss and the world's fastest car: Dan Prosser finds it all in Bristol

Have you ever wondered what contribution your home town has made to this country's automotive tapestry? If you grew up in one of the 1920s semis along Browns Lane in Coventry, you'll know very well that you hail from Jaguar's home patch. And if your weekday mornings were soundtracked by buzzy four-cylinder engines being wrung out on the test track just over the way at Hethel, you'll be well aware that your corner of the country brought us Lotus, as we know it today. For those of us who don't come from one of Britain's many famous car towns, though, it's a question that demands a little digging.
For all but a few of my 31 years, I have lived in Bristol. Twelve of those were spent in a north Bristol suburb just a mile or two from Filton airfield, and it's in the vicinity of the disused runway that I find myself now, peering at a building materials supplier on some entirely unremarkable industrial estate.
It mightn't be a famous car town, but Bristol is as well known as anywhere for its engineering past. Much of that reputation can be attributed to just one man, of course, for it was Isambard Kingdom Brunel who built this city's iconic suspension bridge in Clifton, the Great Western Railway that links the south-west with the capital and also the SS Great Britain, the world's first iron-hulled, screw-propeller-driven ship, which today sits proudly in a dry dock in Bristol harbour.
Aviation, too, forms a huge part of this town's history. Filton airfield was first built in 1910 and, over the following decades, a whole industry sprung up around it. The Bristol Aeroplane Company was founded here at around the same time, building several thousand Fighter biplanes during World War I. Much later, the first UK-built Concorde took off from Filton in 1969 and, 34 years after that, the final ever Concorde flight landed at Filton, too.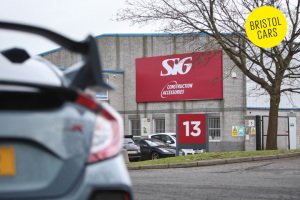 But what has any of that got to do with cars? I'm parked up by the side of Concorde Road, half a mile to the north of Filton's runway. A company called SIG Construction occupies the corrugated steel and brick industrial unit now, but for a long time, this was the home of Bristol Cars. In fact, the obscure and quirky car maker had several facilities dotted around the airfield, but all of those to the south of the runway have now been knocked down and redeveloped. This is the only one that remains today, although you'll find no indication anywhere that this was once the site where 410 and Blenheim luxury cars, among others, were manufactured.
Bristol Cars was born out of Bristol Aeroplane Company. At the end of World War II, it found its many thousands of employees, sizeable manufacturing facilities and boundless engineering expertise were no longer being put to good use. Establishing a car division was one way of keeping those assets occupied, and over the following decades, Bristol Cars established itself – if that's the correct term for a company that never much concerned itself with such vulgarities as market share, or growth – as Britain's most eccentric car maker. Manufacturing was suspended in 2011 and the business wound up. There is a plan, however, to revive the Bristol Cars name with a new two-seat roadster called the Bullet.
So far, so obvious. That's the chapter of Bristol's car culture you'll probably be familiar with already. Being uncharitable, you might say that's all there is to it, but that would deny this city its most famous automotive claim to fame, for it's home to the fastest car ever built, no less.
But before we get on to that, let me explain the Honda Civic Type R. Since the closure of Bristol Cars seven years ago, no cars are built within the city, or even nearby. In fact, the nearest car factory is Honda's plant in Swindon, 38 miles to the east, where the Type R is built. Hence it being our choice of conveyance today.
Incidentally, the Ariel factory in Crewkerne, Somerset – where the very wonderful, very exposed Atom and Nomad sports cars are assembled – is further away by just two miles. Given today's soggy weather and late winter chill, I feel quite thankful for whatever quirk of fate dropped the Ariel factory a couple of minutes further along the A30.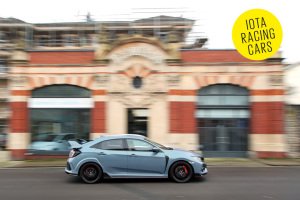 From Concorde Road, we head towards the city centre before diverting into Clifton. For many years, I've been well aware of the used car dealership with the ornate stone frontage on Alma Vale Road, but only in researching this piece did I come to learn about its history. In the late 1940s and early 1950s, it was home to Iota Racing Cars, an independent firm that manufactured a handful of single-seat competition cars for the 500cc class. Iota was never destined to grow into a Cooper, a BRM or a Lotus, but it does have one famous race win to its credit. At the 1950 Royal Silverstone Meeting, Iota driver Frank Aikens won the 500cc race – a support race to the grand prix – ahead of a Cooper, which was driven by a promising young racer by the name of Stirling Moss.
From Clifton, I drive out of Bristol on the B3128, heading west towards Clevedon. Nine miles later, I reach Naish Hill, a short stretch of B-road that spans the M5 motorway. A few decades ago, though, long before the motorway was built, Naish Hill wasn't a B-road, or a bridge. It was a narrow dirt and gravel track that twisted and turned its way up a grassy hillside in the shape of a W, three tight hairpins linked by straights. Small sections of it remain to this day, most clearly a pale brown banked turn that bends around a small huddle of trees in the middle of a field.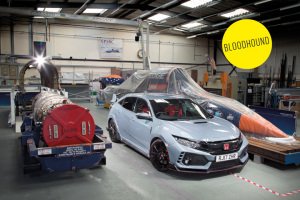 It doesn't look like much. In fact, you wouldn't give it a second glance. But it was right here, on this grassy hillside, on that narrow dirt and gravel track, where the country's very first motorsport event after the end of World War II was staged.
On 18 August 1945 – just three days after Victory over Japan Day – Bristol Motor Club held the first RAC-sanctioned speed event. It was a timed hillclimb. It's difficult to imagine what the mood must have been like on Naish Hill on that day 73 years ago. After six terrible years of war, people could at long last get back to the utterly trivial yet very serious business of driving their cars as quickly as they dared.
The contemporary report that ran in this very magazine captures the spirit of the occasion beautifully: "Blowers whining, 'specials' crackling ear-splittingly, multi-cylindered racing engines being warmed up in short air-tearing bursts, cars of all sorts and sizes dotted about the parking areas, old acquaintances of all kinds and shapes rushing up to greet one another again, a starting line for eight hundred yards of as near flat-out hustle as the drivers dared and a record time of 56 seconds waiting to be broken, such was the setting last Saturday for the first event under an RAC permit for car competitions for nearly six long years, and the start of the post-war era."
I drive on towards Clevedon, which perches on the edge of the Bristol Channel. On the outskirts of town, we find Alfaholics. Right here, 900 miles from Turin, lives what is almost certainly the world's pre-eminent classic Alfa Romeo parts, servicing, racing and restoration business. Alfaholics grew out of Richard Banks' one-man restoration outfit, first established in the 1970s, and it is run today by his sons Max and Andrew.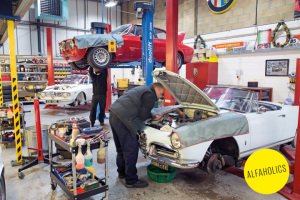 The company is best known for its thriving mail-order parts business as well as its £200,000 GTA-R resto-mod. A modern-day, high-performance reimagining of the 1960s GTA, Alfaholics' GTA-R is as gorgeous to behold as it is to drive. They're in such demand, in fact, that if you place an order today, you can expect to take delivery at the end of 2022. "We were paid the biggest compliment imaginable," says Max, "when Gordon Murray ordered one."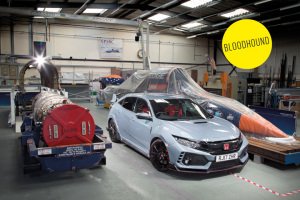 From Clevedon, I hop two junctions along the M5 to Avonmouth for the final stop on my tour. In another industrial estate, I find Bloodhound SSC, Britain's latest and most astonishing land speed record car. The facility is quiet now. All the groundbreaking engineering work is done and the car has been built. The project is, for now, an administrative one, with complicated plans being hatched to fly the car and huge amounts of equipment to South Africa, where the record attempt will take place.
Today, the car lies dormant beneath translucent dust sheets, as though it's resting in a cocoon, while an EJ200 jet engine sits adjacent to it, silent and restful now, saving itself for the moment a year or two from now when in the sweltering heat and endless expanse of Hakskeenpan in the Kalahari Desert it'll ignite, firing Bloodhound and its driver Andy Green to 800mph, whereupon a trio of hybrid Nammo rockets will erupt and propel the car ever harder until it reaches 1000mph. This city doesn't have a world-famous car maker to call its own, but at least in Bloodhound SSC Bristol does have the world's fastest car. A
 PHOTOGRAPHY STAN PAPIOR
HOLDEN BUT NOT HOLDEN

Broken hill
Steve Cropley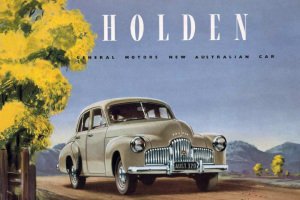 When I was young, my home town, the Australian mining city of Broken Hill, was divided from the rest of civilisation by interminably long and aggressive dirt roads that specialised in shaking European cars to bits. That's the main reason there were very few interesting models. Most families (whose breadwinners were mostly involved in finding silver, lead and zinc) favoured rugged Holdens and old Yankmobiles. A few had cast-off World War II Jeeps. There was a local dirt hillclimb for a while, featuring cars that looked a bit like speedway midgets, but they closed it when a bloke got killed. Meanwhile, hand-me-down car magazines kept telling me good cars lived elsewhere, which is why I left.     
ROAD AND RACE CARS AND AN F1 LEGEND

Norwich
Mark Tisshaw
Being from Norwich, there's only one game in town: Lotus. Well, it's not actually from Norwich: it's in Hethel, near Wymondham. Let's call it Norfolk for ease. At which point, a quite extraordinary history of road car and race car development opens up. Even in recent years, we've had everything including the Caterham F1 team based at Hingham and GP2 stalwarts and F1 wannabes iSport on the motorsport side, as well as the afterlife operation for the Caparo T1 F1-car-for-the-road and the start-up, close-down, start- up again of Zenos. The biggest gig in town (well, county) aside from Lotus is the European arm of Multimatic, the firm behind the Ford GT. As for Norwich? Ayrton Senna lived in the Eaton suburb of the city from 1981 to 1982 when racing in Formula Ford.
RIGHT ON, RYTON


Coventry
Matt Saunders
Being a village boy, I'd be lying to say I was from Coventry, but as a youngster, it was my nearest city – and its formative part in the development of the UK car industry makes Bristol look like a bit-part player.
Coventry entrepreneur Harry Lawson made Britain's first locally built Daimler in 1896. Riley, Rover, Standard, Armstrong Siddeley, Humber, Hillman, Alvis and Singer were all making cars in the city before World War II.
But it's the Ryton plant built by Rootes that will always spring first to my mind when I think of Coventry car making, because it was particularly close to home.
Oddly, although Mum had a Hillman Avenger, it was a Chrysler-badged one made in Linwood; and although I had a Peugeot 306, it wasn't a Ryton-built one. Still, one day I hope to complete the circle and own a Coventry-made car.