It's two and a half times the size of Land Rover but tiny in Europe. As SUVs get ever more popular, what future for Jeep? Julian Rendell asks pundits and its CEO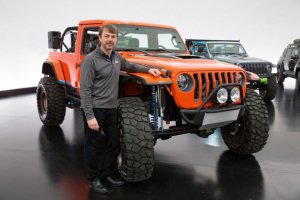 Every Easter, thousands of Jeep enthusiasts converge on Moab, Utah, to thread their cars across, through and over challenging off-road desert trails. Still organised – as it originally was in 1967 – as an enthusiast event, the Easter Jeep Safari (EJS) has nevertheless become such a significant gathering that Jeep showcases new design ideas and this year revealed seven EJS concepts, five based on the new 'JL' Wrangler, the range icon launched last year.
Jeep won't commit to production of any of the concepts, but they provide a creative entrée into a busy year for the brand, which will winch up another level on 1 June when Jeep's owner, Fiat Chrysler Automobiles (FCA), announces its next five-year business plan out to 2023.
Jeep and its CEO, Michael Manley, are on a roll right now. Manley, born in Edenbridge, Kent, joined DaimlerChrysler in 2000 as dealer development head and, 18 years on, he runs the two jewels in FCA's crown – Jeep and RAM – making him one of the most senior Brits in the global car industry.
Today, one in three of all cars sold by FCA wears a Jeep badge
Manley took the reins at Jeep in 2009, when sales were nudging 400,000 units, and he has shepherded it through an unprecedented period of growth. Last year, sales were 1.41 million units, more than three times 2009 levels, and today one in three of all cars sold by FCA wears a Jeep badge.
As a result, Jeep has five models in the top six of FCA's bestsellers – each model selling more than 200,000 units. And the RAM pick-up  – also Manley's responsibility – is number one.
But last year, Jeep's growth stalled and sales dropped by 100,000 units, a decline attributed to fewer US fleet rental sales. Then at the Geneva motor show this March, FCA boss Sergio Marchionne dropped the 'L-Bomb', describing European sales as "lousy".
Manley – who, it is reasonable to assume, is used to such outbursts from FCA's capo dei capi – remains unruffled by his boss's candour.
"The main number we recognise is 1.9m for this year. That was the global number we put in the 2018 business plan five years ago. That, from a global point of view, is the number that we are really, really focused on," he says.
Jeep has a hugely busy couple of years ahead of it, not only because of a daunting 500,000 extra sales required in 2018. Five new models are on their way in the next three years, and Jeep will replace its premium flagship, the Grand Cherokee, in 2020.
[metaslider id="26274″]
New models will drive Jeep's growth and the new Compass, just on sale in the UK, is its most important launch since the Renegade arrived four years ago. The Compass takes Jeep into the heart of the fast-growing global C-segment of SUVs against the Ford Kuga and Nissan Qashqai and forecasts from industry analysts IHS Markit suggest the Compass might hit 400,000 sales by the year's end, making it easily Jeep's bestseller.
"In Europe, we've never had a really competitive SUV in the volume C-segment. Renegade has already really made big strides for us in the B-segment. And now Compass is building on Renegade," says Manley.
Later this year, the new Wrangler will arrive in the UK backed up by a greater supply of cars, which up to now has been limited by production bottlenecks in the US.
"We will increase annual Wrangler production," says Manley, "with more available for all markets – not just the UK, because we have many, many thousands of excess orders, even in the US. But we still haven't broken the constraint, by the look of forward orders."
New for the Wrangler – and confirmed for Europe – will be a crew-cab pick-up variant.
"There are two very distinct UK pick-up markets – one focused on low-cost utility. But there's a part of the market that's moved into lifestyle and that will be where the Jeep pick-up plays," says Manley.
He also raises the prospect of a range-topping Wrangler pick-up version: "In our range, we have traditionally had a 'profile' vehicle that's raised the vehicle from its standard condition and added additional off-road ability that acts as a halo model. The pick-up truck will have one."
Like every car maker in Europe, Jeep is facing up to the challenge of diesel's sales slide, and new hybrid models are on the way. The Wrangler, for example, will feature a 2.0-litre petrol with 48V mild hybrid.
"The investment that's required to stay compliant in diesel in Europe is substantial, so the cost gap between that and some form of hybridisation is closing," says Manley. "More and more degrees of hybridisation between 48V mild hybrid and plug-in will give a viable alternative to diesel."
Given that the lugging power of diesel engines is a significant element in Jeep's off-road performance, isn't that a concern? "Hybridisation can give you all of that torque application that's popular with 4×4 drivers," says Manley, "and although it adds weight, you're going to see improvements over time as battery energy density improves."
Manley is proud of the engineering advances that Jeep has made and says powertrain refinement will improve as new petrol-based hybrids come to market. He points out that since models like the Liberty (sold from 2002 to 2012) have been phased out, Jeep has focused on higher-tech all-wheel-drive systems, unibody structure design and car-like suspensions.
I want my vehicles to be competitive against crossovers
"What we've done is try to have car-like ride and drive. That's important," Manley says. "The Liberty, for example, was an old-generation SUV. It was significantly compromised and only maybe 15% of the buyers appreciated the capability. That limited its appeal."
But with a new army of customers attracted onto Jeep's territory of high-riding cars with better visibility, practical interiors and a tougher look than a hatchback, won't they demand an even more car-like driving feel than, say, the Renegade can deliver?
"I don't want my vehicles to be crossovers. I want my vehicles to be competitive against crossovers," counters Manley firmly. "You and I are going to have to differ on your opinion. We are on the cusp of our new, next generation of engines. Our new generation of nine-speed transmission today is phenomenal. So all of the things you are talking about is a continuing work-in-progress and we continue to invest to do our own part in bar raising."
Not one to stand still, Manley is planning a further range extension – a B-segment SUV to slot beneath the Renegade. Details are sketchy at the moment, but it looks like a simple spin-off of the Fiat Panda 4×4 with perhaps an extra 125,000 units within its grasp.
Of course, it wouldn't be a surprise if the B-segment SUV gets a mention at June's high-profile FCA business plan announcement alongside more investment, more models and more ambitious sales targets, because the iconic US brand is heading onwards and upwards. And don't forget there's a Brit in charge. A

HOW FAR UPMARKET WILL JEEP GO?
As a graphic illustration of how far Jeep has come, the $86,000 Grand Cherokee Trackhawk is the ultimate example. Seventy-five years ago, the Jeep was a utility vehicle clogged up to its axles in WW2 battlefields. Today, the Trackhawk is a 697bhp, 3.5sec-to-62mph luxury beast that snarls like a Nascar racer and is trimmed in fancy leather yet rolls with indecent comfort.
Given that Jeep is eyeing up new territory above the Grand Cherokee for the Wagoneer and Grand Wagoneer models, the pricey Trackhawk is surely paving the way, isn't it? "To answer your question simply: yes," says Jeep CEO Michael Manley.
However, Jeep is not generally heading towards some stratospheric price positioning, like too many Land Rover and Range Rover models. And that's great for car buyers, especially in the US, where Jeep is synonymous with the great outdoors and the freedom to roam. But it might not be so great in a pure business sense. That's because bigger list prices equal bigger margins and happier
chief executives.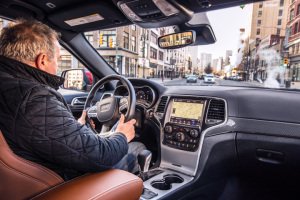 Last year, an ambitious plan to make the next Wagoneer family on a new unibody chassis was quietly shelved and, with it, ambitions to take on Range Rover, Mercedes-Benz and BMW. Fiat Chrysler Automobiles' Alfa Romeo and Maserati brands can be positioned to do that.
Instead, the Wagoneer will be based on a low-cost body-on-frame platform, possibly a variant of the RAM pick-up, since production is slated for the Warren plant in Detroit, home to the RAM 1500.
Jeep can deploy the Wagoneer and Grand Wagoneer as two different trim levels on a full-sized SUV to take on bestselling models like the Chevrolet Tahoe and its platform twin, the Cadillac Escalade. The Wagoneer can be priced against the Tahoe at around $55k while the Grand Wagoneer shoots high at the $80k Escalade.
So while premium manufacturers slug it out with aluminium spaceframe chassis and super-luxury interiors, Jeep looks content to feed its loyal customers rugged, honest SUVs that drive much better than they once did and offer touches of luxury but are not pretentious or over-priced.
WHAT THE EXPERTS SAY
The general agreement is that Jeep has come a long way fast but also faces several significant challenges in the future.
The most pressing is the hugely ambitious 1.9 million sales target for this year. In fact, IHS Markit, which supplies detailed sales forecasts to the main players in the car industry, predicts a much more conservative increase in sales of just 125k in 2018, rather than the 500k Jeep expects.
"We don't see such an optimistic year," says IHS consultant Colin Couchman. "Jeep has had a big global target for some time. But the sheer scale of growth in SUVs might mean Jeep gets crowded out by rivals, especially in China."
IHS believes Jeep won't hit its 1.9m target until 2023 – in other words, at the end of the next five-year plan from Jeep parent Fiat Chrysler Automobiles (FCA). And it predicts a brief lull in sales in 2019 and 2020 of around 1.55-1.56m units, until sales in Europe, China and Latin America lift again in 2021 and boost the total to 1.68m – when the new small B-segment Jeep is launched.
Peter Wells, who leads Cardiff University's Centre for Automotive Industry Research, believes Jeep faces some major strategic challenges.
Wells says: "It comes down to investment and strategic partners. Can FCA find a partner to make the kind of cost savings that the Renault-Nissan Alliance has?"
Wells says that alliance is saving around $5 billion a year, from an annual purchasing bill of about $100bn – cash that it can invest in electrified powertrains, new platforms and production capacity.
Wells says: "I think Jeep will struggle to hit the volumes they're talking about. And I think they've got to do more to build the brand around the world. Land Rover has been brilliant at that."