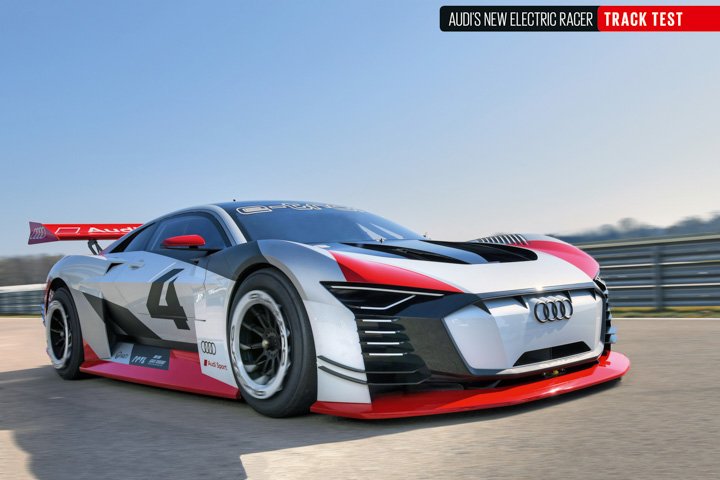 Audi created this e-tron Vision Gran Turismo for the virtual world but liked the result so much it made a real version for the track. Greg Kable was invited to try it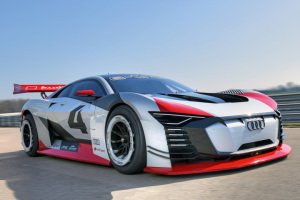 The new pure electric coupé you see here started life as a computer-generated design, just one of 20 or so created by Audi's in-house design team over the past two years.
The original idea was to use the car as a purely virtual entity to boost Audi's presence in the latest version of the Gran Turismo video game on the Sony PlayStation 4. However, Audi bosses liked the e-tron Vision Gran Turismo so much they decided to build it as a rolling prototype to star at Formula E races as part of a marketing campaign surrounding the new e-tron electric car sub-brand.
I first see the new coupé up close at the end of a row of garages at Audi's Neuburg test track facility on the outskirts of Ingolstadt. Low and wide and with a generous front splitter, it looks like it means business and its carbonfibre body sports a livery that evokes the company's 90 quattro IMSA GTO of 1989. Size-wise, it's around A6 dimensions.
The vast torque and four-wheel-drive traction provide explosive acceleration
Former DTM driver Rahel Frey will pilot the car at Formula E events, but today she has been asked to ride shotgun with me. Encouragingly, she's smiling when she hands me a crash helmet.
The basis for the car is a tubular frame chassis to which Audi's motorsport division has combined various elements from its 2018 A4 DTM race car, including double wishbone suspension and electric steering and braking systems.
Drawing on technology used by the upcoming e-tron production models, its powertrain consists of three electric motors: one sited up front providing drive to both front wheels and two at the rear, each driving a wheel. With a combined 805bhp, they provide the 1450kg coupé with a power-to-weight ratio of 555bhp per tonne. Audi hasn't revealed an official torque figure, but it is said to deliver more than 737lb ft in total. With a quattro four-wheel-drive system providing variable drive distribution between the front and rear axles as well as the individual rear wheels, the car is claimed to accelerate from 0-62mph in 2.5sec and reach a restricted 140mph.
Inside, the left-hand-drive Audi resembles a DTM race car. You sit well back in the cockpit in a reclined position, snugly contained within a carbonfibre seat by a six-point harness. There's a rather idiosyncratic starting procedure to perform: a nudge of the brakes, then the press of a button placed within the drive selection controls down on the floor to the left of the driver's seat to prime the electrics before you press the drive button. A whir of electrics indicates it is ready to go.
As we head out onto Audi's oval test track, there's whine from the rear electric motors but nothing immediately intimidating. The car has a sensitive throttle and gorgeously direct steering. It's easy to drive smoothly and, despite being a one-off, it feels remarkably well engineered. In keeping with its competition breeding, the e-tron Vision Gran Turismo feels more urgent than any other electric-powered sports car I've driven. This is brought into clear focus after a number of exploratory laps when I receive the all-clear from Frey and plant the throttle.
The new Audi doesn't so much as gather speed but pile it on all at once in a seamless and instantaneous surge. The vast torque and four-wheel-drive traction provide truly explosive acceleration. Before I have time to collect my thoughts, we're already up on the speed limiter at 140mph. On the long back straight of the test track, I get some time to appreciate the ferocity of it all. Even more savage than its acceleration is the braking. The brakes have been borrowed from the Audi A4 DTM racing car, but with electric actuation. The sheer performance of the carbon discs and the race-grade calipers combines with the purchase of those big slicks and the massive great wing to generate incredible stopping power.
The downforce under braking is far removed from that of any existing Audi road car and there's no ABS to rely on, so getting the braking right from high speeds is probably the trickiest thing. You have to hit the pedal with proper force, then gradually back out as the downforce fades. There's not much feel in the pedal itself, and its travel is quite short. At first, I'm a little hesitant to give it the full blast of left foot, fearful of a tail-led exit into the scenery, but with some urging from Frey, I feel like I at least managed to scratch the surface of its full potential.
The Audi delivers so much confidence from the steering and outright front-end grip that you can carry terrific speed though corners. A low centre of gravity helps, as does Audi's claim that the e-tron Vision Gran Turismo has 50:50 weight distribution. It takes a lot of provocation to unsettle either end, although it is surprisingly easy to gather it up again.
I suspect it would take more skill than I can bring to really unlock its true potential, but if this new Audi taught me anything, it's just how engaging a dedicated electric-powered race car can be. A
FIVE MORE CRAZY GRAN TURISMO CARS 
MERCEDES-BENZ AMG VISION GRAN TURISMO
Brawny gullwing coupé was unveiled as a 1:1-scale model in 2013. Powered by a front-mounted V8, it previewed the Mercedes-AMG GT road car.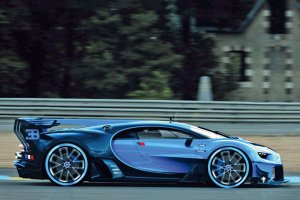 BUGATTI VISION GRAN TURISMO
Single-seat, W16-powered concept car was based on a pre-production Chiron chassis and unveiled in late 2015, six months before the road car.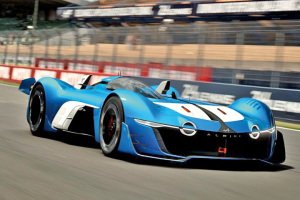 ALPINE VISION GRAN TURISMO
Anticipation of Alpine's return was stoked by this full-sized model that appeared at the start of 2015. It produced 444bhp from a 4.5-litre V8.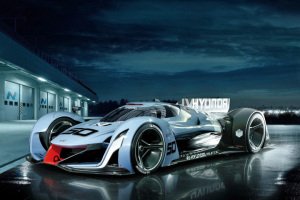 HYUNDAI N 2025 VISION GRAN TURISMO
This showcase for Hyundai's N performance offshoot derived 872bhp from a hydrogen fuel cell powertrain. A full-scale model was shown in 2015.
MAZDA LM55 VISION GRAN TURISMO
Embracing 1991's 787B Le Mans winner and Mazda's current Kodo styling, the model was a star of the 2015 Goodwood Festival of Speed.