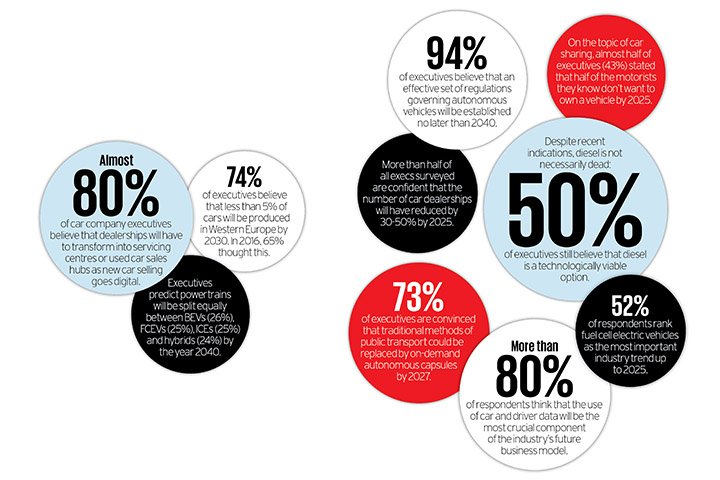 Car companies are placing an ever-growing emphasis on hydrogen as a power source, a survey of more than 900 industry executives has found
Producing fuel cell electric vehicles is the topic that will most occupy the car industry between now and 2025, according to 907 leading company executives canvassed for consultancy firm KPMG's annual Global Automotive Executive Survey.
The survey, which quizzes car industry chiefs on which automotive trends they view as the most important for the immediate future, found that FCEV technology now outranks battery-electric vehicles, self-driving cars and connectivity as the most pressing topic.
Trends relating to electrified vehicles hold three of the top four places in this year's survey, reinforcing the car makers' shift in focus away from traditional internal combustion engines towards electrified alternatives.
This was echoed by the fact that the downsizing of the capacity of internal combustion engines – a major focus for car makers as recently as 2015, when it was the second most important trend – only ranks ninth in this year's survey.
In this year's report, connectivity and digitalisation was deemed the second most important trend according to key players in the industry.
There are companies which are starting to bet reasonably big sums on fuel cell vehicles
The survey was conducted via an online questionnaire and among the respondents were 229 chief executives from firms across the industry. Those chief executives put even more emphasis on FCEVs, with 64% of them ranking fuel cells as the key trend, much higher than the 52% of all survey respondents. Hybrids were only placed fifth by the car industry top brass, while connectivity and digitalisation was sixth.
KPMG UK's head of automotive, Justin Benson, told Autocar that FCEVs' position at number one was "mildly surprising", although he had expected it to come in the top five. "This is driven by Toyota, which is investing in fuel cell technology more than many," said Benson. "There are companies which are starting to bet reasonably big sums of money on fuel cell vehicles."
Other parts of the industry are also starting to invest in hydrogen-powered fuel cell infrastructure: for example, Shell installed its first hydrogen refuelling station in the UK last year at Cobham services on the M25 and has plans for more. However, Benson acknowledged the main issue is making hydrogen-powered fuel cell vehicles affordable to the masses. Battery-powered electric vehicles faced the same issue when they first entered the mainstream earlier this decade.
Talking about connectivity and digitalisation holding the second spot in the survey – the same position as in the 2017 report – Benson highlighted how these areas are crucial for car makers' future success: "Connectivity will drive change most quickly for car makers because the technologies required are so different and the way you can monetise the technology through use and analysis of data is very different to the past."
He explained that Silicon Valley companies such as Google and Apple have an advantage over traditional car makers because they better understand future technology on vehicles, which is based on apps and data management: "The traditional brands have not connected their vehicles with other 'things', whereas Google, Apple, Amazon and many start-ups have been doing it for years.
"This is why many car makers are partnering with technology companies; the value in the 'value chain' is moving from the vehicle to customer data. Those companies who command the management, analysis and use of data to improve customer experiences and provide more services or products will be some of the winners in the new automotive world."
While many car makers are revealing autonomous vehicle concepts and talking about self-driving car plans, industry executives only consider this topic the eighth most important, according to KPMG's report.
Benson said this area is of diminishing importance because most manufacturers are already well under way with their self-driving car strategies: "In the car maker world, autonomous cars are something they've been working on for a long time. By 2023, all of the major car makers will have autonomous vehicles on the road." He said the real game changer for self-driving vehicles will come when companies such as Uber and public transport firms start employing the technology.
In the UK, 49 industry executives were surveyed. They ranked fuel cell vehicles, electric vehicles and hybrid vehicles as the first, second and third most important trends respectively.
Whereas connectivity and digitalisation was ranked second in the global results, UK bosses only considered it the ninth most important trend.

RACHEL BURGESS
CHINA TAKES THE INITIATIVE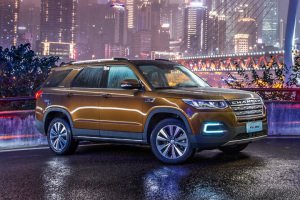 China not only leads the way in terms of car sales, but the nation is also outstripping more established markets in terms of launching new innovations in the car industry, according to the executives who took part in KPMG's survey.
The respondents regarded China as the most attractive country in which to launch a groundbreaking new product or car, ahead of Germany and the US. KPMG said the result could be attributed to China's focus on electromobility.
China is keen to reduce its pollution levels, free itself from dependence on imported oil and, at the same time, take advantage of a once-in-100-year powertrain shift in order to leapfrog established car makers. By encouraging its home car makers, such as SAIC, Geely and Trumpchi, to focus on electric powertrain technology, China sees an opportunity to build a thriving domestic car industry with the ability to sell credible Chinese-made cars internationally.
For mobility service innovations such as car sharing, China and the US shared the top spot in KPMG's survey, while the US was identified as the best place to launch a data-based car business.
More than a third of automotive executives worldwide expected China to dominate the global car market with battery-electric vehicles, while a quarter predicted that the same nation would dominate with hydrogen fuel cell vehicles.