Battery-electric new Volvo will be based on this concept and a stand-alone model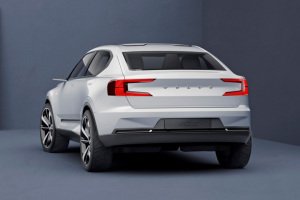 Volvo's first stand-alone electric car will be a production version of the 40.2 concept seen in May last year, Autocar can reveal. Much like the 40.1 concept unveiled alongside it, which has since become the production XC40 crossover, very few design details will change for the final model.
When first revealed, it was widely reported that the 40.2 was a hint at the next-generation V40 and S40 but, in fact, the concept's electric powertrain gave the biggest clue of all.
However, the coupé-like hatchback will fall under the 40-badged family of models, given its size and concept name, and broadly share the same design language as its siblings.
Volvo has officially confirmed that a stand-alone electric model will arrive in 2019 but has not given any more details. However, boss Håkan Samuelsson told Autocar at the XC40 launch in September that it would arrive before any electric variants of existing models. An electric XC40 is expected to be the second pure-electric Volvo.
The 40.2 will be based on Volvo's new Compact Modular Architecture (CMA), which underpins the firm's smaller products and those of its Chinese parent company Geely and accommodates all types of powertrains, including electric.
In the concept, the battery-electric powertrain offered a range of 217 miles. However, R&D boss Henrik Green, talking more broadly about Volvo's electric plans, said it was aiming for around 310 miles for its production electric model – on a par with rivals such as Volkswagen's ID electric line-up.
Volvo is aiming for a range of around 310 miles for its EV
Green said: "That's the area [of range] we're aiming at. We're in the middle of development and we are constantly chasing new steps. It's quite different to developing a car compared to five or 10 years ago. You set a prerequisite three or four years before a car's launch and you ran towards that target, and if you did that well, you came out with a competitive offer.
"But in this case, it feels like every month we are updating the requirement, trying to add new competitive edges to the car because the technology is moving so fast now on a lot of areas, so it's much more of a moving target."
Green confirmed Volvo will use a modular battery system for its electric cars, but it has yet to decide what the minimum range will be. VW plans a similar set-up: its entry-level ID hatch will offer a range of 250 miles.
"We are building a modular system to meet different customer sectors, both in battery size and electric motor configuration," said Green.  "The goal is to address the broader population with cost-efficient solutions and then address a more premium segment with more motor power and longer range."
He said minimum range will be whatever is convenient for the customer. "We are coming from a history of always driving around with tons of range from a petrol tank," Green said. "As generations grow up only knowing electric vehicles, I believe they will settle around a convenient battery size, what they need for one day. But in the transition time, a lot of people used to having a long range will pay for having a long range on electric vehicles."
When asked whether stand-alone EVs or electric variants of existing models will be more successful, Green said: "It's a good question. We're aiming to address both those segments – those who really want to stand out explicitly to say 'I'm driving an EV' and those who buy an EV for the benefit of the technology in a more traditional car. It would be logical that the early adopters will choose the more expressive cars."
Last year, Volvo was the first car maker to explicitly announce plans to electrify its model line-up. In July, it said that from 2019 it would begin overhauling its range with electric, hybrid and mild-hybrid powertrains. A number of other firms, including Jaguar Land Rover, Mercedes-Benz, VW and Mazda, have since followed suit with similar strategies.
RACHEL BURGESS

VOLVO MUST CAPITALISE NOW
Rachel Burgess
Volvo scored a massive PR coup last year when it beat the rest of the car industry in announcing its electrification plans. It was a great way of establishing itself as a future electric vehicle leader to the public.
Volvo's key advantage over many rivals is its simple platform set-up: both its CMA small car and SPA large car architectures accommodate electric vehicles from the off. So while other car manufacturers are busy developing all-new electric platforms or scrambling to re-engineer existing platforms, Volvo's execution of launching an entire range of electric vehicles could be more effective for that reason.
But with the production version of the 40.2 only due in 2019, its first electric model risks being lost in the melee of rival zero-emission cars, all of which are heading our way around the same time. If Volvo doesn't move quickly, it'll lose out on the advantages it has gained so far.
Should it not manage to do that, its one saving grace might be the styling: in a sea of electric generic hatchbacks and SUVs, a jacked-up saloon-cum-hatchback will at least stand out on the roads.