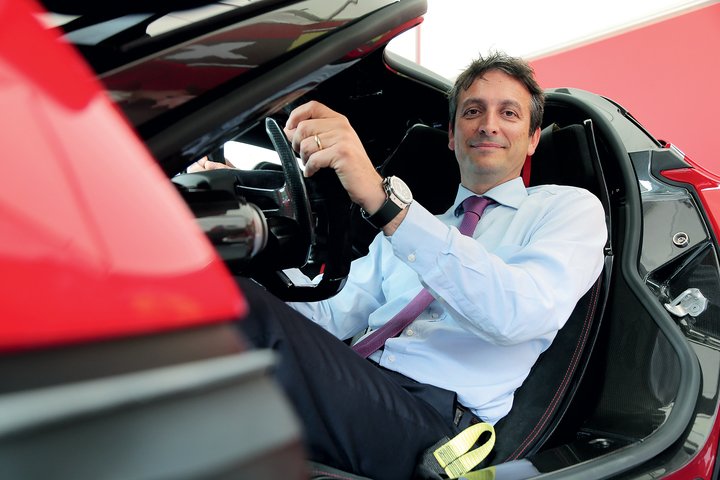 The Italian brand's commercial boss, Enrico Galliera, explains why Maranello isn't interested in autonomous tech and why an all-electric Ferrari would be 'difficult'
When Enzo Ferrari founded his eponymous car company 70 years ago to help raise money to fund his racing team, he can't have imagined it would grow to become arguably the world's most revered car brand.
In 2017, Ferrari remains one of the finest manufacturers of sports cars and supercars, but there are seismic shifts taking place in the motor industry.
Autonomous cars, electrification and the decline of the combustion engine are altering the fundamentals of the motoring world.
How will Ferrari cope with such changes? Autocar spoke exclusively to Enrico Galliera, Maranello's marketing and commercial boss, to find out.
You're celebrating 70 years of Ferrari, but where do you see the company going in the next
70 years?
"This is an interesting question because there is a lot of discussion about electric, hybrid, autonomous driving and so on. I believe that the main reason for the success of Ferrari is consistency. We have always been consistent in our strategy: to develop high-performing cars that are able to deliver emotion. These cars should be sports cars.
"That translates into something important, which is that we are not producing an SUV, because an SUV is not a sports car. It can be fast, but it's not a sports car. We are not producing a four-door because, while a four-door can be fast, it's not a sports car.
"Ferrari has to remain consistent, doing what we know to do, which is delivering cars that are able to deliver emotion: sports cars." [Since this interview with Galliera, rumours of an SUV-style Ferrari have been strengthened by comments made by Ferrari boss Sergio Marchionne. See below.]
Would Ferrari ever produce an autonomous car? It would seem to go against the ethos of a sports car.
"Many years ago, when man developed the steam-powered car, everybody said horses will disappear, because nobody needs horses [for transportation] any more. Horses didn't disappear, and there are still many people using horses, to race or to
have fun with.
"Perhaps to go to work, on the same road, in the congestion of traffic, you will use an autonomous car. But if you want to smile, if you want to have fun, if you want to have emotion, you will drive a sports car. There is always going to be a place for a sports car in the future of humanity. There will always be in the world a number of people who just want to have fun."
Ferrari produces some cars with hybrid engine elements. What are your future plans for electrification?
"A winning company has to be prepared for any challenge. We decided some years ago to be prepared in different technologies. We know how to develop normally aspirated and turbo engines. We know how to develop hybrid technology. We have all these technologies in our cars, developed by us, not bought in the market.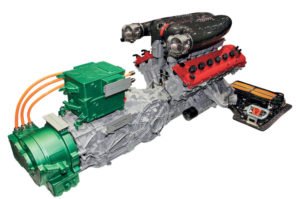 "We are doing that because we need to be prepared to use the technology whenever it helps to deliver the performance and pleasure to drive. So hybrid is something that, for sure, will be in our future. It's hard to say when and how, but it will be in the future — but only if it delivers high performance with more emotion."
Could we ever see a Ferrari road car using a fully electric powertrain?
"I don't see it as something that can happen in the
future. I cannot predict the next 70 years, but in the next five to 10 years, it's going to
be very difficult."
Is that because a sports car needs the engine noise?
"Engine noise is part of the emotion. Many of our customers still buy a 12-cylinder engine because of the noise, because of
the revs, because of the never-ending acceleration. A Ferrari that would be 100% electric is difficult to do."
JAMES ATTWOOD
Marchionne: 'A utilitarian Ferrari is probable' 
Ferrari boss Sergio Marchionne has fuelled the rumours that the Italian supercar maker is planning to produce its first SUV.
During a press conference last week, Marchionne said: "I think that if we allow the Ferrari engineers to reinvent the concept of a vehicle that has some utilitarian features, I think the answer is it will probably happen, but it will happen Ferrari style.
"And Ferrari has been known historically for being able to redefine and define automotive segments. But I don't want it to be a UV [utility vehicle]. I want it to be what Ferrari thinks is appropriate. But no decision has been made yet."
However, despite Marchionne's comments, a Ferrari spokesman said: "With reference to recent speculation in the international press, Ferrari will not be launching an SUV."
It was reported in July that the long-rumoured Ferrari SUV was still on the cards. Automotive analyst Max Warburton claimed the future model is being called an FUV (Ferrari utility vehicle) and does not have visible rear doors.
Warburton claimed it is a "question of semantics", stating that although Ferrari management continues to tell investors that it will not build an SUV or a model with four doors, the rear doors of the FUV will not be visible and will instead "use a clever hidden arrangement".
The new Ferrari model is expected to be launched in 2021 and is predicted to cost about £250,000. It would rival cars such as the Lamborghini Urus, Rolls-Royce Cullinan and Aston Martin DBX.
Supercar rivals 'make us better'
The supercar market has become more crowded in recent years, with firms including McLaren, Aston Martin and Mercedes all launching models in direct competition with Ferrari.
While that could pose a business challenge, Ferrari's Enrico Galliera said the Italian brand welcomes the opposition.
"Having more players challenging us to make our products better is beneficial," he said. "And if competitors are copying you, then you are doing the right things."
Galliera added that Ferrari's heritage was an advantage. He said: "No one has the history of Ferrari. No one is able to deliver the full set of emotion like Ferrari. The company's heritage is a big boost in our position."