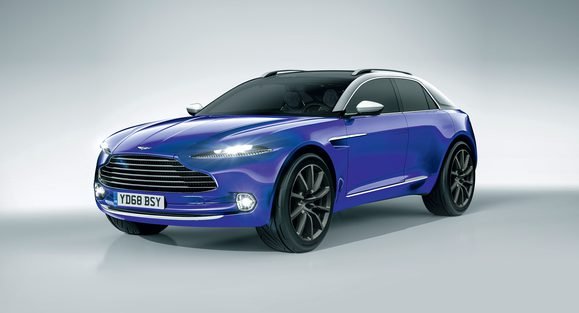 DBX will arrive in 2019 with V12 and V8 engines to take on the Bentayga and Urus
The design of the Aston Martin DBX has been signed off — and the radical move to enter the SUV segment from late 2019 is expected to transform the fortunes of the 104-year-old firm, which has been declared bankrupt seven times in its fluctuating history.
The DBX will rival the Bentley Bentayga, Lamborghini Urus, Maserati Levante and top-end Range Rovers and Porsche Cayennes in the luxury 4×4 segment. However, CEO Andy Palmer says the DBX will stand apart from them "because it has not sacrificed any beauty to achieve its practicality or performance".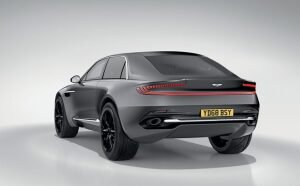 The SUV project was envisioned by Palmer before he took up his role at Aston Martin in 2014 and it was officially kick-started on his fourth day in the job. "When you are talking about running a company like Aston Martin, you talk through your ideas with the owners before you are hired," said Palmer. "My message was simple: if Aston Martin wants to survive, it must do a SUV.
"On my fourth day [as CEO], I got to spend some time with Marek [Reichmann, head of design] and I told him I wanted DBX. That was in October and I told him I wanted a concept car ready to show in Geneva by the following March.
"He and his team responded magnificently. One of the many beauties of Aston compared to a large car company is that we can move quickly. If something is agreed, we can leave the room and start working on it immediately, without the need for multi-layer presentations. It's invigorating and I think we are starting to unlock the benefits of that now. I hope the Aston of today has a swagger — but never arrogance — that it hasn't had for some time."
The DBX concept was revealed at Geneva in 2015 as a two-door, four-seat model powered by electric motors mounted inboard of the wheels and powered by lithium sulphur cells. The car featured several other high-tech concept flourishes, such as an F1-style kinetic energy recovery system (KERS), in order to emphasise that it would be at the cutting edge of powertrain technology when it was launched, but Reichmann and his team also made a point of highlighting more practical elements, such as cabin and load space.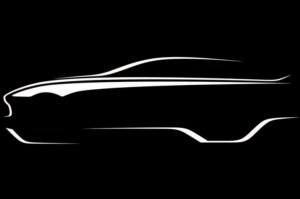 Confirming that the design has now been signed off and the build of pre-production test mules is under way, Palmer indicated that the final car will carry much of the DNA hinted at by the concept.
He said: "There are aspects of the car that have changed dramatically — perhaps none more so than the fact that it is now a four-door — and, on a comparison basis, you will be able to pick out many details that have been modified. But in terms of the pure lines and the fundamental core principles of the car, you'll recognise them."
Reichmann has suggested the roofline will have to be much higher than that of the concept in order to give the production car an extra layer of practicality. A sketch of the final car's silhouette has also been released.
The DBX will be built on a new bonded and riveted aluminium architecture that is closely related in principle to that used by the DB11. There had been speculation that Aston would lean on part-owner Mercedes-Benz for its chassis technology, but Palmer said Aston preferred to make use of its own expertise, albeit turning to Mercedes for some sub-systems and V8 power, as it will do with all of its next-generation vehicles. The DBX will also be the first Aston to be sold with four-wheel drive, although it's not clear if every model will have the function.
Range-topping power will come from Aston's 5.2-litre V12, which will be retuned from the 600bhp and 516lb ft unit found in the DB11. There will also be an AMG-sourced 4.0-litre twin-turbo V8 that makes 503bhp and 498lb ft and — in time — an all-electric powertrain that will be developed as proprietary technology by Aston with the input of Williams Advanced Engineering. Palmer has ruled out diesel versions of the DBX.
However, Palmer confirmed that a hybrid version of the car will be developed, but it will not feature plug-in hybrid technology because research suggests luxury car buyers do not consider the experience to be premium enough.
This revelation raises the possibility of Aston using the high-performance powertrain from the Mercedes-AMG GT Concept that was revealed at the Geneva motor show this year. Its hybrid unit combines AMG's twin-turbo 4.0-litre V8 with an electric motor to deliver a combined 800bhp. In the GT Concept, that equates to a 0-62mph time of less than three seconds, although the DBX will be heavier. The battery is charged as the car is being driven, both through brake energy recuperation and with the aid of the petrol engine.
However, Palmer also highlighted the learnings the company had made while developing the hybrid KERS-style system with Red Bull Technologies for the Aston Martin Valkyrie hypercar, suggesting the firm could use a modified version of that instead of turning to Mercedes.
In terms of ride and handling goals, Palmer highlighted the characteristics of the Porsche Macan. "It is probably dynamically the best car in the SUV category," he said.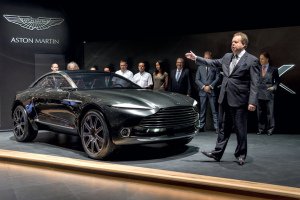 The interior of the DBX is set to take a new approach, with the design team having to focus more than ever on practicality. "There are certain issues you can't compromise on that perhaps we haven't given such credence to in the past — ingress and egress, for starters, and whether it is a car you sit on or sit in," said Palmer. "DBX is a revolution for Aston Martin in so many ways, and that has meant that we have had to adapt our way of thinking in places.
"We have one rule that never changes, which is that we don't trade off beauty. But if you want the design to reflect its 4×4-ness and to deliver the sort of utility that customers expect from these cars, then you have find ways to achieve that. A 4×4 needs to be big, it needs to convey safety and security and yet it also needs to be easy to get in and out of."
Aston has created focus groups of existing customers to provide input, including the much-vaunted female focus group, which was instigated on Palmer's suggestion as soon as the concept car was revealed after it emerged that just 3500 of the firm's lifetime sales of 70,000 cars were to women.
"Some very special customers have seen the car to help guide our thoughts and provide feedback," said Palmer. "They are our jury and our anchor points to what we want the car to achieve.
"The female jury has been particularly fascinating. This is not an Aston Martin that is exclusive to any one type of buyer and these groups really help us get into and understand some mindsets that we have never focused on before."
Preparation for DBX production at Aston's new facility at St Athan in Wales is well under way. As well as building all large Astons, the site has been earmarked to become the firm's centre of excellence for electrification and cyber security. Customer and staff reception areas have been built and work on three hangars being repurposed into the manufacturing plant is in full swing. At launch, 750 new employees are expected to work at the plant.
St Athan's role in Aston's growth will be pivotal as the firm chases six new model lines in the next five years: the new Vantage this year, the Vanquish next year, the DBX in 2019, a mid-engined supercar in 2020, the Lagonda saloon in 2021 and a Lagonda SUV in 2022.
Earlier this year, the firm posted a first-quarter profit (£5.9 million) for the first time in a decade, boosted by sales of the DB11. Aston has posted an annual loss since 2011 and sold 3687 cars last year. Insiders predict that figure could rise by as much as 30% this year and Palmer has cited annual sales of around 7000 sports cars. However, he hopes that figure could, in time, be doubled with the DBX, as well as being boosted by the Lagondas.
JIM HOLDER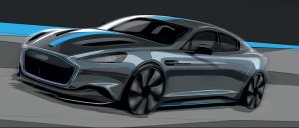 First all-electric Aston martin already a sell-out
Aston Martin's first all-electric model, the RapidE, will be a sell-out when it is launched in 2019, with CEO Andy Palmer describing selling the 155 cars being made as "a breeze".
The RapidE will chiefly be sold to Chinese customers because of the massive tax breaks on offer to electric car buyers there. Consequently, it will priced alongside the £350,000 V12-powered Rapide, which is hit by large import tariffs, but have greater exclusivity.
It is being co-developed by Aston and a division of the Williams Formula 1 team, which has been brought on board for its expertise in battery technology.
"We have always said we want to be responsible for our own V12, so it makes sense that we also develop our own technology at the other extreme," said Palmer. "Everything in between we can buy in as part of our co-operation with Daimler, but at the extremes, we want to stand on our own."
Although order books for the RapidE are yet to open and powertrain and performance figures haven't been announced, Palmer said the firm had received "far more than 155 expressions of interest" even before the project received the go-ahead. A concept car, developed in co-operation with Chinese firm LeEco, had initially been announced but the production car will be developed only by Aston and Williams after LeEco hit financial trouble.
"Like all special and limited-edition cars, the RapidE will likely go up in value," said Palmer. "The learnings from the car will also serve us well and sow the seed for EV technology to be part of our future line-up of cars."

Lagonda return confirmed with Rolls-rivalling saloon and SUV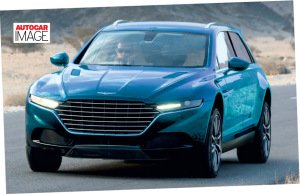 The Lagonda name will return to permanent use with a new large saloon in 2021 and a large SUV in 2022, with boss Andy Palmer confirming that the models are now firmly part of Aston Martin's ongoing future business plans.
"The Lagonda brand is still here today with the Taraf saloon, but we intend to make far more of it in the future," said Palmer. "It exists at the ultra-luxury end of the market alongside Rolls-Royce and Bentley, and it is this high-end customer we are looking at."
Taraf production was limited to 200 units and the car, initially intended for sale in the Middle East only but then sold in the US and UK, was priced from £685,000 — more than a Rolls-Royce Phantom and Bentley Mulsanne combined but in line with the average price that a customer spends on such cars.
Palmer confirmed that Lagonda styling will differ greatly from that of Aston Martins, to the extent that there will be little or no family resemblance.
"Lagonda was established in 1906 but, because of its history, isn't a brand burdened by heritage," said Palmer. "We want elegance, of course, but I'd prefer to embrace change than heritage. The designers have been told to uncouple their ideas from the past and create a new direction.
"The team must focus on what the needs of the customers for such cars are today, not what they were in the past. That means asking super-wealthy customers in the US, China and the Middle East — and other regions — what is important and giving it to them with no compromises.
We are laying down the foundations for a long history for the brand. Look at what Bentley was before it was acquired by Volkswagen to where it is today.
"If we can bring two cars to the market that meet customer needs, then we have the legitimacy of history to allow us to use the brand as part of our future."
Lagonda was established in 1906 and has been owned by Aston Martin since 1947. It has been dormant for numerous years during its history, but its revival briefly gained momentum when then Aston boss Ulrich Bez proposed launching an SUV using the name in 2009. Despite the prescience of that move, a poor reaction to the concept design plus the global economic crisis led to the project being binned.
The seven core models on which Aston's future relies