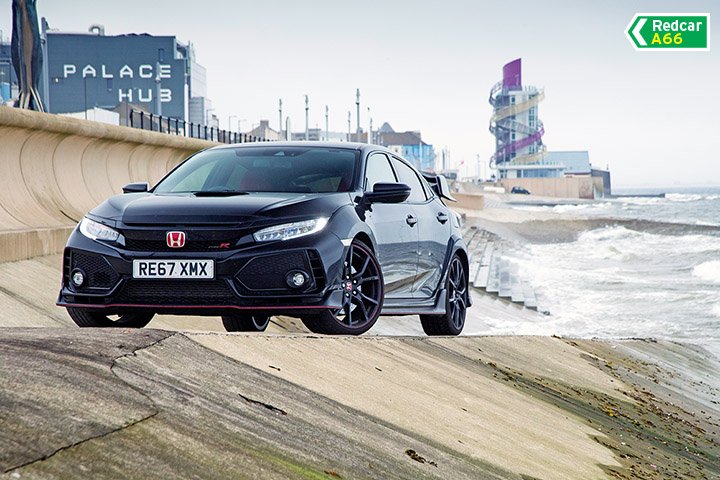 To my knowledge, nobody has ever got their kicks on the A66. But here we are, a mile or two away from its (almost) coast-to-coast eastern end, near Middlesbrough. The not-exactly-archetypal all-British road trip, then. And in a British car, no less: a Honda Civic Type R.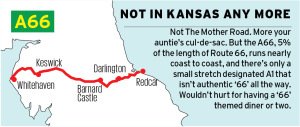 If the NSX is what the Americans think is the vision for a sports car, then the Civic Type R -— developed throughout Europe but, crucially for this test, built in Swindon -— is what we think one should be. So we'll see whether two sporting cars, developed by the same car maker but predominantly from different markets, really suit those particular parts.
They say clear your diary for a month to do Route 66 properly. I reckon you could do the A66 -— all 120 or so miles -— in a morning if you had to. We've allowed a day.
So although the 'official' start is marked by an ordinary green road sign off a roundabout near Grangetown, to add some ceremony we've taken the Civic to as close as we dare to the sea, in Redcar.
It's, ooh, a good five minutes back to the A66, which commences without the fanfare, advertised history and antique shops of Route 66, although as a thoroughfare it's about as old as America's most famous road. Like Route 66, it was given its designation in the 1920s, when it went between Hull and Penrith, but on routes somewhat older even than that, because it followed mostly Roman roads.
There's a small hint of Americana. Darlington's Brick Train would translate across the Atlantic: a roadside curio, pull off, park round the back of an industrial estate, and be impressed and slightly bemused. Elsewhere, though, it's a very different vibe to Route 66. No antique shops, really, but no shortage of antiques. This is England, after all. Redcar is home to the Zetland, the world's oldest lifeboat. A short way west, you're compelled to take a short stretch of A1, to Scotch Corner, where Romans defeated Celts in AD71. As a place to stop, Barnard Castle isn't a tepee hotel, but has some B&Bs next to the 12th-century fortifications that give the pretty County Durham town its name.
So yeah, you want castles? We got castles. You want dry stone walls? We got dry stone walls, bordering the road even as you cross the Pennines on dual carriageway. The A66 is not a leather-jacketed road trip. It's a walking shoe and anoraked one. Instead of the khakis and yellows of middle-American prairies, the overwhelming colour is green. The North Pennines is an area of outstanding national beauty. As soon as you're away from that lies lovely old Brougham Castle, and then you're into the Lake District.
There are decent roads up here, too, spreading off left and right from the A66, across the closest we've got to prairies: sheep roaming on grassland and moorland, and the kinds of roads the Type R was made for. Body control is really tight, traction is terrific and it has probably the best steering and gearshift in current hot hatchery.
The road itself, though, is no more or less entertaining than Route 66: it's just a way to get from one very beautiful spot to another. At its west end, it peters out at a set of traffic lights opposite Debenhams in Workington, so in the same way that Route 66 cheats and finishes where it didn't used to, we nip a few miles south to Whitehaven to park up next to the sea. It ain't the all-American road trip -— you'd have to do it 20 times before it was the same scale. It isn't even the all-British road trip (that's probably the North Coast 500). But it is a road trip, and one that leaves you wanting more, not less.