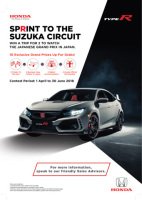 Honda Malaysia is rewarding customers who purchase and register their all-new Civic Type R between April 2018 and June 2018 with a chance to win a trip to Japan to experience the iconic 2018 Formula 1 Japanese Grand Prix at Suzuka Circuit in October. This opportunity is worth up to RM30,000 and available to 10 customers.
Customers who purchase and register an All-New Civic Type R between April 2018 and June 2018 just need to fill up a form and answer 2 short questions at any of Honda's 20 Sport Dealers (see below) to be in the running. Ten exclusive winners will be selected based on the creativity of their answers to the 2 short questions.
The 10 winners will each receive 2 Business Class flight tickets, 2 tickets to watch the 2018 Formula 1 Japanese Grand Prix, 5 days 4 nights of accommodation in Japan and 2 official Honda merchandise, all worth up to RM30,000.
The Honda Civic Type R
Launched in Malaysia in November 2017, the Honda Civic Type R is the world's fastest front-wheel drive production car. Powered by a 2.0-litre turbocharged engine that produces 307bhp and 400Nm of torque, the limited numbers available in Malaysia means ownership is very exclusive. Every Civic Type R has a special serial number plate affixed strategically on the centre console to denote its production number. The fully imported Civic Type R is priced at RM320,000 on-the-road without insurance.
List of 20 Honda Sport Dealers
| | | |
| --- | --- | --- |
| 1 | Central | Autoworld Asia Sdn Bhd |
| 2 | Central | Botanic Auto Mall Sdn Bhd |
| 3 | Central | Global Amity Sdn Bhd (Bangi) |
| 4 | Central | Kah Motor Co Sdn Bhd – Selayang |
| 5 | Central | Sri Utama Auto Sdn Bhd |
| 6 | Central | USJ Car Express Sdn Bhd |
| 7 | Central | MH Prestige Auto Sdn Bhd |
| 8 | Central | Peringgit Sri Motor Sdn Bhd |
| 9 | Central | Tenaga Setia Resources Sdn Bhd |
| 10 | Central | The Millenium Auto Carriage |
| 11 | East Coast | Syarikat Tan Eng Ann Sdn Bhd |
| 12 | East Malaysia | Syarikat Labuan Automobile Sdn Bhd |
| 13 | Northern | Ban Hoe Seng (Auto) Sdn Bhd |
| 14 | Northern | Formula Venture Sdn Bhd |
| 15 | Northern | Kah Motor Co Sdn Bhd – Sg Pinang |
| 16 | Northern | Lee Motor SP (Car Div) Sdn Bhd |
| 17 | Northern | Yooi Cars Sdn Bhd |
| 18 | Southern | Ban Lee Heng Motor Sdn Bhd (Seremban) |
| 19 | Southern | Syarikat Motor GS Tay Sdn Bhd |
| 20 | Southern | Yong Ming Motor Sdn Bhd |