Making the switch from petrol or diesel to battery power is tempting, but Jesse Crosse wonders if too many unanswered questions are putting people off

Battery-electric vehicles (BEVs) are slowly winning favour with buyers but there's still a long way to go before they become the norm.
In the whole of 2017, just 0.54% of all vehicles registered in the UK were purely battery-electric, a total of 13,597 cars. Feedback from Autocar readers suggests potential buyers are being put off by the uncertainties of BEV ownership, such as real-world range, concerns over battery life and replacement cost, availability of charging stations, depreciation and how to charge them. We've put together this guide to tackle some of the most common questions.
What is the life of an EV battery?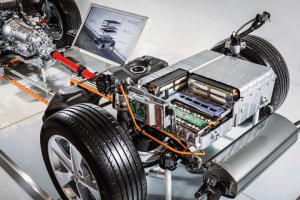 The truth is that manufacturers are not sure. Modern production EVs have been around for a relatively short time and all manufacturers offer long battery warranties. The 24kWh Nissan Leaf gets a five-year/60,000-mile warranty and the 30kWh and new 40kWh versions are covered for eight years/100,000 miles. Other manufacturers offer similar battery warranties against outright failure or a significant fall in capacity (measured in kilowatt hours or kWh) to below around 70%.
The Leaf is the UK's best-selling BEV. Nissan says batteries are designed to last the life of the car and the "replacement cost is similar to that of a combustion engine but we don't expect customers to need replacement engines". Nissan says by 2014 it had replaced only 0.01% of Leaf batteries in Europe since launch in 2011, or three out of 30,000, and no batteries have been replaced in the UK. Renault offers battery lease at a monthly cost ranging from £49 to £110, depending on choice of battery capacity and annual mileage.
Tesla – which offers an eight-year, unlimited-mileage warranty on its cars' drivelines, including the battery – says batteries in the original Roadster, launched back in 2008, are still going strong.
Can the quoted range be trusted?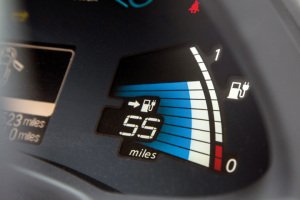 Not always. An EV's driving range is quoted using the same European NEDC test regime as for standard cars (although this test is being replaced by a new test known as WLTP). NEDC-based range quotes can be less accurate than for cars powered by engines because lithium ion battery performance is more affected by ambient temperature.
Renault supplements NEDC figures with claims based on its own testing for summer and winter. For winter, the real-world range quoted is half of the NEDC figure, so the 'official' 250 miles quoted for a Zoe Signature Nav R90 ZE 40 drops to 124 miles. Not all EV manufacturers show these figures.
Why do EVs seem to depreciate severely?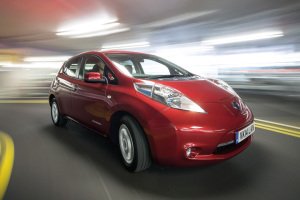 A small market and a perceived lack of transparency about battery replacement cost worry used car buyers, who may be facing a warranty with only a couple of years left to run. New car buyers are concerned about the effect of that uncertainty on depreciation but approved used EV programmes, now offered by manufacturers, may help to improve residuals.
What sort of chargers are there and how much does it cost to recharge?
Three main types: rapid, fast and slow.
The easiest way to check the location of public charge points is online at zap-map.com. Motorway networks are covered by Ecotricity, which also has an online map. Public chargers can be free but there's a tariff for most.
Ecotricity charges 15 pence per 1kWh for its existing energy customers so an EV with a 40kWh battery and a range of 200 miles would cost around £5 to cover the distance compared with around £20 for a supermini doing 55mpg.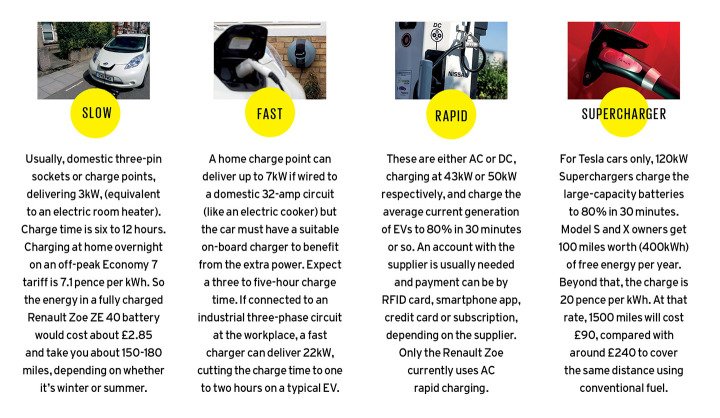 Do I need lots of cables?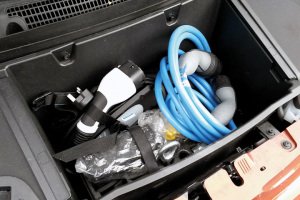 No. Charge points can be tethered (with a permanently attached cable) or untethered (sockets only, so you need a cable). Rapid charger cables are always tethered and have more than one type for compatibility with different EV rapid-charging sockets because there's no single standard yet.
For untethered charging, EVs typically come with two cables. The first connects to a domestic wall socket but is more than just an extension lead with an integral electronic unit to control the amount of charge delivered to the battery. The second will allow connecting to a public charger.
Will I get an electric car grant?
A government plug-in grant will knock 35% of the purchase price of a BEV up to a maximum of £4500 for eligible EVs and the government has pledged to maintain support until 2020. The Electric Vehicle Homecharge Scheme provides a further £500 (or 75% of the cost) to install a home charge point. That brings the cost of a Pod Point 3.6kW Solo Charger down to £279 and a 7kW charger to £359. Renault supplies a charge point free with the Zoe but not the usual three-pin cable, useful when visiting friends and family.
Does rapid charging affect battery life?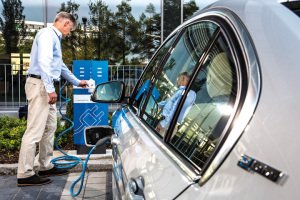 Experts say daily rapid charging can degrade lithium ion EV batteries, which are mostly designed to have a high energy density (store more energy for greater range). In reality, most EVs are usually charged at home or work using lower-rate charging and are rapid-charged infrequently.
The fastest rapid charging is managed so that it slows down once past 80% state of charge and further once past 90% to avoid battery damage. BMW says it is not seeing measurable battery degradation for cars regularly using rapid charging. Tesla says it does a lot to preserve its batteries through software control and that will be true of all major manufacturers of EVs.
Can an EV replace a conventional car?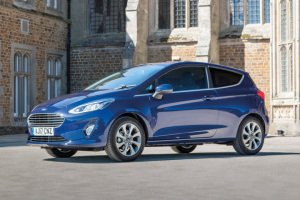 According to the 2016 National Travel Survey, the average round trip by car in the UK is only 17 miles, which makes an affordable EV a perfect fit. It wouldn't even need charging every day. A £70k-plus Tesla S aside, the convenience of using a small, affordable EV for a long journey depends on
the battery capacity and how keen you are on regular stops.
Driving 350 miles, from middle England to Edinburgh for example, takes around five hours in a Ford Fiesta Zetec 1.0 Ecoboost. That's cruising at 70mph on the motorways and using less than a tank of fuel. Travelling more slowly in a Renault Zoe with a 22kWh battery, the same trip would require three rapid charging stops and the trip would take at least twice as long. The larger the battery capacity, the more suitable an EV is for longer journeys.
The new higher-capacity batteries coming on stream should make a significant difference, though. The new Zoe 40 (41kWh battery) and latest Nissan Leaf (40kWh battery) would travel farther between stops but charge times can creep up with the larger batteries. Nissan quotes 40 minutes for a rapid charge to 80% capacity and Renault over an hour, but the purchase cost is higher, at £26,490 for the Leaf compared with £15,245 for the Fiesta.