Jim Holder meets the people who can lay claim to the best jobs in motoring
Marek Reichman
Chief creative officer, Aston Martin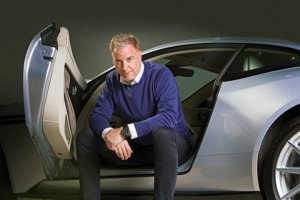 "Did I imagine I'd end up designing cars for James Bond? It won't surprise you to learn that wasn't part of even my wildest dreams," laughs Marek Reichman, chief creative officer of Aston Martin and, in his own words, holder of "one of the best jobs in the world".
Born in Sheffield in 1966 and the son of a blacksmith, Reichman believes his path has been driven above all else by passion.
"I've heard career advisors say that you should never turn a hobby into a career," he says. "What absolute bollocks.
"If you go to work with passion, you can fulfil your dreams. You can create change. Without wishing to get too highbrow about it, a job becomes a vocation. You can go to work every day – and, let's be clear, it is work, and it can be hard and tiring – challenged and excited."
For Reichman, the catalyst came from his brother, Julian, who was seven years older and also studied design: "Even as a teenager, he believed that everyone should be taught to draw on the same terms as they are taught to read and write. So I drew and drew – whatever class I was in. It didn't matter if I was in maths or French, I'd draw in my school books.
"When I started at Aston Martin, I went back to my school to give a talk and my old maths teacher was still there. I reminded him about the board rubbers he used to sling at my head for not paying attention and told the kids to find something they love and pursue it with a passion."
Reichman's talent led him to the Royal College of Art, where he studied alongside the likes of Thomas Ingenlath (Polestar CEO and Volvo head of design), Stefan Sielaff (Bentley design director), David Woodhouse (Ford's head of strategic design) and Phil Simmons (ex-Jaguar Land Rover, now Chinese brand Haval's head of design).
Although his career path from Rover to BMW to Land Rover and on taught him valuable lessons, it was at college where he learned the core skills that serve him well today: "I was lucky to have a peer group that was clearly going somewhere – we pushed each other. There was a shared passion, not least the fact we never had enough money on a Friday night to go out! What we had drummed into us was the need to collaborate. We'd be encouraged to mix with other creatives – textile students, ceramicists and so on – and that taught an appreciation of others' knowledge, a need to get the most from each other's time by working together.
"That is a fundamental part of my life today, as I lead an extraordinarily talented design team. We catch up and I steer their talents, but my day-to-day involvement is built around giving them the time to use those skills. On some projects, I might roll my sleeves up and get more stuck in, but on the whole I am conducting them. It's an extraordinary privilege."
A glance at Reichman's diary reveals the pressure he's under – he's as likely to be sitting as an observer on Aston's board, speaking at global conferences, supporting the British Design Council, acting as a visiting professor to a handful of universities or even racing as he is designing a new car – but there are, he insists, no bad days. "Tiring ones, but never bad ones," he concludes.
"Before Andy Palmer arrived to run our company, Aston was like a boat with no wind in its sails. All I could do in my role was try to avoid us hitting any rocks. Now the sails are full of wind. We are moving quickly, but the beauty of that is we have the chance to learn something new every day."
Elizabeth Hill
Chief product engineer, Jaguar Land Rover
By her own admission, Elizabeth Hill, chief product engineer at Jaguar Land Rover, didn't work very hard while studying maths at university, leaving with a 2:2 and no career plans beyond going travelling and finding some work to pay down her debt.
"When I reflect on my time there, I simply hadn't worked hard enough," she recalls. "I left pretty disappointed in myself because I had a realisation of what happens when you don't do your best – but that in itself proved to be a turning point. From then on, I gave everything my best attention."
At this point, despite Hill's prowess at maths and physics, nobody had suggested engineering as a possible route for her studies or career. However, signing on at a temping agency, she was placed at parts supplier LucasVarity to work on fuel injectors.
Some people have career plans, some don't – both ways are fine
"It was pretty mundane stuff, but this was the new me, determined to make the best of any situation," she says. "I did my best, was put forward for a graduate training programme and the idea of working in engineering was born."
A stint in the aerospace industry at Rolls-Royce followed, but the pull of cars became too strong, and in 2002 Hill joined JLR: "I loved the aerospace industry, but cars are something you can interact with all the time and have an emotional connection with. It's such a fast-paced industry, and that really appealed to me."
An all-rounder, Hill has now worked in every engineering department at Land Rover, including taking lead roles creating the current Range Rover, Range Rover Sport and Discovery, plus the latest plug-in hybrid models on the market.
"I'm not a specialist in one area, and that's what suits me," she says. "A business thrives on different skill sets, and my respect for the specialists who can keep resolutely working to make something better is immense. But my interest lies in bringing the expertise of groups of people together. I love seeing diverse groups challenge each other as well as pull together around a project. Some people have career plans and some don't – both ways are fine, so long as you keep an open mind to sometimes taking a different route to your goal than you imagined."
Today, Hill is a staunch advocate of engineering, and eager to promote the career opportunities it provides. "We do work long hours, and we do put a lot of time and energy into our jobs, but that's because we love it," she says. "There are times – coming up to a new car launch, for instance – when the commitment from the team can be huge, but we work flexibly and we find a balance. It's a career that can provide incredible opportunities – however you find your way into it." 
Paul Stevens
Brand director, HR Owen Bugatti Mayfair
If all goes according to plan over the next few weeks, Paul Stevens will end the year with new car sales "just into double figures". If that doesn't sound like much reward for a year's work, perhaps now is the time to explain that Stevens heads up HR Owen Bugatti Mayfair, and the starting price for the Chirons he's selling is around £2.1 million.
 "A lot of our time is spent building contacts. A sale can take anything from three months to three years – I've never had anyone walk in off the street and buy a car," says Stevens, not unreasonably arguing that spending a couple of million pounds requires some thought, no matter how outrageously wealthy you are.
At any one time Stevens typically has 30 prospective clients that he is talking to – be it by phone, by hopping on a plane or by organising an event, perhaps in the central London showroom or perhaps by organising a chance to drive a car wherever it suits the client best.
Stevens moved into car retailing from working as a chef – an unlikely shift until he explains that his studies focused on hotel and catering management and you consider the high standards of customer service required in both.
"I've worked for HR Owen for more than 20 years, starting on Mercedes and then moving through to Bentley, Rolls-Royce and now this, which I consider to be the absolute pinnacle," he says.
Building experience has been  key to success, says Stevens, who has led HR Owen Bugatti Mayfair's efforts to be in the running for the performance car maker's coveted global top retailer award. "You build knowledge, confidence and – of course – a black book of contacts who might be interested in the cars," Stevens says.
"I don't believe age makes you more suited to deal with high-end clients, but I do believe that experience helps."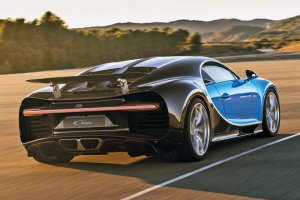 The Bugatti sales process typically involves spending a lot of time around buyers, be it at parties or drive days organised for them in the UK, or when they are taken to Bugatti's headquarters in Molsheim, France. "Often we'll take a private jet, show the buyer and his family around the factory, have a nice meal, let them drive a car with one of the factory test drivers," says Stevens. "They actually stop the line so that a buyer can meet everyone on it. If you buy a Bugatti, you become part of a family.
"Of course, I'll spend a lot of time with the buyer. Some have high demands, and that's absolutely reasonable, but many are actually very easy company. They have nothing to prove, are down to earth and have great stories to tell. They also like being around other owners – you'd be amazed how often they end up doing business together after being introduced at one of our events. I enjoy their company."
Interestingly, Stevens says that the most common reaction after a test drive is not about how fast a Chiron is, but how easy it is to drive. "It's such a usable car, but a lot of people expect it to be intimidating," he says. "Of course the occasional buyer wants something a bit more on edge – and we will try to source an EB 110 for them!"
More recently, Stevens and his team were tasked with selling the limited-edition, high-performance Bugatti Divo to existing clients. Just 40 were made – and all four of the customers Stevens took to a secret preview event (but not drive) for the car bought one.
"It is an incredible car, and we had a good idea of which of our customers it would be appealing to," he smiles. Unusually for a retailer, Stevens is not, he rues, paid significantly on commission.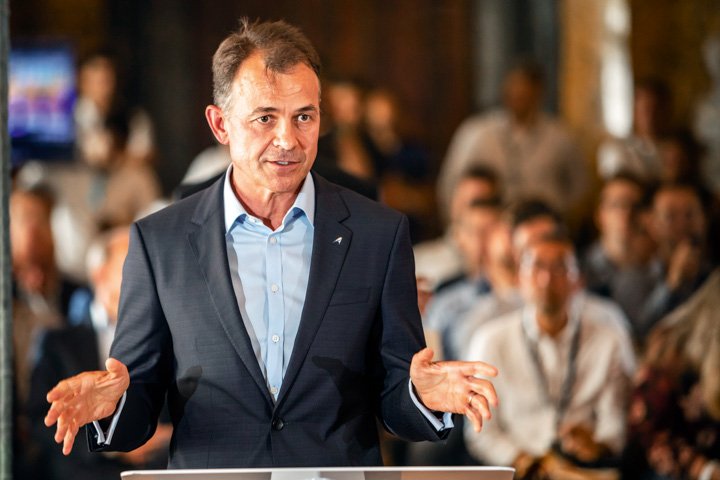 Jolyon Nash

Executive director, sales and marketing, McLaren Automotive
Who's going to pay for McLaren's Track25 plan, which will result in 18 new models being launched by 2025, at an investment cost of £1.2 billion? Well, indirectly perhaps, it's Jolyon Nash, who has responsibility for bringing in the revenue as head of sales and marketing.
Sound stressful? You bet, and that's perhaps why Nash is reticent to accept the suggestion he has one of the best jobs in the world. "I can't imagine there are many jobs that are more enjoyable, that's true," he laughs, "but I have to be honest: there's a lot of pressure and hard graft. You need a passion for the industry or it could become overwhelming."
Nash's route to the top wasn't conventional, as he ping-ponged from a start in marketing in South Africa to make an unlikely move to run a family-owned Peugeot dealership in Herefordshire. Understaffed and arriving as the economy collapsed in the early 1990s, Nash rolled up his sleeves and did "just about every job going bar being a mechanic".
There are moments you can't believe you got to be where you are
From there he went back to South Africa, undertaking marketing roles with BMW and Volkswagen, before returning to the UK with Rolls-Royce to lead its sales and marketing team. Five years later, he joined McLaren.
"One key lesson when I returned to the UK was appreciating the differences between a premium brand and a luxury one," says Nash. "In the premium market, if the product is good and you follow set processes, you will sell cars. In luxury, every sale is a big one, and so much of it is down to finding customers and then getting your product in front of them."
As such, Nash attends most of the global motor shows and events, citing Geneva and Pebble Beach as his favourites, a couple of Formula 1 races every year, McLaren customer driving days, plus a variety of other non-automotive upmarket events.
"There are amazing moments – real pinch-yourself ones, when you can't believe you got to be where you are," he admits, "but we're pretty relentless at McLaren, so you don't spend long dwelling on them."
That restlessness to improve is a vein that runs through every McLaren employee.
If he's not on a plane or abroad, Nash's first meeting of the day is typically at 7.30am, and he'll work until the evening, usually having a planning meeting with his team.
"We're a relatively small outfit, and we aim to get more out of an opportunity than should be possible," he summarises. "We're short on hierarchy and big on responsibility – a culture that comes from the top and runs through the company. If you can work that way, there's no better place to be."
Andy Unsworth

Head of vehicle dynamics, Bentley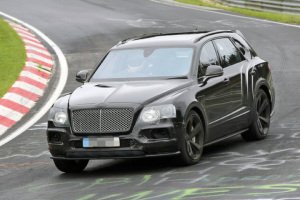 For some, spending the majority of your working life driving cars would be enough, but Andy Unsworth has taken that job a step further by ascending to a management role that is as likely to have him sat in a Volkswagen Group engineering meeting as it is testing the on-limit handling of whatever the latest, greatest model to be emerging from Crewe is.
"There are times, perhaps when you are sat in a budget meeting, that it feels very much like a job, but the truth is that I am exceedingly privileged to do what I do," says Unsworth. "I'm still in or around cars about 30% of the time, and I just try to appreciate those moments more, because the more mundane parts of work give me perspective.
"You don't need week after week of testing a new car on a racetrack to know you are lucky."
The truth is that I am exceedingly privileged to do what I do
Unsworth's career began with a Rover Group apprenticeship aged 16, and has led him to work on projects for Land Rover, BMW and Jaguar (including a stint developing a canned Jag sports car prior to the F-Type) before joining Bentley. He ascribes a significant amount of his success to having an inspirational role model and leader in the form of Chris Porritt, formerly of Land Rover, Aston Martin and Tesla, and now at Apple. "Chris developed a group of passionate people around him – and they set a standard that we aspired to meet. We shared knowledge and did our jobs with enthusiasm and got better as a result," says Unsworth.
Now, as a team leader, Unsworth tries to set a similar tone. The biggest challenge, he admits, is staying in touch with what the dynamics team are doing while also taking on increasing responsibilities as his talents are recognised.
"As well as dynamics, my team is responsible for electronic stability control and driver assistance systems," he says.
"There are a lot of meetings, both within the group and with suppliers, but it is crucial that, as well as explaining what we want to be doing and planning it all, I stay in touch with what we are actually doing. Part of my job is ensuring my team has all it needs to do its job to the highest standards, and part of it is joining it to offer my input and make sure that I can connect the planning to the final product."
Steve Morris

Managing director, Morgan Motor Company
Morgan isn't just a car company, it is an icon of the automotive world. And it is run by Steve Morris, who aged 16 was stuffed into a suit and driven to company doors by his dad to ask if they had any jobs available. He recalls: "The first time, they said no. The second time, they said no. I don't know if my dad was persistent or knew something, but back we went for a third time a few weeks later. I was taken on as a sheet metal apprentice."
Back then, Morris's 2013 appointment as managing director was a pipe dream, but he kept at it, striving "to do better, whatever better meant at the time". "The foreman went off for a hip operation, so I was asked to run the sheet metal shop for a bit," recalls Morris. "I changed a few things, they helped and so I was asked to apply for another managerial role when he came back. I was ambitious and I worked hard, but did I ever think I'd be sitting in Peter and Charles Morgan's office, running the company founded by HFS Morgan? I might as well have dreamed of becoming prime minister, but the hard work paid off."
You have to let the role take over your life, or it wouldn't be possible
While he might pinch himself, Morris is open about the pressures of running an institution. "Every day I try to walk round the premises and see everyone," he says. "I like to think I know everyone's name and what they do, and there's nothing like looking people whose incomes depend on your decisions in the eye to understand the responsibility."
The responsibility, inevitably, is great: "We aren't a big company. If the importer in Japan or China has a question, they tend to ring me, day or night, weekday or weekend. There's a lifestyle element to the role – as in, you have to let it take over your life – otherwise, it just wouldn't be possible. But that also brings variety and energy to what we do. An hour ago I was signing off some designs, 10 minutes ago I was discussing an agreement with a dealer and now I'm talking to you. I firmly believe we make more of what we have than most. Going the extra mile is normal."
Does any of that stop it being the best job in the world? "No. It is amazing – I just need to remind myself of that sometimes," laughs Morris. "I don't dwell on the hard bits, as I prefer to remember what we've achieved and what resources we achieved it with. Then there are the amazing days like when I found myself stood next to Prince Charles at Clarence House. Yes, I pinched myself that day. I could have settled for less but, as I'm fond of telling my children, nothing comes to you in this world for free."
Dan Peck

Vehicle dynamics engineer, Lotus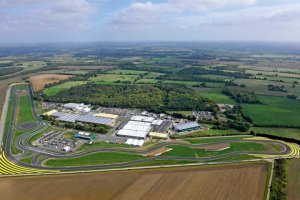 For many teenagers, work experience is a necessary chore rather than a life-changing opportunity. Not so for Dan Peck, who today plays a critical role in maintaining Lotus's reputation for ride and handling expertise as a vehicle dynamics engineer.
"I lived locally, knew I liked taking things apart and putting them back together again, so I asked if I could go in," he recalls. "That went well, and then the apprenticeship scheme opened up. I was one of 80 applicants, but I got through and earned a place on a four-year scheme, mixing work around Hethel with training at a local engineering college."
There was nothing easy about doing a job by day and studying at night, but Peck says he immediately knew he'd found his calling. "I was lucky enough to spend some time with Gavan Kershaw [Lotus's famed head of vehicle engineering] as I moved around all the different departments and he was a bit of an inspiration," Peck says. "When I graduated, I opted to work in the vehicle prototype workshop; it's all very well working on prototype engines, but I rather liked the idea of being able to drive what I created."
Today, that puts Peck at the heart of developing current and future Lotus products, as well as working on special projects for other car makers. It's a job that takes him around the world, be it for hot weather or cold weather testing, or just to a variety of test tracks or well-known roads.
"I spend half my working life driving, and I love that," he says. "I might be optimising a new car or testing a test car for squeaks and rattles. Whatever it is, I love the detail of what we do, and the fact we are always striving to do it better.
"The best part of the job is that my desk is literally three minutes from our test track. All the engineers sit together and if we want to test something like a new damper valve code, then we'll go and do it. Because I have an all-round engineering education from the apprenticeship, we can revalve a damper together in an hour, and test up to nine settings in a day.
"Lotus is a small company by car industry standards but, thanks to that, I have learned so much, so fast. In a bigger company, the dynamics guy has to ask the engineers for a change, they need to send it to the technician and so on – so they'll test one setting a day.
"At Lotus, our goal is to offer the best dynamics expertise there is – the best of the best, if you like, because it's a competitive industry. That brings pressure, of course, but I'm part of such a knowledgeable team at Lotus. You can't be arrogant, but knowledge brings confidence that you can face down any challenge."
HOW TO DO YOUR JOB TOO WELL
There's a story – possibly apocryphal – that when Tata bought Jaguar and Land Rover in 2008, new owner Ratan Tata was driven to Gaydon to survey what his £1.8 billion had paid for.
On arrival, the car was pulled aside and the occupants asked by the security guard to identify themselves. But while the driver and the car were logged into the system, there was no record of Tata himself and, ever the professional, the guard was not about to break protocol no matter how many internet news stories he was shown on a mobile.
While the driver failed to get through with increasingly agitated variations of "Do you know who he is?", Tata is claimed to have politely asked for a moment's peace while he made a phone call. Sweaty-browed senior management swiftly sorted the situation.
Ever the gentleman, on leaving, Tata is reported to have thanked the guard for doing his job – and arranged for a copy of his corporate mug shot to be Sellotaped to the security booth, alongside the words: "Always let this man in." A