New i5, due 2021, will spearhead BMW's big push on electric and autonomous tech
The BMW i Vision Dynamics will make production as the BMW i5 in 2021 — and it will usher in a new era of intense electrification across the BMW Group's line-up.
Insiders say the launch of the third i-branded model has been made possible by breakthroughs in battery development. They add that the concept's 0-62mph time of less than 4.0sec, a top speed in excess of 120mph and a zero-emission range of up to 372 miles are all realistic for production.
At 4800mm in length, 1933mm in width and 1387mm in height, the i Vision Dynamics is 167mm longer, 122mm wider and 42mm lower than today's 3 Series. A long wheelbase also provides for short overhangs as part of an attempt to maximise interior space — something that is seen as a key advantage of the move to electric powertrains.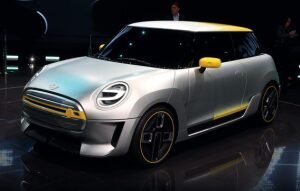 Various design cues are borrowed from the early Vision Next concept, which was revealed in 2016 as part of the German car maker's 100th anniversary celebrations. Although it's likely that many of the concept's more flamboyant touches will be toned down for production, insiders have confirmed that early engineering work on the production version of the i Vision Dynamics has already begun.
BMW R&D boss Klaus Fröhlich said the resulting production car would spearhead a step change for the firm's electric car strategy because of the battery and electric motor technology it will incorporate.
"It will feature our fifth-generation battery electric system — a step that will take us to the next level," he said. "The breakthrough in energy density came last year and now we are well under way to productionising it. The remaining obstacles have been answered."
The i5's technology will play a central role in all of the BMW Group's future electric plans, which it announced last week. It has committed to selling 25 electrified models by 2025, 12 of which will be fully electric. Although there has been no confirmation, insiders have hinted that this will include an electric derivative of a Rolls-Royce model, as well as a car based on the Mini Electric concept, also shown in Frankfurt, that will be launched in 2019.
BMW is investing €200 million (£181m) in a battery R&D facility so it can control the production and supply of its batteries in-house.
The i5 will also feature advanced new autonomous driving technology, although it is uncertain how much of it will be enabled. Fröhlich intimated that the goal was to launch the car with the capability to work at Level 3 or Level 4, which require differing types of human input depending on circumstances.
Details remain scarce, but insiders say BMW i will increasingly stand for innovation rather than just electrification as electric technology enters the mainstream with models such as the Mini Electric and X3 Electric. As such, it will be advanced autonomy features that initially set new i models apart from electrified mainstream cars.
"There is still a long way to go to Level 5, with a lot of technology still to be proven," said Fröhlich. "But we have set ambitious goals because we know we must make a leap. It may not be possible for 2021, but we aim to have intellectual property in place and have the cars enabled for anything. We will not succeed if we only aim to take small steps, but 2025 is a more realistic goal for full autonomy to be available, where regulations allow it."
As a result, full autonomy is expected to be unveiled on a new range-topping BMW i model being readied for launch in 2025 under the working title iNext. The iNext is believed to be being built off the Vision Next 100 concept and is set to take the form of a high-riding crossover-style SUV. Sources suggest it will be called the i7.
Fröhlich said BMW felt compelled to lay out its strategy because public opinion of car makers is so low. In an apparent nod to the Volkswagen Dieselgate scandal, he said: "The actions of some have severely compromised the credibility and trustworthiness of our industry. As a result, we now face tighter — and sometimes irrational — approaches to legislation. Around the world, regulations on fuel consumption, emissions and safety are changing faster than ever before."
JIM HOLDER