New compact hatch ditches rear-wheel drive for front drive. Any

general car enthusiast or BMW fan worried by that should read on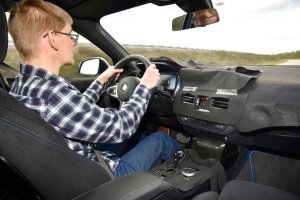 There's only one place to start when discussing the new BMW 1 Series: at the front. As opposed to the rear. Because the front is where you'll find its driven wheels.
That's a fundamental shift. Since the first-generation 1 Series was launched in 2004, it has been rear-wheel drive, a layout long viewed as an essential part of BMW's 'ultimate driving machine' philosophy. Worth talking about, then, right?
Except Peter Langen, BMW's driving dynamic boss, would rather not. "I would like not to discuss with customers whether it's a front-wheel-drive car or a rear-wheel-drive car," he says. Instead, he simply wants people to talk about how the new 1 Series is better than the old one, because "every new BMW has to be a better car in terms of drivability".
The indications are that it will be a car capable of holding its own against some tough rivals
BMW research suggests the bulk of 1 Series buyers don't care – or even know – whether the car is front- or rear-wheel drive: they simply want a family hatch with BMW's blend of premium style and comfort.
What those buyers do care about is space – and they want more of it. Because of its rear-drive architecture, the 1 Series simply hasn't been able to match front-driven rivals such as the Mercedes-Benz A-Class and Audi A3 for space, particularly in the back and boot. Hence the shift to front drive for the new, F40-generation model.
The new 1 Series sits on the latest version of BMW's FAAR front-drive platform, also used for the 2 Series MPV, X1 and X2 SUVs and Mini Countryman. It means that, while roughly the same size as before, the new 1 Series has 30mm more knee room in the rear and an extra 20 litres of boot space, according to BMW.
For the majority of potential 1 Series buyers for whom such things matter, BMW believes that could count for more than rear-wheel-drive handling. Of course, plenty of 1 Series owners likely do care about driving dynamics, and we'd suspect Autocar readers make up a disproportionate number of that group. Said group might also be concerned by the fact that the FAAR platform has transverse rather than longitudinal engine mountings. This means that the bonnet is shorter but also that the six-cylinder engine used on today's range-topping 335bhp M140i won't fit. Instead, the top model at launch will be a 306bhp M135i xDrive, using a new 2.0-litre four-cylinder engine. As with other higher-level models, the M135i xDrive uses BMW's all-wheel-drive system, which works the front axle as standard but can send up to half the power to the rear axle.
We'll get back to that model later. But there is cause for concern if chasing a bigger boot has come at the expense of performance. However, Langen would like to reassure you that the new 1 Series still handles like, well, a 1 Series. Only better.
"We have technical possibilities more than we had 15 years ago [when the first 1 Series launched] to make a front-wheel-drive car that really is a better BMW," he says.
The firm has spent five years developing systems and hardware to ensure a front-drive 1 Series can match the demands of Langen's team, particularly over suspension, differentials and new software.
There's a wider wheel track and an emphasis on increasing body stiffness, including a 'boomerang' strut on the rear axle, and mounting bespoke to each of the different F40 models, to ensure they all handle the same.
There's a new mechanical Torsen limited-slip differential and a key area of focus has been on a new traction control system called ARB, which was first seen on the i3S. The system features a controller positioned directly on the engine, reducing signal delay when it detects traction loss. BMW estimates this system can work 10 times faster than a traditional one and, as a result, can more accurately adjust the power delivery as needed. That system also works with BMW's Dynamic Stability Control (DSC) and yaw control systems, which can apply marginal braking on each wheel to stabilise traction and lateral balance. BMW says the combination of DSC and ARB results in a significant reduction in the understeer typically produced by a front-wheel-drive car.
Which is BMW's acronym-filled way of saying Langen's target – the new 1 Series should handle like a 1 Series. Only better – will be hit.
To find out, we were given the chance to sample a variety of 1 Series models, heavily disguised and with most of the interior switchgear covered, on test tracks at BMW's Miramas facility in France and on public roads in the surrounding countryside. The models included the entry-level 118i, powered by a 140bhp 1.5-litre three-cylinder petrol engine, and the 120d xDrive, with a 190bhp 2.0-litre four-cylinder diesel. We also drove the M135i xDrive on a test track (separate story, below).
The 118i we drove on public roads was fitted with standard suspension and felt nicely balanced, riding bumps well and maintaining composure on both fast and twisting roads. The steering – another area of focus for BMW – was pleasingly direct and reassuring. Sure, carry enough speed into corners and it's possible to detect a hint of understeer, but it still felt much like you'd expect from a BMW and enough to suggest the F40 1 Series will be a contender among the more dynamic offerings in the family hatch category.
The 1.5 three-cylinder engine, driving through a seven-speed automatic, didn't necessarily feel as responsive as some rivals' and won't offer much in the way of thrills, but it still offered brisk and responsive progress when up to speed.
To fully showcase the new systems in the 1 Series, BMW also provided us with access to its wet handling course and a 118i fitted with sport suspension, along with an F20-generation 118i. Contrary to what you might expect, it was the newer, front-drive car that was more neutral and pliable in reduced-grip conditions. The new DSC system reacted to steering inputs. Entering a corner too fast, at the point where you'd expect a front-wheel-drive car to understeer wide, turning the wheel harder set the system to work, adjusting the power and finding grip.
With more power, the 120d xDrive offered better acceleration, aided by an eight-speed Steptronic gearbox. The xDrive system also felt natural, and it was difficult to detect the car shifting the power away from the front axle, no matter how hard you tried to trick it with the throttle. The addition of a drivetrain that powered the rear wheels didn't alter the fundamental dynamics of the car compared with the 118i, suggesting a solid base – and a promising sign, given that final development work is still being done.
We'll have to wait until that work is complete before drawing a definitive verdict on the new 1 Series, but the indications are that it will be a contender in the premium hatch division and a car capable of holding its own against some tough rivals, especially with the promised increase in interior space and comfort.
The switch to front-wheel drive remains the talking point, but the future discussion is likely to centre around this: despite such a major shift, the new 1 Series still handles like, well, a 1 Series. Phew.
JAMES ATTWOOD
ON TRACK WITH THE 306BHP M135 XDRIVE

The range-topping M135i xDrive version of the new 1 Series has lost two cylinders and around 30bhp from the old, F20-generation M140i but BMW says it will offer the same top speed and acceleration, with more usable power.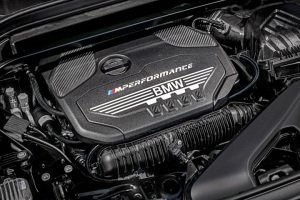 The new car is 20kg lighter than its predecessor, with a brand-new four-cylinder engine that will also be seen in the forthcoming M235i Gran Coupé. It features a unique suspension among F40-generation models, with increased local stiffness at key points. And, unlike the M140i, it will be offered with all-wheel drive as standard.
On a test track, it doesn't want for performance, with strong response and confidence-inspiring handling. The engine delivery is smooth and it sounds the part, too.
BMW's belief is that less can be more, and the M135i certainly feels like it has the performance credentials to trouble the Ford Focus ST and Mercedes-AMG A35.
The new 1 Series will be launched with a range of petrol and diesel engines, but the architecture can accommodate hybrid powertrains, too. The firm says no decision has been made on whether they will be offered, or when they will arrive. JA
BMW 118i
It might be powered from the front, but it still feels like a BMW – and it could be up the front in its class, too
Price  £23,000 (est)
Engine  3 cyls, 1500cc, turbo, petrol
Power  140bhp
Torque tbc
Gearbox 7-spd automatic
Kerb weight tbc
0-62mph tbc
Top speed tbc
Economy tbc
CO2, tax band tbc
Rivals Audi A3, Mercedes-Benz A-Class