Digital advances are helping Audi to raise the quality of its design and manufacture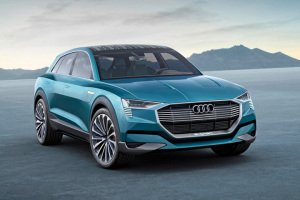 The launch in September of Audi's first pure electric car, the E-tron, and the increased amount of digital content in such models mean that the German firm is completely reinventing the way it approaches quality procedures at its factories.
"Audi is going through its biggest change ever as it transitions to become a digital company," said head of quality assurance Werner Hoffmann,  "and quality is one of our core competences, with our customers having expectations for the function, comfort, value and reliability of our cars."
All of the quality departments, covering 500 vehicle functions, and their 2800 staff, mostly based at Audi's Ingolstadt HQ in Germany, are adopting new procedures to deal with the increased electrical complexity of the Audi of the future.
For example, a battery-electric Audi will be equipped with more than 100 computer control nodes and generate 100,000 signals in its electrical wiring, compared with the 12,000 signals that a typical combustion-engined car generates today.
Audi's quality teams get most directly involved in new car launches in the final six to 10 months of the typical four-year product cycle, when they can best influence the quality of the finished model.
JULIAN RENDELL 
MIND THE GAP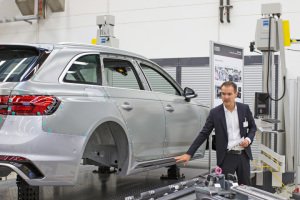 An Audi's tight panel gaps don't happen by luck. Metrology is the science of measurement and Audi is using digital advances to improve the correlation between design and manufacture to improve the 0.2mm panel-gap tolerance.
Currently, a master jig is created 10 months ahead of Job One (the start of production) when production tooling becomes available to fine-tune the body to a perfect panel fit. Audi uses the same 0.2mm tolerance in its interiors, which also have their own master jig.
A new bit of kit in the department is an optical jig, built around two 16MPM digital cameras mounted on robotic arms, which can build up a 3D picture of a complete production body in four hours, a 100GB file. The 'tactile' scanners of old took 48 hours to do a similar but less thorough job.
This scan can be compared with the original computer-aided designs and the high and low spots where the production tools are lacking accuracy can then be projected back onto a body to show exactly where the press tooling should be adjusted.
The next step is to completely digitise the master jig for every Audi car body and further increase production quality and reduce tolerances by half to just 0.1mm.
MICROSCOPIC ATTENTION TO DETAIL
The centrepiece of Audi's work on advanced materials is a focus ion beam (FIB) scanning electron microscope, worth a cool €2 million (roughly £1.8m).
This fires a beam of electrons into the component under test and can reveal detail of up to five-micro-metre definition in semi-conductors, coatings, films, paint, bearings and sensors.
Most recently, FIB scanning revealed delamination at the interface of a thin adhesive layer as the root cause of a problem on the new A8's touchscreen, seen as bubbles on the screen to the human eye.
The work allowed the supplier to change the adhesive and solve the problem.
A FASTER WAY TO TROUBLESHOOT TEST CARS

[metaslider id="24188″] Audi is subjecting its first EV to on-road validation in readiness for its 2018 launch. "Things are changing in the day of the connected car," says Arnd von dem Bussche-Hünnefeld, head of total vehicle quality. His team runs 600 or so test vehicles, which transmit real-time test data back to Ingolstadt, allowing faster troubleshooting.
The new A8, with its self-driving functions, for example, logs 50GB of data in an eight-hour shift. A less complex A3 generates 3GB. Audi has also added a new subjective evaluation system to its two established quantitative criteria to deal with the increased complexity of driver assistance systems.
A tablet-based CarPad is linked to the data-logging system to allow test drivers to input their assessment of test cars. "The technology is not speeding up development but allowing us to cope with 30% to 50% more data," says von dem Bussche-Hünnefeld.
In fact, development for EVs is slightly slower because charging batteries slows down the process.
THE SEMICONDUCTOR TEAM
[metaslider id="24191″] In one of many anonymous-looking labs, a team of four semiconductor engineers is perfecting computer chips and circuit boards for in-car use. "There are up to 8000 semiconductors combined into a vehicle today," says Stefan Simon, a senior engineer, "and 80% of the innovations are based on semiconductors."
The lab has recently worked to validate Audi's organic LED tail-lights for production. The OLED is only a few micro-metres thick and bonded onto a 0.5mm glass substrate. OLEDs create the distinctive 'waterfall' pattern of Audi indicators.
Also cleared for production here is the laser scanner – or Lidar – used in the A8 for Level 3 self-driving. The device is made by supplier Valeo but validated for use by Audi
at Ingolstadt.