Just five marks, then, out of a possible 200, separated first place from second, with two judges placing the McLaren first and two of us placing the Porsche first. Handily – given I'm the judge writing this bit – I'm one of the ones who placed it first.
In my eyes, there's still nothing that can quite touch the 911, and this 911 in particular, for sheer entertainment on both road and circuit. That a 720S is faster isn't in doubt. That it steers magically, rides brilliantly and is ergonomically set up ideally for fast road and circuit driving is beyond question.
But that the Porsche is better than it as a driver's car by all useful yardsticks is also, to my eyes, ears, hands and feet, obvious. While the 720S is busy trying to be the supercar with hypercar pace that you can use on a bumpy circuit and road, the 911 is unencumbered by trying to (a) create and (b) deploy the 217bhp that separates them, and I suspect that helps make it better.
Want a given response? You input the necessary command. The 911 obliges


For a start, short of two cylinders and two turbos, the engine stays where it has always been. In the totally wrong, but absolutely right, place, in the rear, where it allows superb visibility, compact packaging and minimal weight. Don't underestimate these qualities in a road car.
The roads around the mid-south are tight and twisting and have cambers and gradients gifted to them by ancient hedgerows, but they're true to the kinds of roads you'll find anywhere in the UK and throughout much of the rest of the world. To drive them at middling speeds, speeds at which bystanders might note you're having a nice time but don't think you're being an idiot, is a joy in the 911.
You could go faster but you don't need to: that's not where the magic, necessarily, lies. At any speeds, at all speeds, the 911's ride is composed, the steering deliciously communicative and yet free from unwanted feedback, and the engine, transmission and brakes entirely intuitive. You want a given response? You input the necessary command, and the 911 obliges. I've written it before but I'll write it again: no other car presents the depth of its engineering to you, as a driver, and asks you to feel it, and experience it.
And on a circuit? It's a 911 GT car. It is pure. It is linear. It is all kinds of '183 points out of 200' wonderful. MP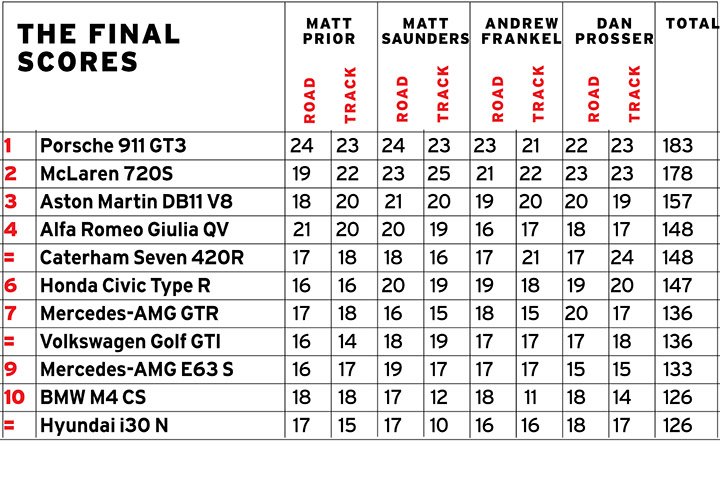 WHAT WAS QUICKEST AND WHY?

Our Castle Combe lap times were recorded over two days in changeable conditions, with the GT R and i30 N saddled with the most slippery track. The difference wasn't massive: a few greasy apices and braking areas versus almost bone-dry tarmac. Nevertheless, it was present, so we've attempted to compensate in a 'corrected' times column that reflects how the cars might have compared in like-for-like conditions.
Subjectively, the McLaren felt by far the quickest car on test and likely would have gone on to lap even quicker if our test schedule had allowed the time. But the big surprise was courtesy of the brilliance of the 911 GT3, which set a time within half a second of the 720S despite being at a 217bhp disadvantage. The Porsche was also the only car to appear among the top three recorded speeds at all of our speed traps.
The off-camber Old Paddock Bend was a great test of confidence level – and that the Civic was quickest of all through the apex speaks volumes about the grip its chassis generates.