Our contenders are whittled down to the final three. Andrew Frankel reports
I'm going to say it now, and invite all comers to shoot me down: we've never had a tougher competition to discover Britain's Best Driver's Car (BBDC). Which is not to say that the competition has never been tougher, for that would imply we were unable to make up our minds without hours of agonising and extemporisation. We're better than that. Here, we have clear winners and equally well-defined losers. This was not one of the closest competitions in years, but it was the toughest.

Why? Three factors: Britain, November and Castle Combe. Britain, to be fair, has been common to all but one of the 29 BBDC events. We did once use a track in the south of France, but after we'd realised we'd had to fill the fuel tank of a Mitsubishi Evo VI 18 times to get it there and back, oddly enough those who count beans round these parts suddenly thought how much nicer it would be as a domestic event. But November? Well, we've never done that before; but as cars get ever better, so we must ask ever harder questions of them, and there are few more searching than those posed by leaf-strewn British back roads with temperatures locked in single figures.
Castle Combe poses a similarly searching question. This is a homecoming for us, because it was the site of that original 1989 BBDC event, a day that went splendidly. Well, until we wrote off a Ferrari. And that was a warm summer's day. Today, the cars have slippery, slimy conditions and at least double the average horsepower to deploy. All of Combe's legendary bumps remain as treacherous as ever yet come with not one inch of additional run-off. In conditions like this with cars like these, there are places where you'll be in the wall before you have time to think 'opposite lock'.
[metaslider id="23820″]
The choice was as catholic as ever. Cars with two, three, four and five doors, and with front, rear and four-wheel drive. Hatchbacks, saloons, supercars, coupés, sports cars and even one estate, with normal aspiration and forced induction, four, six and eight cylinders, all splashed through the puddles to assemble in the Combe paddock, the drivers' grins scarcely concealing the nerves beneath.
As soon as the light at the end of the pit lane went green, a small queue of somewhat sheepish drivers appeared by the Volkswagen Golf GTI Performance. Feel free to read everything into the fact that, for us all, this was the de facto training car, the one we all wanted to drive first, to get our eyes in before progressing to more serious stuff. It did not disappoint. "Amazing stability and security in very wet conditions" was the first impression of contributing writer Dan Prosser, who loved its balance, brakes and how well signalled was the approaching limit of adhesion. Road test editor Matt Saunders went further: "For much of the deluged first day, this would have been the only car I'd have chosen to drive fast on track." It felt equally accommodating on the road, a car so easy yet effective in all conditions that it immediately made you wonder why you might spend so much more on some of the others that offered less bandwidth for their drivers.
The i30 N combined an up-and-at-'em approach with baseline security
The answer came when it dried out: for all its undoubted competence, the Golf still felt slightly antiseptic, the friend who'll open your mind, but conceal its heart. The view of editor-at-large Matt Prior that "I wouldn't mind if it were a touch more engaging, and more adjustable, too" spoke for us all. That said, a place in the final rankings alongside the Mercedes-AMG GT R despite a price gap of more than £110,000 will be a source of rather greater pride to one enormous German car company than the other.
One question in search of a rather urgent answer was whether Hyundai could out-Golf the Golf with the i30 N. The idea of beating a hot hatch over 40 years in the development at the first time of asking seemed faintly preposterous, but the Korean newbie came closer than many would have credited at the start. I was very impressed by the way it combined an up-and-at-'em approach with that baseline security all hot hatches should have. I thought it cool that Hyundai had gone headlong at the Golf without so much as dipping a toe in the water first, too. Others were less sure. Saunders didn't like the "slightly leaden steering and shortage of traction" while Prosser found it "much edgier than the Golf" in challenging conditions. But there's a flip side to this and Prior found it, proclaiming it to be a "more entertaining car than the Golf". For me, it just needed a little more time in the oven, for it's let down only in the detailing, such as its poor pedal placement, an overly high driving position, limited brake feel and occasional but distinct torque steer. On the road, these issues were less of a factor and we liked its positive gearshift and surprisingly decent ride, but the fluency you find in the Golf is not there in the i30 N yet. Yet if this is a first attempt and if Hyundai can maintain this rate of progress, the second should be something else.
Which, in a way, is what Honda has provided with the Civic Type R. Of course, Honda has been putting the Type R badge on Civics for 20 years and over five distinct generations, but this is only the second since the firm abandoned high-revving normally aspirated engines in favour of turbocharging. But whereas we have our reservations about its predecessor, the current car arrived at Combe as our favourite hot hatch of the current crop. And once on track, it didn't hesitate before making mincemeat of not only the other hatches but also many of the more expensive and specialist cars.
In the wet, it was startlingly rapid, showing speeds into Avon Rise we'd think twice about repeating in the supercars, and had its Continental tyres not taken extreme exception to the wet painted grid markings on what passes for a pit straight at Combe, it would have been quicker still. We all loved the mechanical feel of its gearbox and the way it delivered more power with less fuss than the Hyundai.
It also provided an object lesson in multi-link rear suspension design. Compared with its torsion-beam-equipped predecessor, the way this Civic combined an acrobatic ability to change direction yet would take full braking at over 120mph in the wet while cornering quite hard is firm evidence of just how capable it now is. On the road, it even rode pretty well, too. And as Saunders points out, in conditions far more taxing than those experienced last year, this £30,000 hatchback finishes one point further up the table than did its sister, the NSX supercar, in 2016.
When the track was wet, most drivers did two laps in the M4 and were happy to park it not in a wall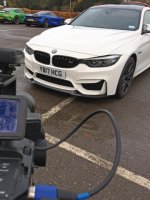 Another car seeking an improved performance was the BMW M4 CS. Last year, its tricked-up sister, the M4 GTS, came plumb last, its mixed abilities on track entirely undone by a catastrophic performance on the road. And for a while, it seemed the CS would fare even worse. When the track was wet, most drivers did two laps and were happy to park it not in a wall. "Close to undrivable" was the not easily scared Prosser's opinion of the car in fully wet conditions. Yes, it was compromised by its no-nonsense Michelin Pilot Sport Cup 2 tyres, but others here on the same rubber were not nearly so affected. As Prior explains on page 49, he liked it for its strong engine, slick gearshift and steering even though "you can't drive it 'quickly' quickly, because the back steps out in fourth in a straight line at about 80mph on part-throttle", but even he conceded its limitations here.
And yet on the road, in far trickier conditions than those that completely unstitched the GTS, the CS became a completely reformed character. My notes spoke of "a greater disparity between road and track performance of any car I can remember" and even Prosser conceded the chassis "felt very good on the road". In short, when not near the limit, the car was a delight and, in other circumstances, it might have fared rather better. But in a competition where on-limit behaviour is such a decisive factor, it did well to finish higher than did its sibling last year.
The relative achievements of the two Mercedes-AMGs put us very much in mind of our 2015 contest at Snetterton, where a C63 estate wiped the floor and then did the dishes with the GT S coupé. And history appeared to be repeating itself with the GT R: a car we'd found fast and fluent on the smooth, warm and dry track chosen for its official launch turned into an aggressive, twitchy monster at Combe. Indeed, the GT R steered so violently off centre on some pre-ruined Michelin Super Sports tyres we thought there might be something wrong with it, so Mercedes came and bolted on a brand-new set of Cup 2s, which dramatically improved matters but did not entirely solve them. So equipped, "it feels a bit like a racing car. I don't suppose it's ideal, but it's quite a good laugh. You just drive slower on the way in and hang on to it a bit on the way out," said Prior.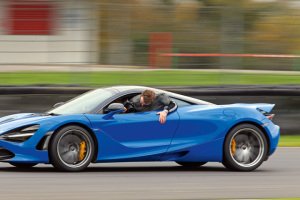 In the meantime, Castle Combe reverberated perpetually to the sound of the more powerful 4.0-litre V8 in the E63 S estate, which seemed only to come in for long enough to load a new driver and head out again. So although Saunders found the GT R "probably the biggest disappointment of the test", Prior considered the E63 "a monstrous piece of kit in the damp, really, stupendously fast, and because there's some body lean, it puts enough weight on its tyres to go very, very quickly, stably and securely, with a mammoth noise to go with it". Of course, the drier it got, the more its weight, relative softness and air springs counted against it. Some didn't like how difficult it was to engage rear-drive drift mode, although others pointed out it was quite cool even to have the facility in the first place. Overall, though, we found the estate car punching a little above its considerable weight, while the GT R left us feeling again that an AMG coupé had been set up to work in far too small an operating window, altogether too far removed from the wilds of Castle Combe in November.
By contrast, the Alfa Romeo Giulia QV did an excellent job of bending itself to whatever task lay before it: road or track, wet, damp or dry, and with very few exceptions, all of us except Prior really liked it. And he positively loved it: "I know it's one of my favourite road cars, but on a circuit in the wet, it's approachable in a way most 500bhp, rear-drive cars on Corsa tyres are not. Oh, my, what a lovely thing." Prosser found it retained on track "the pliancy and composure" that had so impressed him on the road and even I, a QV sceptic, conceded that in the wet, it wiped the floor with the M4 and GT R.

In the wet, the Honda Civic Type R was startlingly rapid
But what Alfa was ever perfect? Saunders didn't care for its super-swift steering or adaptive damping and we all struggled with the feel (or lack thereof) of its brake-by-wire system. That said, if you'd suggested to all the judges before the event what chance the Alfa had of scoring a tie for fourth place overall with a Caterham, we'd have all started smirking – except, of course, for Prior, who'd already be wondering why it was not in the top three.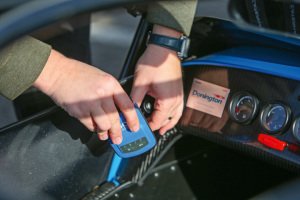 Ah, yes, the Caterham. Tricky cars these. Not tricky to drive, you might be surprised to hear, given the weather and the 420R's semi-slick Avon ZZR tyres. Just tricky to treat the same way as everything else. Complaining about its lack of civility on the road is like entering a racehorse into the local dressage competition and wondering why you ended up on your arse. Around Combe, it was mesmerising. Even in the worst weather, the reason you came in was not because it ran out of grip, but because you ran out of vision. Of course, it slid – almost everywhere, in fact – but it did so in such a predictable way and in such a confined space. In most of the other cars, you felt the need to collect it through fear of running out of room, but in the Caterham, you just kept your boot in, rode it out on the steering and hammered up the straight beyond.
Prosser was absolutely right to describe it as "one of the most drivable cars here in the worst conditions" and Saunders opined "you felt as if you could easily arc around longer third-gear bends with a quarter turn of opposite lock and never end up pointing the wrong way". Once more, it was left to Prior to strike a blow for the iconoclasts, which he did with usual conciseness and precision: "A car for very specific conditions. This isn't them."
Which leaves an Aston Martin DB11 V8 facing down the mighty McLaren 720S and Porsche 911 GT3 for overall honours. I'm going to limit my comments on the three of them because you have Saunders' analysis to come, but I think I'm not giving the game away to observe that given the DB11's weight, grand touring brief and the lowest wheel rate of any Aston Martin ever sold, just getting to sit at the same table as thoroughbred sports/supercars such as these is a victory in its own right. But that's the thing with this contest, possibly more so this year than in any other: the raw material provides only the ingredients; it's how they come together – the recipe and who cooks it – that really counts. And ex-Lotus chassis chief Matt Becker, who signed off the DB11, is a regular Jamie Oliver.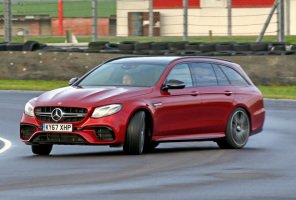 For all their speed and grip, what the top three did best was provide confidence – the single greatest determinant of driving pleasure in conditions like these. Without that confidence at Combe and on the roads around it, the 493bhp sitting in the boot of that Porsche would seem less of a marvel and more of a menace. So you can imagine how all 710bhp of the McLaren would have felt had some exceptional talents not given over a great deal of time and thought to how the car should behave, not just on the sun-soaked billiard tables for which the GT R and M4 appear to have been set up, but when the going gets really tough.
And tough it really got. But in the end, the podium places were secured by a sufficient margin that none of the remainder should feel robbed. Quite who stands in which position I shall leave to Saunders to reveal.
PHOTOGRAPHY Stan Papior, Luc Lacey
CATERHAM 420R DONINGTON
Matt Saunders
"Surprisingly grippy and benign in the wet, even on semi-slick Avons, and always telegraphs its next move so clearly and handles with such simplicity that you can't help but love it. Exhausts and uplifts in equal measure."
BMW M4 CS
Matt Prior
"You know, I like this. Can't drive it 'quickly' quickly, because the back steps out in fourth gear in a straight line on part-throttle. It has a good engine, I like the steering, and if you turn in at a moderate pace and give it the lot, it'll let go nicely and controllably. It feels GTS-lite to me, and that's just fine."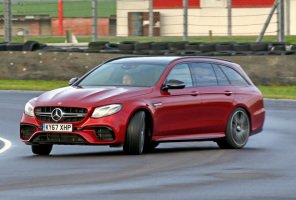 MERCEDES-AMG E63 S ESTATE
Dan Prosser
"Should be the safest car here with four-wheel drive but I could feel it slipping and sliding all over. Good control and agility for such a heavy car, though. Power is immense: you must use it cautiously or you arrive everywhere so fast."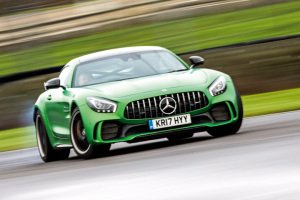 MERCEDES-AMG GT R
Matt Saunders
"The suspension struggles to deal with Combe's bumpier stretches and cambers even in Comfort mode. So in the end, it's too harum-scarum to lap really quickly. Engine is mighty but chassis and steering just don't let you relax and get on with it."