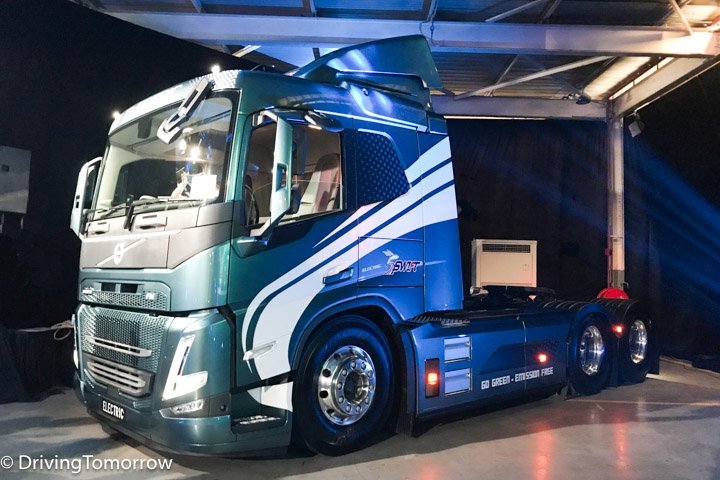 First two Volvo EV trucks delivered to owners, Swift Haulage Berhad
Volvo EV trucks are now available in Malaysia. The first two fully-electric, heavy-duty prime movers were delivered to Swift Haulage Berhad.
There are three Volvo EV prime mover models available, FM, FH and FMX, with multiple axle configurations, 4×2, 6×2 and 6×4, according to business needs. There are also variable battery configurations available with total energy storage of up to 540kWh. The electric drive unit produces up to 490kW output and up to 2400Nm of torque. The range is up to 300km. With an 43 KW on-board AC charger, it takes 10 hours to charge from zero to full. Meanwhile with a 250kW DC charger, it would take two hours.
Independent tests show potential reductions of up to 50 per cent less energy consumed compared to Volvo FH diesel-powered engines under similar driving conditions. This equates to thousands of Ringgit saved annually.
The electric trucks have no engine noise nor are there vibrations in the cabin. The quieter working environment reduces stress and tiredness for the drivers. It is also safer as the drivers can hear more sounds from their surroundings. The quietness also makes communicating with colleagues easier, especially when working around the exterior of the truck. An additional advantage besides the quietness is zero exhaust emissions. This could make it possible for goods deliveries to be early in the morning or at night. Low emissions could also enable indoor deliveries.
Active safety features in the Volvo fully electric prime movers include:
Road sign recognition
Acoustic vehicle alerting sound – artificial sounds to alert pedestrians and other road users to the truck's presence (watch YouTube video here)
radar-powered Side Collision Avoidance Support monitors (watch YouTube video here)
Passenger corner camera
Lane Keeping Support
Downhill cruise control
Active Grip Control
Collision Warning with Emergency Brake
Front Short Range Assist
Volvo Dynamic Steering, active steering system
Stability Assist
ABS brakes
Electronic Stability Control
Passive safety features:
Seatbelts
airbags
front underrun protection
emergency exit
strong cabin structure
Features include:
Volvo Truck signature 'V' LED lights
driver-centric cabin
AC or DC charging on-the-go
Interior features are:
HD 12-inch display
nine-inch touchscreen display for information system with control buttons on steering
For those interested in EV trucks, Volvo Trucks provides a total cost of ownership analysis to potential customers based on customisable logistic needs. Volvo Trucks also provides training and support to educate truck operators, drivers, and maintenance personnel on EV technology, maintenance procedures, and best practices.  The trucks come with eight years extensive service contract for maintenance and repair as well as warranty on the batteries.
Finally, Volvo Trucks works closely with customers to develop tailored solutions, such as flexible financing options by financial institutions. Efforts also include creating partnerships with companies in the renewable energy sector to provide sustainable charging solutions.
More information at volvotrucks.my
In addition, Volvo Trucks is working with government agencies, energy providers and partners such as the Malaysian Green Technology and Climate Change (MGTC) and PLUS Expressways Berhad to help improve the infrastructure for commercial vehicle charging.
Through the colloboration with MGTC, Volvo Trucks will be registered under the MyHijau directory. MyHijau is a government initiative to promote the sourcing and purchasing of green products and services in Malaysia. Volvo Electric Trucks is also set to receive the MyHIJAU mark of recognition. This is a green product recognition scheme for safety, quality and performance standards by MGTC. Being part of the MyHijau mark, companies purchasing Volvo Electric Trucks will be eligible to benefit from green technology tax incentive programs such as the Green Investment Technology Allowance (GITA).