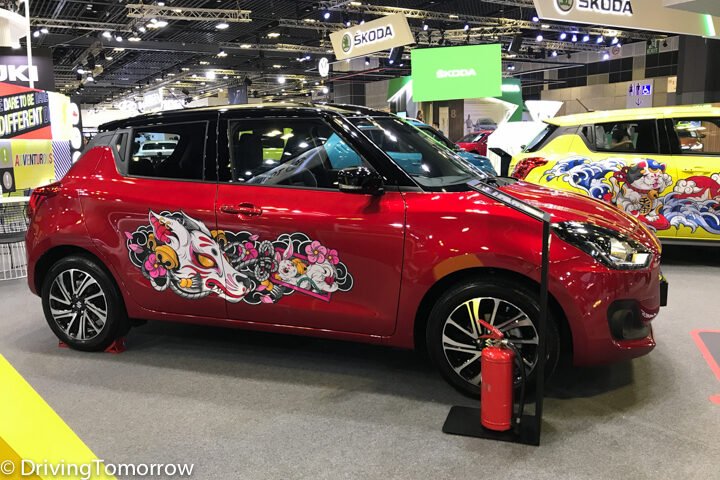 Suzuki cars with special edition decals designed by Erika Tay
Four Suzuki models are available at the Singapore Motorshow with special decals created by Erika Tay. Fun and bold, the colours and designs represent the personality of the Swift, Swift Sport, Ignis and Jimny.
The Suzuki Swift comes with the Kitsune, a fox well known for its cunning spirit and intelligence and a rabbit. This mirrors the Suzuki Swift's zippy and spicy personality. The rabbit has a dual meaning – a symbol of speed and a nod to 2023, the Year of the Rabbit.
Maneki-neko, the Japanese beckoning cat, is on the Swift Sport. The cat is believed to bring good luck and fortune. The illustration of the car surfing on waves represents the responsiveness and the exhilarating experience behind the wheel.
Similar to the classic exterior of the Suzuki Ignis, the Daruma dolls designed by the artist presents a timeless representation of Japanese culture. The illustrations represent the sentiment of past meets present, while the modern symbols capture the quirky, bold spirit of the Ignis.
The Jimny is known for its ability to take on the harshest of terrains. Seen as a kindred spirit to Samurais who are revered for their courage, tenacity and skill, the decal captures the personality of the Jimny, reflecting the indomitable spirit of the Japanese warriors.
Customers who purchase their Suzuki vehicle at the booth have the option of receiving their vehicle with the decal. Non-drivers may purchase the artwork