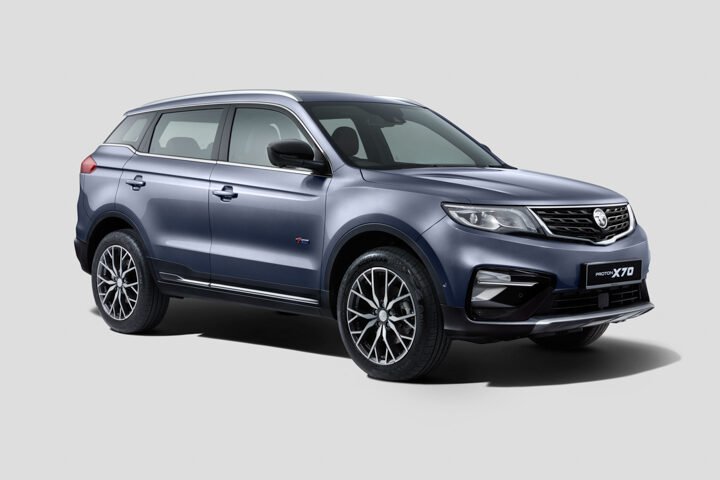 New engine and styling updates in 2022 Proton X70 
Proton has updated the X70 range for 2022 with four new three-cylinder 1.5-litre turbocharged petrol engine variants and styling updates for the sole four-cylinder 1.8-litre turbocharged petrol option now available. An all-wheel drive variant has been reintroduced, the 1.5 TGDi Executive 4WD
The 1.5-litre produces 174bhp and 255Nm of torque. It is also in the top spec X50 variant. The 1.8-litre engine output remains unchanged at 181bhp and 300Nm. Also unchanged is the transmission, a seven-speed dual-clutch gearbox. Proton claims the new engine consumes 7% less fuel on the urban cycle.
Updated in 2022 are enhanced features for the driver and passengers' comfort and a refreshed look. These include quartz black finishing on the front and rear bumpers, new 19-inch alloy wheels, power tailgate with foot sensor and Nappa leather seats with new black headlining. The Proton Intelligent Air Purification System (P-IAPS) is also installed in the 2022 Proton X70, a combination of N95 cabin filter (incorporated into the air-conditioning) and air purifier system to improve the air quality inside the cabin.
Other highlights are Voice Command, Proton link app, nine speakers with power amplifier and subwoofer and six USB ports.
Safety features include six SRS airbags, Advanced Driver Assistance System (ADAS), Tyre Pressure Monitoring System (TPMS), and 360 camera with 3D display for hassle-free parking. The 2022 Proton X70 has a 5-star ASEAN NCAP rating.
Exterior colour options for the 2022 Proton X70 are Snow White, Armour Silver, Jet Grey, Ruby Red, Cinnamon Brown and Space Grey, available dependent on variant. Booking is now open online at //www.proton.com/en/find-a-car/protonx70 and at authorised Proton showrooms.
On-the-road prices without insurance are as follows:
| | | |
| --- | --- | --- |
| Variant | Peninsular Malaysia | East Malaysia |
| 1.5 TGDi Standard 2WD | RM93,900 | RM95,900 |
| 1.5 TGDi Executive 2WD | RM105,500 | RM107,500 |
| 1.5 TGDi Executive AWD | RM111,300 | RM113,300 |
| 1.5 TGDi Premium 2WD | RM117,900 | RM119,900 |
| 1.8 TGDi Premium 2WD | RM121,800 | RM123,800 |
Looking for an Proton X70? Check out pre-owned Protons and Proton X70s at //www.motortrader.com.my/cars/PROTON/X70