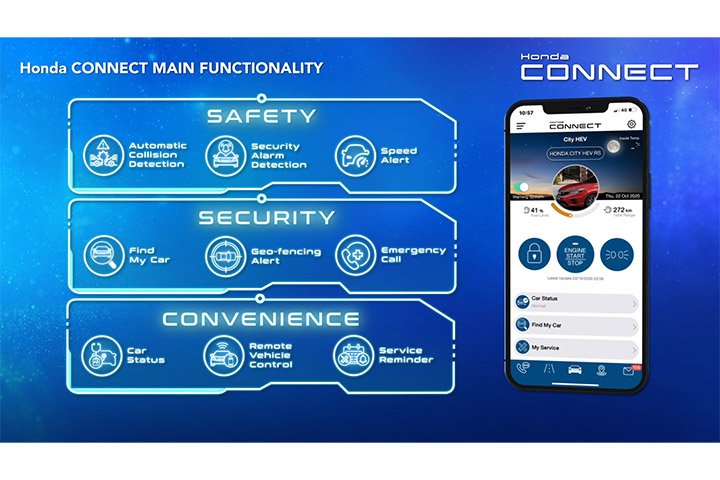 Honda Connect smart tech to be in all-new City RS e:HEV
Honda Malaysia has introduced the Honda Connect app. The all-new City RS e:HEV from March 2021 onwards will be the first car to have app connectivity. The app will enable car owners to access features and functions remotely including vehicle diagnostics, security, tracking and support services.
For safety and security, Honda Connect is equipped with the following:
Automatic Collision Detection System,
In the event of an accident or if the air bag goes off, the Automatic Collision Detection System will automatically contact Honda's 24 Hours Roadside Assist Call Centre and emergency services. The user i that this has been done.
Security Alarm Detection,
Owners can monitor their cars remotely using the Security Alarm Detection feature. If the door, bonnet or boot are forced open, an alert is sent to the owner as well as the Honda 24 Hours Roadside Assist Call Centre.
Speed Alert and Geo-Fencing Alert
The owner can preset the speed and location range for the car. If the vehicle is driven out of the set conditional parameters of speed limit and driving radius, the owner is notified.
Find My Car
Owners who forget where they park their cars can use the Find My Car function in Honda Connect to locate it.
Emergency Call. 
An emergency call function enables users to contact pre-set emergency contacts and get help if needed.
Remote Vehicle Control
This feature enables the car owner to lock or unlock the car remotely. In addition, the owner can call 24-hour roadside assist to help unlock the doors remotely if the car keys are left in the car by accident. Remote Vehicle Control can also remotely start or stop the car engine, switch on or off the air conditioning to cool the cabin as well as remotely switch on the headlights to help the owner locate the car.
Vehicle Dashboard

This feature includes vehicle information such as Car Status and Service Reminder. Car Status tracks details like driving behaviour and Trip logs. Service Reminder stores information on service history and sends the owner reminders when the scheduled maintenance is due. Users can also use the app to make a service appointment, check the Parts List and get estimates for future vehicle service.
Remote Diagnostic Support
This feature can remotely assess and diagnose problems in the safety systems and send a warning notification to the owner. It can detect issues with the 11 main indicators including
Anti-lock Brake System (ABS)
Supplemental Restraint System,
Brake System, Engine Malfunction,
Charging System,
Vehicle Stability Assist (VSA) System,
Electric Power Steering (EPS) System,
Lane Keep Assist System (LKAS),
Adaptive Cruise Control System (ACC),
Safety Support and Power System.
Honda Connect offers communication through One-to-One Message function and Customer Inquiry. There is also Social Network Services (SNS) Posting. The One-to-One Message are reminders on service maintenance, insurance renewal and annual vehicle tax deadline while SNS Posting allows users to share their vehicle trip logs with their community via social media. Additionally, the application connects and gives access for the owner to contact Honda directly for any enquiries as well as for Honda dealers to be in touch with customers for an efficient customer-dealer relationship.
Get more information on the Honda Connect app by calling Honda Malaysia's Toll Free number at 1-800-88-2020 or at www.honda.com.my.