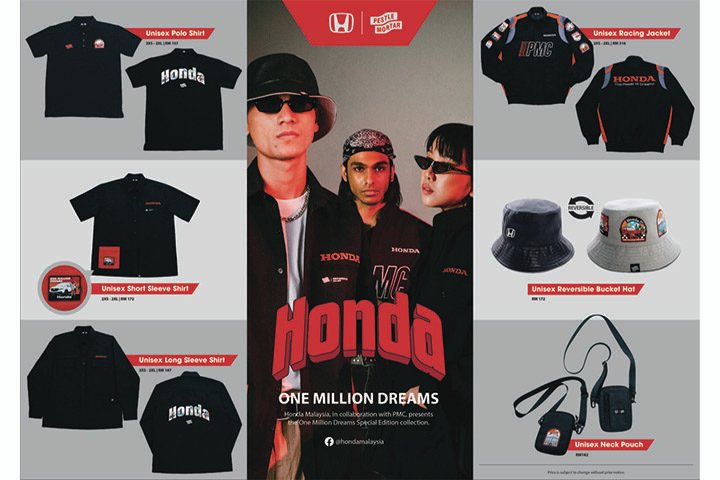 Honda One Million Dreams special edition merchandise at Honda Malaysia Official Store on Shopee
The One Million Dreams Collection will be available exclusively at the Honda Malaysia Official Store on Shopee from 1 April 2021.
The special edition merchandise is a collaboration between Honda Malaysia and Pestle & Mortar Clothing to commemorate achieving the one millionth Honda car sales unit milestone which is expected to take place this year.
The specially-designed One Million Dreams Collection is available in limited quantities only. It comprises six unisex items in stylish and trendy designs – Reversible Bucket Hat, Neck Pouch, Polo Shirt, Short and Long Sleeve Shirts as well as a Racing Jacket. Adding to the excitement, Honda Malaysia is introducing a bundle package at a special price for customers who purchase the Honda Official Merchandise Special Edition and selected 'TEI' Series Merchandise from Honda Malaysia Official Store on Shopee.
Before the official launch of the collection, Honda Malaysia is offering a special reward to customers with Limited Early Bird Pre-launch Vouchers worth RM20, which is equal to 2,000 Shopee Coins. Customers can register for the Pre-launch vouchers via Honda Malaysia's Official Facebook page from 17th March until 28th March 2021. Customers will receive the voucher code* on 31 March 2021. The use of the voucher codes is on a first-come-first-served basis whereby the first 100* customers will be able to use it to shop for the Honda Official Merchandise Special Edition on Shopee.
Do not miss out on the chance to get the Pre-launch vouchers, available from 17 March to 28 March 2021. Customers can click into Honda Malaysia Official Store on Shopee at //shopee.com.my/hondamalaysia.os or Honda Malaysia Official Facebook page at //www.facebook.com/hondamalaysia to check out the items from 1 April 2021 onwards.
*The voucher code is valid from 1 to 7 April 2021. Terms and Conditions apply.