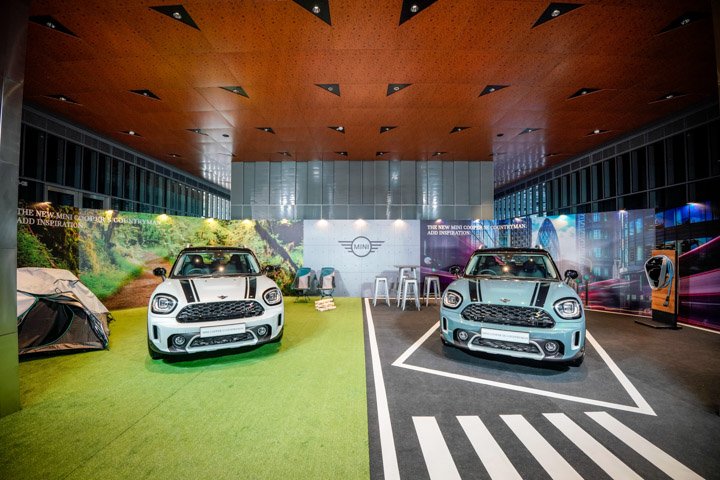 Midlife refresh two Mini Cooper Countryman variants, the S and the SE
The updated Mini Cooper Countryman has arrived. As before, there is the two-wheel drive petrol Mini Cooper S Countryman while the Mini Cooper SE Countryman is a four-wheel drive plug-in hybrid. Both variants are assembled in Kulim.
Changes in the midlife refresh are largely cosmetic. Both cars now have the MINI ALL4 Exterior Optic bodykit which give the Countryman a more rugged look. Also new are the Union Jack tail-lights which are LED. The auto headlights are also now LED as standard, with cornering lights.
Chrome external features are now high-gloss Piano Black: headlight surrounds, rear lights, radiator grille and side scuttles, door handles and the model lettering on the tailgate.
Unchanged are the engines and transmissions: the S is powered by a turbocharged 2.0-litre engine that produces 192bhp and 280Nm. 0-100 is 7.5 seconds while the top speed is 226km/h. The gearbox is a seven-speed dual-clutch with coasting function in MID and Green drive modes to minimise fuel consumption.
The SE Countryman has a 1.5-litre turbocharged engine paired with an electric motor that produces a combined 114bhp and 385Nm of torque. The maximum all-electric range is 48 kilometres. The front-wheel driven SUV's four-wheel drive is controlled by the motor which delivers additional traction and distributes torque output as needed. The SE has the latest eDrive technology which includes a high-voltage lithium battery with a gross energy content of 10 kWh.
There are three modes for the eDrive: Auto optimises the consumption balance between the petrol and electric motor; Max eDrive which is pure electric at speeds up to 120km/h and Save Battery mode which engages automatically when the battery charging status is low. The petrol engine is mainly used in this mode to charge the battery, or maintain its charging status at 90%. This is to conserve battery power for electric driving later.
Inside, both variants feature the Mini Yours Illuminated cockpit in Shaded Silver, combining the illuminated cockpit bezel in Shaded Silver with the Dark Silver door bezels and Hazy Grey. The headliner is Satellite Grey and Leather Cross Punch in Carbon Black. Both variants also have Mini Yours Walknappa Leather Steering, which is a first for the MINI Cooper S Countryman. A signature Union Jack insignia is at the bottom of the steering wheel.
New too is the five-inch digital instrument cluster. This has information about speed, fuel level, mileage, temperature and navigation instructions. The updated 8.8-inch touchscreen display has the audio control panel, hazard light buttons and driver assistance systems, also navigation, integrated into the circular control unit. There is also Head Up Display. In-car entertainment comes with a 12-speaker Harman Kardon HiFi Loudspeaker System.
Both variants now include Driving Assistant system as standard. The driving assistance package enables digital high-beam assistant, speed limit information, person warning with light city braking function and approach control warning with light city braking function. The person warning and approach control warning will warn and safely brake in a speed range of approximately 10 km/h to 60 km/h. At higher speeds, it will warn the driver of potential collisions with vehicles ahead while preconditioning the brakes for a faster brake response and shorter braking distance. The braking functions help to reduce the impact speed if an accident cannot be avoided.
The new Mini Countryman variants are available in Chili Red, White Silver, Island Blue, Thunder Grey, British Racing Green and for a new colour, Sage Green.
The New MINI Cooper S Countryman:RM 244,265.76
The New MINI Cooper SE Countryman:RM 254,461.84
New MINI Countryman variants come with Sales Tax Exemption and four years Mini Service and Repair Inclusive package (on the road for personal registration, without insurance)
They will be available at all authorised Mini dealerships nationwide starting 26th February 2021. Bookings can also be made on the MINI Online Shop at //www.mini.my/minionlineshop.
Mini Roadside Assistance.
The new Mini Countryman variants are covered by Mini Malaysia's Five Years Roadside Assistance programme, with a comprehensive list of services that include a 24-Hour, 365-days-a-year Accident and Help on the Phone and On the Spot Hotline, Free Towing Services and when needed (over 200KM from residential home), Replacement Vehicle, Seamless Mobility, Accommodation, Mobility Services Solutions as well as Repatriation services.
Contact the Mini Roadside Assistance programme at 1800-88-8808.
Mini Cooper S Countryman
Mini Cooper SE Countryman