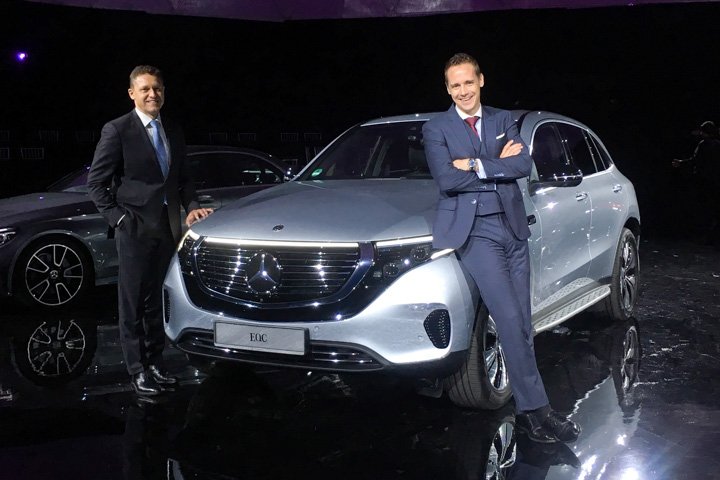 Three latest-generation electric cars showcased: the S 560 e, C 300 e and EQC 400
Mercedes-Benz Malaysia has unveiled three cars from its EQ range, the automaker's electric mobility brand which has been described as 'an electromotive ecosystem for products and services'.
The S-Class's first-ever plug-in hybrid, the S 560 has a new generation plug-in hybrid drive system that combines a 367bhp, 3.0-litre, V6 engine with a 122bhp electric motor. The combined output is 476bhp at 5500-6000rpm, with maximum torque of 700Nm. The new, higher capacity, 13.5 kWh lithium-ion battery has an all-electric range of 50 kilometres. On a domestic home charger it takes six hours to full charge or 1.8 hours with the Mercedes Wallbox Charger.
Acceleration to 100km/h takes 5.o seconds, top speed is 250km/h
The S 560 e has Nappa leather interior, Exclusive trim package and high gloss bur walnut wood trim. It is equipped with the Chauffeur package that has adjustment options to ensure the perfect seating position, offers Easy Adjust head restraint for the front passenger and a power-retractable foot rest on the front passenger side. Other luxury features are pre-entry climate control – temperature presets for airconditioning, heating, heated seats, steering wheel heater, arm rest heaters and optional seat ventilation – for maximum comfort before setting off.
The estimated price of the locally-assembled Mercedes-Benz S 560 e is RM658,888. Agility Financing Packages starting from RM6588 a month are available.
The former C 350 e plug-in hybrid is now the C 300 e, in the C-Class line-up's midlife refresh. The badge designation may be smaller but the C 300 e has a new 13.5kWh Lithium-nickel-manganese-cobalt cell battery  with a 111% higher capacity than in its Lithium-ion predecessor. The 2.0-litre four-cylinder petrol engine is also now more powerful, producing 211bhp (208bhp previously) and is paired with a new 122bhp electric motor. In the C 350 e, the motor produced 80bhp. The combined output of the C 300e is now 320bhp, up 45bhp from 275. Total peak torque has also increased by 100Nm to 700Nm. The C 300 e also has a new gearbox, the 9G-Tronic automatic.
In addition, charging time from 10 per cent to full capacity has been reduced to 1 hours and 50 minutes at maximum recharge power with a Mercedes-Benz Wallbox charger.
No price was announced for the Mercedes-Benz C 300 e
The highlight of the event was undoubtedly the EQC 400 4Matic, an all-electric SUV built on the C-Class platform. The vehicle on display was a left-hand drive demo unit. The first all-electric vehicle launched by Mercedes-Benz in Malaysia, the EQC400 has asynchronous motors at each axle which are capable of generating a combined output of 408bhp, maximum torque of 760Nm, zero-to-a-hundred time of 5.1 seconds, top speed of 180 and a driving range of 450kilometres while producing zero exhaust fumes. Torque is also intelligently distributed between the front and rear axles depending on traction demands and driving conditions to maximise fuel efficiency.
Five driving modes are available, each designed to manage power consumption and maximise range as far as possible: Comfort, Eco, Max Range, Sport and Individual.
The 80 kWh battery has a maximum voltage of 405V and capacity of 230 Ah. It is liquid cooled and is housed strategically in the floor of the car between the two axles. The electric powertrains and battery were tailor-made for the EQC while the electric motor, fixed-ratio transmission with a differential, cooling system and power electronics were designed to fit within a compact footprint. The battery is an integral part of the vehicle's crash concept while the location is advantageous for handling purposes. It takes 11 hours to charge to full on a domestic charger. With a DC fast charger, the EQC takes 40 mins to charge up to 80 per cent capacity from 10%. The battery is also charged during coasting as well as from braking as mechanical rotation from the wheels is converted into energy with both motors functioning as generators.
No price was specified for the EQC400 4Matic.
Mercedes-Benz S 560 e
Mercedes-Benz C 300 e
EQC 400 4Matic