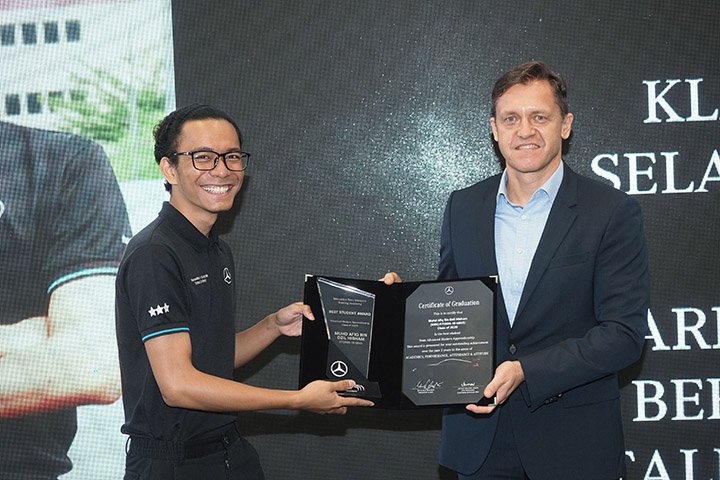 Fifty-four graduates from apprenticeship programme join Mercedes-Benz network
The Mercedes-Benz Advance Modern Apprenticeship Class of 2020 saw 54 trainees graduate and join the Mercedes-Benz network as technicians. 
The students are taught by certified trainers and assessed according to international standards set by Daimler AG in Germany. Over the three year course, they gain the latest technical knowledge and diagnostic skills in line with the advanced technology of Mercedes-Benz products.
Trainees are introduced and exposed to a wide range of skills including presentation, analysing, decision making, strategic thinking, mentoring, self-discipline and most fundamentally, teamwork. The course curriculum is 70 per cent practical and 30 per cent theory with on-the-job training being an important component.
Upon completion, students will receive three certifications; Mercedes-Benz Automotive Mechatronic Training Certificate, Mercedes-Benz Qualified Maintenance Technician Certificate, and National Dual Training System Certificate, equivalent to the Malaysian Skills Certificate Level 3 (SKM 3), guaranteed with a four-year employment.
The 2020 Best Student Award was presented to 24-year old Muhammad Afiq bin Dzil Hisham from Klang, Selangor. Afiq was voted the best student by all his trainers as he excelled in every aspect of the three-year course, which includes Punctuality, Work Efficiency, Proper use of Tools, Knowledge, Safety Consciousness, Behaviour, Interpersonal Skills, Work Attitude and Responsibility.
Malaysia Advance Modern Apprenticeship
The Advanced Modern Apprenticeship provides training for automotive technicians. It is a three-year training programme with full scholarship under the National Dual Training System (NDTS) in collaboration with the Department of Skills Development (JPK), Ministry of Human Resources.
Over 900 trainees have graduated from the apprenticeship scheme since it was established in 1984. Candidates have to undergo a strict selection process which involves a pre-enrolment assessment examination by Daimler AG, Mercedes-Benz Malaysia's parent company. Candidates then have to attend a face-to-face interview by the Recruitment Panel which gives the final approval to candidates who qualify to enrol in the training programme. ATC also provides a structured certification ladder for existing technicians who are keen to upgrade their skills and knowledge.
The Apprentice Training Centre is a 55,000 sq ft facility and staffed by 14 dedicated trainers. The training facility has state-of-the-art training equipment, purpose-built classrooms, and workshops that emulate real-life after-sales centres.
For more information on the Mercedes-Benz Advanced Modern Apprenticeship Programme, kindly visit //www.mercedes-benz.com.my/apprenticeship