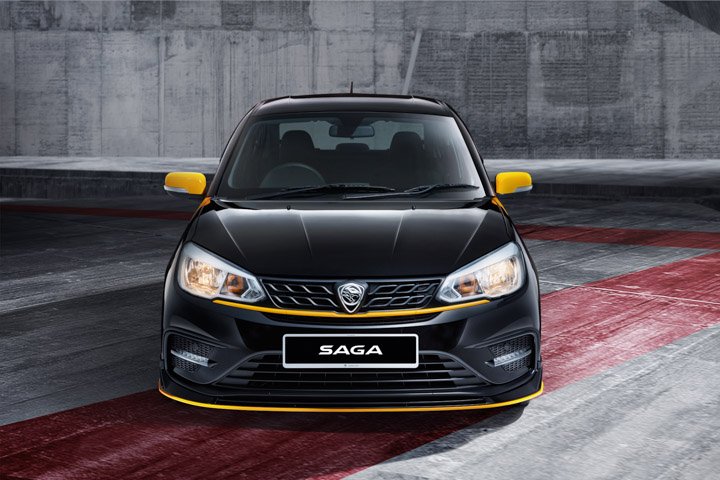 Thirty-five years since Proton Saga nameplate debuted in Malaysia
Last week, Proton launched the Proton Saga Anniversary edition to commemorate 35 years since the first Proton Saga rolled into car show rooms – and made the biggest dent in Malaysian taxpayers' coffers of any single project. In the name of National Pride, apparently.
So why have we taken a week to write up the press release? Probably because it's not exactly news, is it? The four year old, current Saga Premium AT dressed in black tarted up with yellow highlights, looking like another Malaysian relic of 35 years ago, the licensed taxi.
Of course, that was not the intention. The colour scheme is actually a reference to the R3 motorsports division, although the why is elusive. The Proton Saga Anniversary is the Saga Premium AT… not a horse more power nor a newton meter more grunt. Was that a reference, or a dig?
Only 1100 units of the Proton Saga Taxi, I mean, Anniversary edition will be built, priced at RM39,300. If they've sold out but you've been blinded by desire for those dashing yellow highlights under the grille, skirting the front, sides and rear, circling the instrument cluster, smiling under the centre aircon vents and on the aircon tabs,  you can buy the 35th Anniversary Accessories package and install in on your 2019 Proton Saga. It's RM2035 if you buy the package, a saving of RM315 if you'd got them individually.
The Proton Saga Anniversary Edition: 1.3-litre engine, 94bhp, 120Nm of torque paired with a four-speed torque converter automatic gearbox. Price: RM39,300 inclusive of road tax.
N95 Cabin Filter
What is brand new and thoroughly 21st century is the N95 Cabin Filter. It will be in all the Proton models: Saga, Persona, Iriz and Exora registered after 9 July 2020. If you already have Proton, the N95 Cabin Filter can be retrofitted. Until 9 October 2020, there's a 15 per cent discount on the price of the filter. Thereafter, it will be RM59, excluding labour.