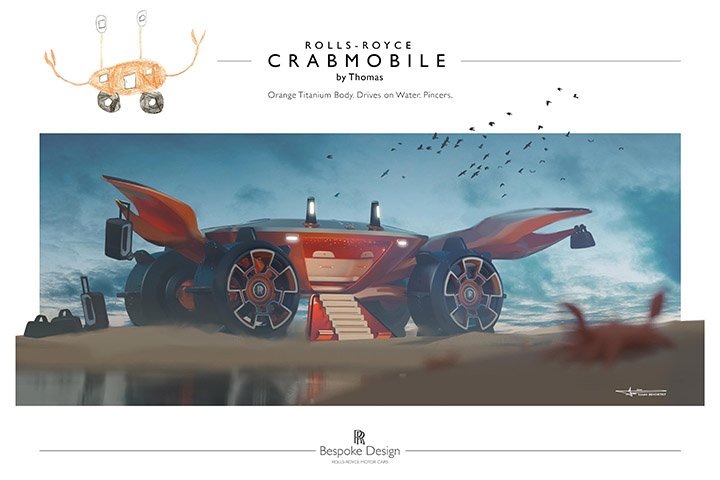 Update: Closing Date for Entries has been extended to 1 June 2020
Rolls-Royce Motor Cars launches special "Young Designer Competition" during Covid-19 pandemic
Calling all parents of bored under-16s. Rolls-Royce Motor Cars has launched a special "Young Designer Competition" for aspiring designers to design their dream Rolls-Royce of the future.
The competition is usually run at the Rolls-Royce employees' Family Day Celebration, held at the Home of Rolls-Royce in Goodwood, England. The aim of the Young Designer Competition is to inspire greatness. This year, it goes global to provide a welcome distraction from self-isolation and social-distancing measures being adopted by many countries around the globe, during the Covid-19 pandemic.
Rolls-Royce designs and builds the world's most extraordinary cars, each a unique expression of the owner's personality, imagination and creativity. From paint to embroidery, Starlight Headliner to art and design installations, anything is possible. Aspiring designers entering the challenge are encouraged to draw on their own creativity and desires to imagine the design of their very own super-luxury car.
The judges, the Rolls-Royce Design team, will select an overall winner. The overall winner will received a rendered illustration of their design – a true once-in-a-lifetime, money-can't-buy prize – as well as other prizes for outstanding entries. Runners-up will receive a hand-signed certificate from Torsten Müller-Ötvös, the Chief Executive Officer of Rolls-Royce Motor Cars.
In addition, should a Singapore young artist make the winner's circle, he or she will be offered a chauffeured ride to school in a Rolls-Royce with a friend. This incentive is offered by Rolls-Royce Asia-Pacific for Singapore entrants.
Young designers can share their innovative designs for a future Rolls-Royce at:
//rolls-royceyoungdesignercompetition.com
Competition Terms & Conditions can also be found at //rolls-royceyoungdesignercompetition.com/
Closing date for Rolls-Royce Motor Cars' global competition is Monday 18 May 2020