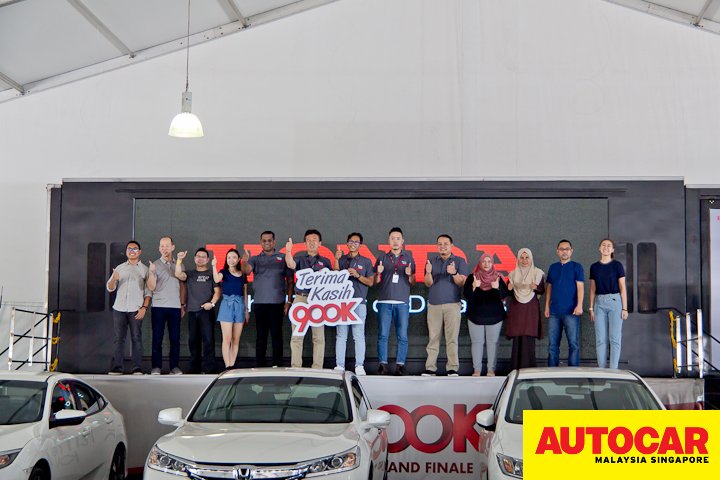 Honda Malaysia gave away nine cars to nine lucky winners at its "Road to 900,000th Unit Milestone Campaign" Grand Finale
Honda Malaysia has celebrated its 900,000th sales unit achievement with two-day extravaganza opened for all Malaysians. One of the key highlights on the first day was the handover ceremony of the nine Honda models to the winners. In the run-up to the Grand Finale, Honda Malaysia has announced the first two winners of the giveaway who won a Civic and HR-V. The winners of the remaining seven Honda models were announced at the "Road to 900,000th Unit Milestone Campaign" Grand Finale.
| | | |
| --- | --- | --- |
| No. | Models | Winners |
| 1 | Civic | Mr. Mohamad Adib Fida'iy bin Mohamad Hanapi |
| 2 | HR-V | Mr. Lim Hong Ngee |
| 3 | HR-V Hybrid | Ms. Nik Siti Nurhidayah Juhan |
| 4 | City | Ms. Yasmoon binti Osman |
| 5 | City Hybrid | Ms. Fong Yee Wern |
| 6 | Jazz | Ms. Ee Shi Lin |
| 7 | BR-V | Mr. Chester Lim |
| 8 | CR-V | Mr. Lim Hock Kuang |
| 9 | Accord | Mr. Muhamad Abdul Hadi bin Junus |
Honda Malaysia Managing Director and Chief Executive Officer, Mr. Toichi Ishiyama said, "We are very grateful to all our customers for their support, which has made Honda a trusted car brand in Malaysia. We are very happy to reach such a significant milestone of 900,000th sales unit since our establishment in 2002 and we want to celebrate it with all Malaysians." "This campaign is made extra special as it is the first time Honda Malaysia collaborated with popular homegrown brands – Astro Radio, Tealive and unifi – to give away the nine cars. Throughout the campaign period, we received encouraging feedback and active participation from Malaysians. Over 122,000 participations were received in two months! I would like to thank all Malaysians for their support and participation in this campaign as well as the nationwide tour," added Mr. Ishiyama.
The 900,000th sales unit is an overall tally since Honda Malaysia rolled out the first Completely Knock-Down (CKD) model, the CR-V in 2003. CKD models have contributed the most to Honda Malaysia's total sales by 95% and 5% is from Completely Built-Up (CBU) models. Overall, the City contributed the highest at 37%, followed by Civic at 15% and CR-V at 11% since the company's establishment. In 2013, the company is dedicated to expanding its dealer network nationwide. To date, Honda Malaysia has 98 dealerships in every states and major towns in Malaysia.
That said, with strong demand Honda Malaysia established the No.2 Production Line in its Pegoh plant in 2014 to increase local assembly capacity.
Currently Honda Malaysia assembles ten key models; namely Jazz, Jazz Hybrid, City, City Hybrid, Civic, BR-V, HR-V, HR-V Hybrid, CR-V and Accord. From the sales record for January to August 2019, the top three selling models are the City with 33%, followed by the HR-V and CR-V with 18% and 14% contribution respectively. Aiming to set a higher benchmark in the Malaysian automotive industry, the company introduced the three pillars of Honda's Next Generation Advanced Technology in Malaysia: Honda SENSING, Turbocharged and Sport Hybrid i-DCD which are well accepted in the Malaysian market.
The "Road to 900,000th Unit Milestone Campaign" Grand Finale was held in Bukit Jalil National Stadium car park on 28 and 29 September 2019. The extravaganza was an avenue for visitors to preview of the soon-to-be-launched midlife refreshed New Civic, as well as Honda Malaysia's current offerings.
Besides that, the event also featured a 380 feet-long Giant Water Slide, "Insta-Luminous" displays, immersive Virtual Reality (VR) Games and foods from the mini food fair. Visitors can also experience Honda's Advanced Technology through interactive game activities such as Sport Hybrid i-DCD X-ray Scanner as well as Sport Hybrid i-DCD and VTEC Turbocharged Game Tower.