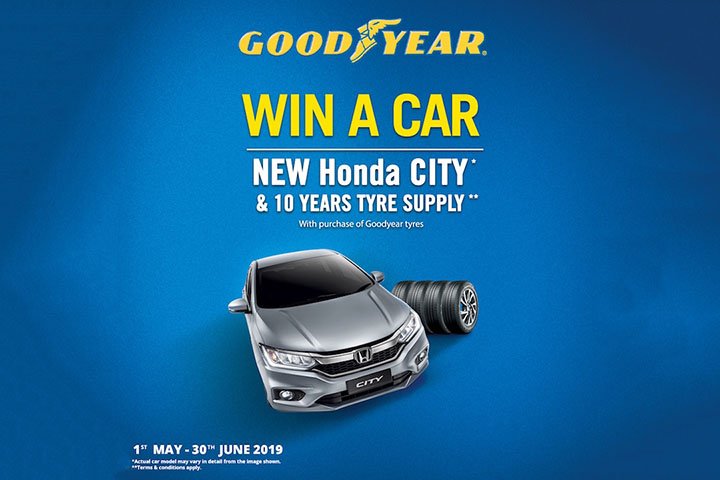 A new set of Goodyear tyres could win you a new Honda City and 10 years' worth of tyre supplies
Buy new tyres during Goodyear Malaysia's Hari Raya Campaign and you could win a Honda City and 10 years' worth of tyres. Over 10,000 accidents are caused by drivers buying rethreads instead of brand new tyres, according to the Ministry of Works. This is why buying new tyres from official sources is important for drivers to be safe on the road.
There are two promotions. One for high-end tyres including the Eagle F1 Asymmetric series, EfficientGrip series, Run on Flat (ROF) and Eagle F1 Directional 5 series. The other is for more affordable tyres, which includes the Assurance TripleMax series, Wrangler TripleMax and Optilife range.
Buy a pair of tyres from any of the offered tyre models and get one entry in to the lucky draw for the grand prize. In addition, those who purchase four new tyres from the list of high-end tyres can redeem an in-car charger that doubles as an air freshener.
Entry to the lucky draw is automatic: just register the new tyres for the Worry-Free Assurance programme via Goodyear Malaysia's official website. The campaign runs from 1 May to 30 June 2019.
More information about Goodyear's Hari Raya campaign, please visit their website at: //www.goodyear.com.my/ or their Facebook page at: //www.facebook.com/GoodyearMalaysia/