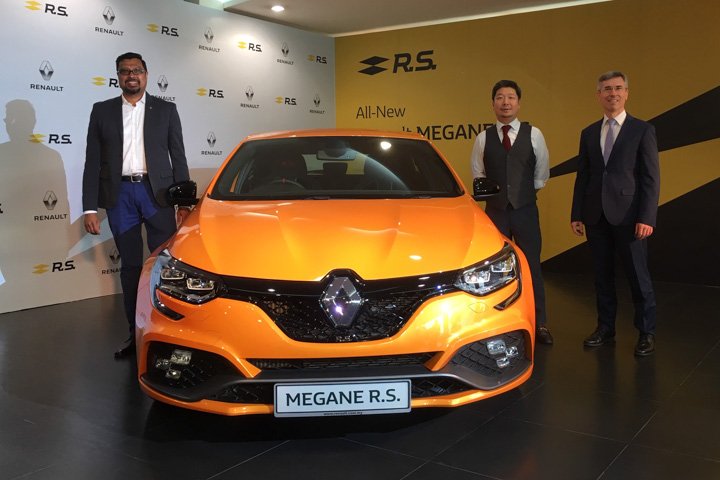 Hot hatch comes with manual or dual-clutch gear box options, starting from RM280,000.00
The all-new Renault Megane RS 280 Cup is now available in Malaysia. The fourth generation of the iconic performance hatchback comes packed with class leading features including first-in-segment four-wheel steer for improved agility and stability.
The latest Megane RS has a new 1.8-litre engine with maximum output of 280bhp and 390Nm of torque. Two transmission options are offered, six-speed manual or six-speed dual-clutch automatic. 0-100km/h takes 5.8 seconds. Top speed is 255km/h.
In keeping with past Megane RSes, front wheel drive is retained but the motorsports-inspired performance hatchback now has 4Control, Renault's four-wheel steering system which, depending on speed, changes the angle of the rear wheels relative to the front wheels to improve agility at lower speeds and increase stability at higher speeds. The trigger speed at which this happens is 60km/h but in Race mode, this increases to 100km/h.
Other updates are to the Cup chassis and the independent steering axis front suspension which is now paired with a new Torsen mechanical limited slip differential to improve handling and traction and limit understeer. Also new are the bi-material 15mm larger front brake discs. Standard on Cup chassis Megane, these are a  combination of aluminium and cast iron to reduce weight per wheel by 1.8kg and improve heat dissipation under heavy usage.
The shock absorbers have also been improved by the addition of hydraulic compression stops to all four absorbers to temper the effects of weight shift when decelerating for better comfort and road traction.
The optional automatic wet-clutch dual-clutch gearbox comes with Multi-Sense, four drive modes: Comfort, Neutral, Sport and Race, controlled through paddles on the steering wheel. The speed of the gear changes, with accompanying engine sound changes, depends on the mode selected. There is also Perso, a mode which allows each driver to customise the settings of the various technologies in the vehicle. In Sport and Race modes, the gearbox can change down over several gears with the best gear selected by holding and releasing the left-side paddle. There is also Launch Control for race car-style starts.
The Megane RS comes with RS Vision, full LED three function headlights (fog, cornering, long range) and LED daytime running lights. Standard safety features include ESC, ASR, ABS, EBD, EBA and six airbags.
The sports seats are fabric covered with the option of Alcantara. The instrument cluster is a seven-inch TFT screen which can be personalised. The infotainment system is an R-Link 2 Audio System accessed through a 8.7-inch touchscreen.
The Renault Megane RS manual is RM279,888 (confirmed price) and the DCT variant, RM299,888 (estimated price) on-the-road inclusive of SST without insurance. Three premium colours are offered, Pearl White, for an additional RM1000 and Orange Tonic and Liquid Yellow both an additional RM8000. There's a three year or 100,000 km (Whichever comes first) warranty.
The first 10 customers who book the all-new Megane RS before 31st May 2019 will enjoy an all-expenses paid trip to France with a trip to the Renault Sport facility in Dieppe, France.