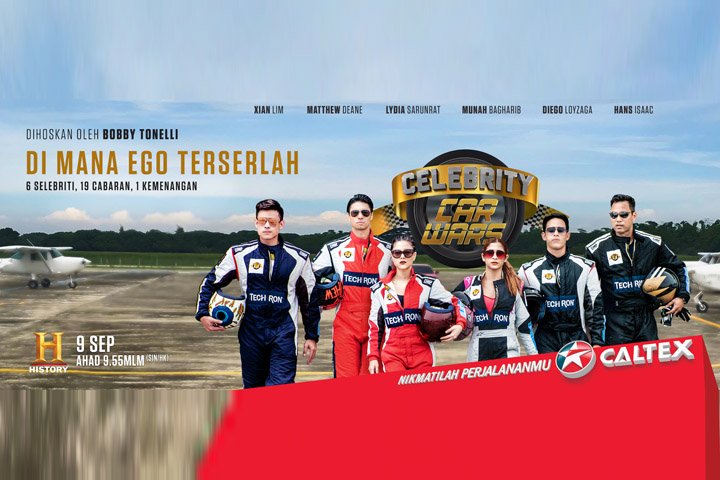 Topping up a minimum of RM40 petrol or diesel at Caltex could net you prizes including a holiday package or cash
Caltex, the fuel brand under Chevron Malaysia Limited, is the sponsor of television show Celebrity Car Wars which is now airing its third season on History Asia, Astro CH555 or CH575. The award-winning reality automotive competition series showcases Caltex petrol and diesel under challenging driving conditions.
Among the competitors on the show are Malaysian actor, producer and director Hans Isaac, Singaporean actor and comedian Munah Bagharib; Filipino actor and VJ, Diego Loyzaga; American-Filipino actor, model, and singer Xian Lim; Thai-Australian actor, singer, and model, Matthew Deane; his wife and competitor Thai R&B idol, actress, and social media influencer Lydia Sarunrat.
To celebrate this collaboration, Caltex is giving its customers a chance to win holiday packages, cash prizes and Caltex merchandise. The contest runs until 30 November 2018. To participate, customers need to spend RM40 on a fuel transaction in a single receipt at Caltex stations nationwide, send a picture of the receipt via WhatsApp to 017 7070683 and type Caltex<space>NRIC<space>date of transaction<space>transaction total (Example: Caltex 880818008888 12/10 RM 45) to stand a chance to win prizes totalling over RM200,000!
The final episode of Celebrity Car Wars Season 3 airs this Sunday 28 October at 9:55pm on Astro History Channel 555 nd 575HD. Tune in to see who emerges triumphant.