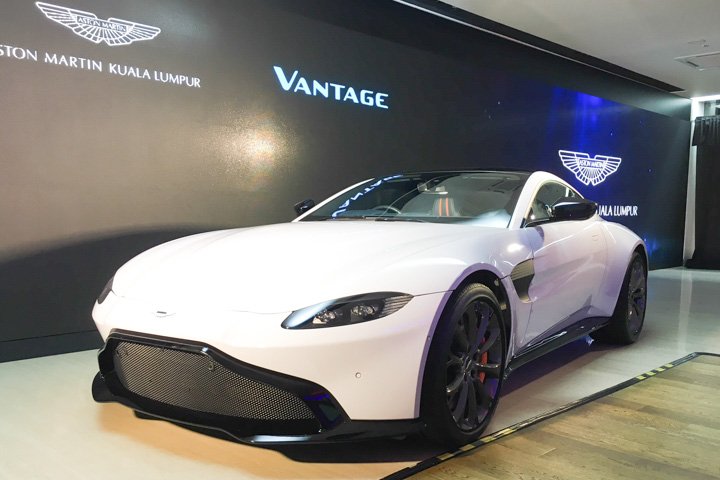 Bold new Vantage is first Aston Martin fitted with Electronic Rear Differential (E-Diff)
The latest Aston Martin Vantage has made its debut in Malaysia. The all-new sports car marks seven decades as an iconic model in the automaker's lineup since the first Vantage in 1951.
The all-new Vantage has a bonded aluminium structure which, although based on the DB11, 70% of the components are new for the Vantage. The Mercedes-Benz developed four-litre, twin-turbo V8 engine has a 0-100km/h time of 3.6 seconds from its combination of eight-speed transmission and a top speed of 314km/h.  The Vantage is the first Aston fitted with Electronic Rear Differential (E-Diff) with torque vectoring and is also stability control, adaptive damping and electric power steering.
The Vantage's bonded aluminium structure is based on that in the DB11 but 70% of the components are new for the Vantage to improve balance, strength, rigidity and reduce weight. The Vantage's design is based on the DB10 which was created specially for the James Bond film Spectre and never went into production.
Aerodynamics in the Vantage include a front splitter with a system of fences to cool the air as it is channeled towards the rear diffuser. The diffuser's design further amplifies this directional effect: creating an area of low pressure to prevent turbulence being generated by the rear wheels so air only exits as directed. Side gills in the body and the upswept rear deck lid also draw airflow to generate significant downforce.
The Vantage is now available for viewing at the Aston Martin showroom at Etiqa Twins, near KLCC. It's price estimated to start from RM1,600,000 after duties.
The Aston Martin Kuala Lumpur Service Centre is in Sungai Buloh. The 4,000 square feet service centre is fully air-conditioned and has the latest tools, technology and equipment. It is located at Lungui Industrial Park, 15 1/2 miles, Sungai Pelong, Sungai Buloh.