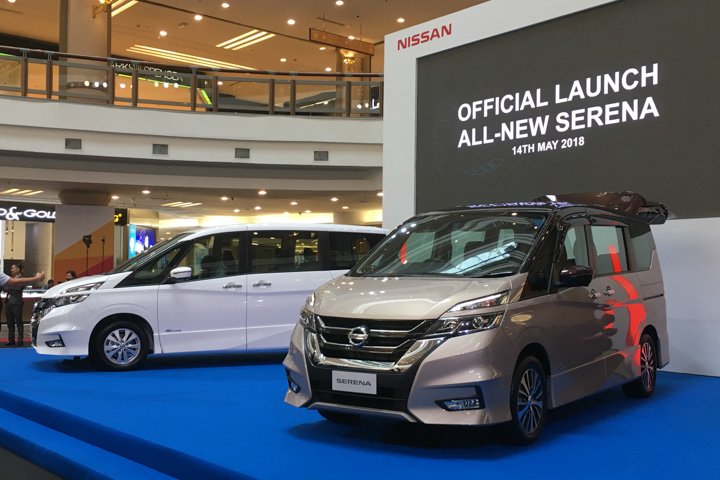 All-new MPV showcases Nissan's new generation global design language and features considerable technological and equipment improvements.
The Serena S-Hybrid has made its debut in Malaysia and comes packed with several improvements over its predecessor. The overall size is the same but the interior is 180mm longer and 65mm wider while the floor to ceiling height has improved by 20mm.
The platform, 2.0-litre petrol engine engine and CVT gearbox are a carry-over from the previous generation Serena but there is an upgraded Eco motor that controls the Idling Stop system and improves push-off from standstill. Power output has been increased to 148bhp while there's a 13% improvement on fuel economy at 14.2km/L. The suspension has been stiffened to reduce body roll and improve the ride over uneven surfaces. Cabin noise and vibration has also been reduced with the installation of sound absorbent materials in key areas.
Key highlights of the Serena include four cameras that give a 360º view of the vehicle to make navigation easier, Intelligent Moving Object Detection (I-MOD) that alerts of driver when it senses moving objects surrounding the vehicle and driver fatigue alert.
Safety features in the Serena are six SRS airbags, Vehicle Dynamic Control (VDC), Traction Control System (TCS), Anti-lock Braking System (ABS), Brake Assist (BA), Electronic Brake Force Distribution (EBD), Hill Start Assist (HSA), and ISOFIX Child Seat Restraint system for 2nd row seats.
Standard features include LED projector headlamps, LED tail lights, cruise control, variable assist power steering, hands-free dual power sliding door, operated by a kick below the door, a split rear tailgate so the boot can be accessed without having to open the back door.
Entry is keyless with push-button ignition to start. Along the dashboard, the instrument panel, called the Advance Drive Assist Display (ADAD) is viewed on a full-colour seven-inch digital display. The infotainment system is a 6.75-inch Clarion display with six speakers and Apple CarPlay and Android Auto. Dual-zone auto climate control, three rows of airconditioning vents, a 10-inch LCD panel for rear seat passenger entertainment, 14 cup/bottle holders, 10 "tar-pau" hooks, 7 USB charging points, and several storage compartments are just some of the passenger comforts provided.
The cabin retains it's flexible, configurable interior, 13 configurations to arrange the seats and cargo area to maximise cabin space, with a few changes. There are now two rows of Captain seats: the second row has been upgraded to Captain seats with individual arm rests and aeroplane-style tray tables built into the backs.
There is also improved access in and out for third row passengers. The arm rest/storage console that could slide from the front seats to the third row seats has been taken out to enable clear walk through to the third row. Getting out of the third row is now less tedious – there is a power sliding door switch fitted in the rear, a step-release has been added to the second row seats so the rear passengers can slide the seats forward themselves, and the C-pillar has been moved back 50mm to create a wider sliding door opening.
Malaysia is the first country outside of Japan to assemble the all-new Nissan Serena S-Hybrid which available in two trim levels. The Highway Star comes in Cashmere Gold, a new colour, Diamond Black, Brilliant White and Tungsten Silver. The Premium Highway Star has a two-tone exterior colour and is offered in the following combinations of Brilliant White (Body) and Diamond Black (Roof), Tungsten Silver (Body) and Diamond Black (Roof), and Cashmere Gold (Body) and Imperial Umber (Roof). In addition, the Premium Highway Star has combination leather seats in a choice of two-tone Truffle Brown and Chestnut or single-tone Black and comes with more equipment: 10.1-inch Roof-Mounted LCD Panel, Tech-on Tray Mat (for the personal table), Driving Video Recorder (DVR), LED Room Lamp, V-KOOL 4Mil tinted security film , 16-inch diamond cut alloy wheels, and door visors.
The Nissan Serena S-Hybrid is priced at RM147,500 for the Premium Highway Star and RM135,500 for the Highway Star (OTR price without insurance for Peninsular Malaysia), with a 5-year Unlimited Mileage Warranty. A 3 -year/60,000km
(whichever comes first) Maintenance Service promotion is offered as part of the launch campaign. Additionally, the first 500 registered vehicles will also receive a free Terzo Portable Cooler Box by PIAA (worth RM 500).