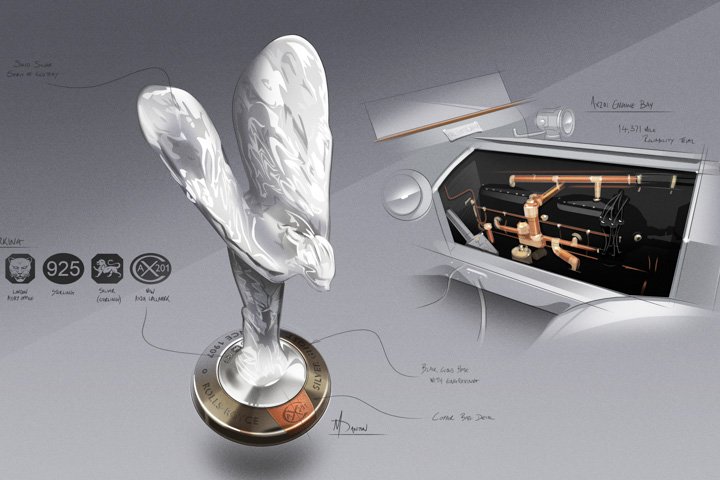 In homage to the most important car in the history of Rolls-Royce, the Silver Ghost, Rolls-Royce Motor Cars is creating a collection of 35 limited production Rolls-Royce Ghosts.
The model year 2018 Ghosts will be created at the home of Rolls-Royce, Goodwood in West Sussex. Thirty-five examples will be produced and offered as a contemporary piece of automotive history under the 'Silver Ghost Collection'.
The hand-crafted Ghosts will have design elements from the original Silver Ghost which created a quality benchmark when the Hon. Charles Rolls and Claude Johnson, the Managing Director of Rolls-Royce Limited, set a non-stop long distance endurance record of 14,371 miles in the quiet running tourer. Other details of the bespoke car include:
Solid sterling-silver Spirit of Ecstasy

a specially-created British Assay office Hallmark "AX201" which was the registration plate of the original 'Silver Ghost' marked on the base of Spirit of Ecstasy

Metal Fineness marks and the Assay Office town mark as Sponsor's Mark to authenticate its heritage.

A black-gold-plated Spirit of Ecstasy base collar with copper inserts

Cassiopeia Silver exterior finish,

Bespoke hand-painted coachline with 100% silver infused in paint

Black painted grille veins

Fully-polished wheel centres encircled with 'SILVER GHOST – SINCE 1907'

Forest Green' leather interior

Silver-tipped leather front and rear door panniers

Silver onlay set into open-pore wood of the fascia and door cappings

'Silver Ghost' clock styled as an ingot of silver, engraved with 'Silver Ghost Since 1907'

Numbered unique tread plates

Silver tipped, Tudor Oak handle on Rolls-Royce Umbrella

Silver Ghost 

Hamper for picnics
The latest Rolls-Royce multimedia system, with a totally new multimedia interface and larger screens for the rear passengers, are somevof the entertainment upgrades offered by Ghost this year. The new system responds to natural speech rather than predetermined commands, whilst navigation is improved by the Real Time Traffic Information for 32 countries.
Entertainment and communication is also enhanced by Blu-ray; Digital Radio capability in more countries, including Satellite Digital Audio Radio Service for the United States market; a new ATM module linked to a 4G LTE standard antenna which will support increased data transfer; enhanced USB and HDMI connections with the motor-car's systems which also supports Miracast, whilst three sets of Kleer headphones are supported over WiFi.
The interior of the 2018 Ghost has been enhanced to enable appreciation of these new multimedia features with additional dampening materials added to the doors, rear wings and engine compartment with a new acoustic film fitted between the glass layers in the side and rear windows to further reduce noise entering the cabin.