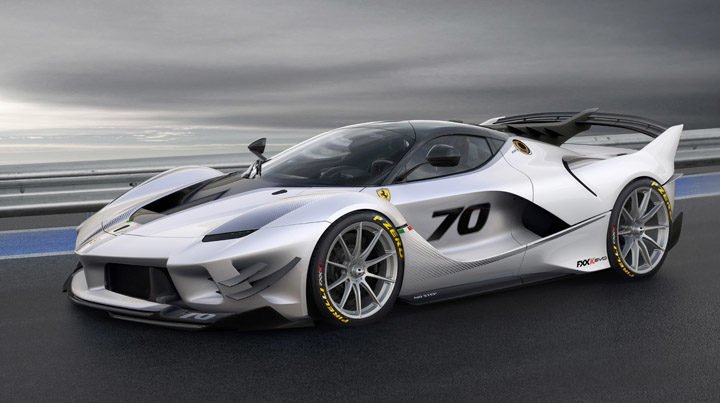 Ferrari premiered the new FXX-K Evo at the Finali Mondiali. The FXX-K Evo will be available as a limited-run model as well as an upgrade package for existing XX cars.
The cars developed since 2005 under the XX programme now epitomise Ferrari innovation and uncompromising performance. As with the Evo versions of the FXX and 599 XX, the Ferrari FXX-K Evo is filled with innovative concepts derived from Ferrari's participation in motorsports: Formula 1, GT3, GTE and Challenge, the latter being the single-make championship bearing its name.
As with all XX cars, the FXX-K Evo is not homologated for road used and will only be used in the FXX dedicated competitive programme aimed purely at a small, highly-select group of Ferrari Clients: supercar enthusiasts eager to share the development of technologically-innovative content with the Ferrari technicians, through driving a closed-wheel laboratory car.
The new FXX-K  lighter than the previous FXX-K through the extensive use of carbon fibre, even with the addition of a twin-profile fixed rear wing . The twin-profile fixed wing works in synergy with the active rear spoiler. The two amplify each other, improving downforce coefficient by 23% which is the equivalent to a 75% increase on the road car, at 640kg at 200km/h, exceeding 830kg at the redline of the speedo.
The FXX-K Evo has new front brake air intakes and suspension specifically calibrated to the car's new aerodynamic efficiency figures.
The Formula 1-inspired cabin has a conceptually-different steering wheel, with integrated gear-shifting paddles, designed to meet the high performance levels the FXX-K Evo achieves. The new steering wheel now also sports the KERS Manettino to improve both control of that system and overall ergonomics.
The rear video camera screen to the right of the driver has been replaced with a larger 6.5" version.
It also now displays data from a new telemetry system with clearer, more direct performance parameter and car status readouts. The driver can check the KERS status and the times being clocked by selecting from the various screen options available.
After undergoing around 5,000 km of development runs and 15,000 km of reliability test-drives, the FXX-K EVO will be a very active protagonist in the XX Programme in the 2018/2019 season which spans nine track outings in all between the start of March and the end of October. As is now traditional, the XX cars will also be taking part in the prestigious Finali Mondiali weekend which marks the end of each racing season.
TECHNICAL SPECIFICATIONS
HY-KERS System
Max. power output                 1050bhp
Max. torque                            >900Nm
Power output – ICE*               860bhp @9200 rpm
Max. rpms                               9400 rpm
Max. torque – ICE                  750Nm @6500 rpm
Power output – electric
motor                                      140 Kw (190 cv)
ICE
Type                                        V12, 65°
Bore and stroke                      94 x 75.2 mm
Overall displacement             6262 cm3
Compression ratio                  13.5:1
Specific power output             137 bhp/l
Dimensions and weight
Height                                     1116 mm
Wheelbase                              2665 mm
Weight distribution                 41% front, 59% rear
Gearbox
F1 dual-clutch transmission,   7-speed
Suspensions
Front                                       Double wishbone
Rear                                        Multilink
Tyres                                       (Pirelli P Zero slicks with sensors)
Front                                        285/650 – R19 x10½
Rear                                        345/725 – R20x13
Carbon ceramic brakes         (Brembo)
Front                                        398 x 223 x 36 mm
Rear                                        380 x 253 x 34 mm
Electronic control systems
ESC                                          Stability control
High performance
ABS/EBD                                High performance anti-lock brakes /electronic brake distribution
EF1-Trac                                 F1 Traction Control integrated with hybrid system 
E-Diff 3                                   Third gen. electronic differential
SCM-E Frs                              magnetorheological damping system with twin solenoids (Al-Ni tube)
Aerodynamics                        Active
*with dynamic ram effect, both electric and ICE