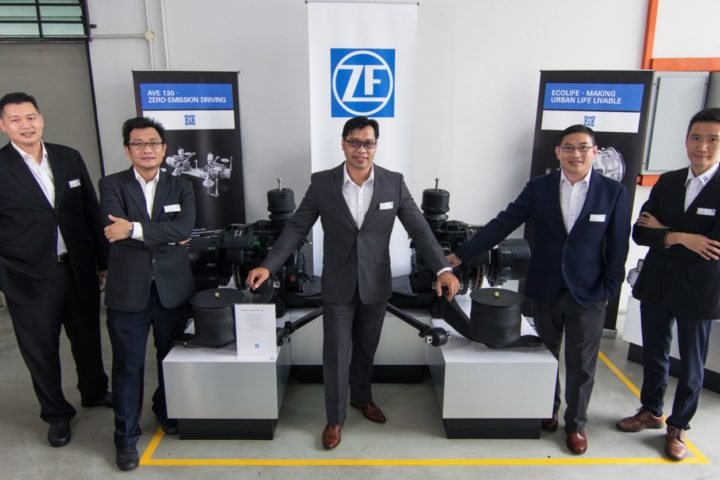 In the automotive world, ZF is a brand most closely associated with the gearboxes found in BMWs, Jaguars, Land Rovers, Porsches as well as commercial vehicles. The ZF Group AG is also a leading manufacturer of aftermarket logistics products including driveline and chassis technology, shock absorbers, steering components, braking systems and the telematics and tracking systems called Openmatics and deTAGtive.
ZF Sales and Service Malaysia Sdn Bhd (ZFSSM) recently celebrated 15 years in Malaysia during which they set out their support of sustainable urbanisation and Malaysia's EEV agenda as part of the company's long term agenda, supplying and installing products that improve fuel efficiency and reduce noxious emissions.
The ZF EcoLife is a six-speed automatic transmission for buses, available in seven versions with input torques range from 1,000 to 2,300Nm for buses up to 32 tons gross vehicle weight. The gearbox is efficient and improves driving conditions for commercial drivers.
To date, there are more than 900 city buses in Malaysia equipped with ZF EcoLife automatic transmissions of which 300 single deck city feeder buses are owned by Mass Rapid Transport Corporation Sdn Bhd. ZFSSM is also working with Rapid Penang to fit its city buses with ZF EcoLife for preventive overhaul. Preventive overhaul allows significant extension to the vehicles service life without compromising safety or cost efficiency.
For better efficiency, there is also TopoDyn Life control software which adapts to driving conditions and adjusts the gearshift strategy of the driving route during travel for improved fuel efficiency. The vehicle's brake management system supports high braking power even at low speeds, reducing the strain on the vehicle's service brakes. This extends the part's lifecycle, reduces down time and gives longer service life while the buses also have reduced carbon emissions.
Openmatics is ZF's innovative telematics solution that improves fleet cost management issues like driving without loads, managing driving and rest periods in route planning and fuel consumption to maximise efficiency. Openmatics Asset Tracking can be used for monitoring valuable assets. Bluetooth Smart Tags that can be easily installed anywhere – on transport containers, pallets, swap bodies or cargo itself. The tags can be used for up to five years before being recycled by Openmatics.
Openmatics can also be used with other existing telematics hardware. The system can be accessed and operated through mobile apps available through Google Play or Apple Store or a web portal. Users can receive real-time alerts which enables prevention of loss or damage of goods. This allows efficient tracking of assets while decreasing costs for administration and communication efforts while minimising logistics and manufacturing processes.
ZFSSM is working with RapidKL to implement Openmatics for prototype-testing in their fleet. This allows greater integration of communication and logistics between buses and its suppliers while minimising operational costs. In addition, ZFSSM is collaborating with Sync R & D Sdn Bhd, to develop a locally-made 12 meter public electric bus equipped with ZF's AVE 130 electric portal axle, for higher engine speed and bigger passenger space in the bus.
ZFSSM's long-term strategy is to grow its service network development and Openmatics system in Malaysia while ramping up its efforts introducing e-mobility to the automotive industry, with the aim of supporting the country's ambition to become a EEV hub for the region. ZF in the Asia Pacific recorded € 7.7 billion sales in 2016, a 22% increase from 2015.
Besides Openmatics, ZFSSM's product range includes aftermarket brands such as Sachs, Lemförder, TRW, and Boge. ZF supplies Sachs shock absorbers to Proton and Perodua for the aftermarket and rail shock absorbers for Rapid KL.